Watch the Trailer For Jordan Peele's 'Us' Right Now
The first trailer for Jordan Peele's Get Out follow-up Us has debuted online today. Merry Christmas to everyone indeed. This is easily one of the year's most anticipated films, and now we have our first look at footage from the film. What are you waiting for? Check it out below!
"For my second feature, I wanted to create a monster mythology, I wanted to do something that was more firmly in the horror genre but still held on to my love of movies that are twisted but fun."
"A mother (Academy Award winner Lupita Nyong'o from Black Panther, Star Wars: The Last Jedi and 12 Years a Slave) and a father (Winston Duke from Black Panther) take their kids to their beach house expecting to unplug and unwind with friends (including Emmy winner Elizabeth Moss from TV series The Handmaid's Tale). But as night descends, their serenity turns to tension and chaos when some shocking visitors arrive uninvited."
Jordan Peele is one of the most important voices in film that we have at the moment, and that he is making genre films and horror thrills me to no end. The amount of prestige and respect that he brings to horror in general cannot be overstated. With this filmmaker and cast, it should jump to the top of most people's must-see lists. I mean, this is the list of films that Peele told Nyong'o to watch before filming: Dead Again, The Shining, The Babadook, It Follows, A Tale of Two Sisters, The Birds, Funny Games, Martyrs, Let the Right One In, and The Sixth Sense. We could be in for anything.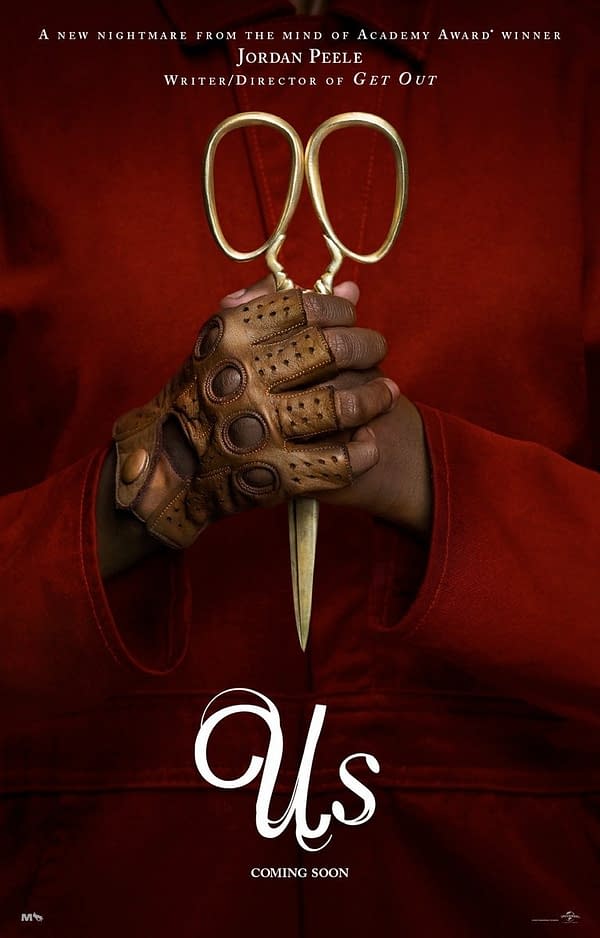 Us, directed by Jordan Peele, and starring Lupita Nyong'o, Winston Duke, Elizabeth Moss, Tim Heidecker, Yahya Abdul-Mateen II, Anna Diop, Shahadi Wright Joseph, Evan Alex, Madison Curry, Cali Sheldon, and Noelle Sheldon opens on March 15, 2019.