Trolls Gonna Troll: 'Captain Marvel' Already Getting Review Bombed
As if we didn't have enough to worry about on a daily internet basis with the onslaught of trolls, it appears that same group of review bombers is already hard at work on Captain Marvel via Rotten Tomatoes.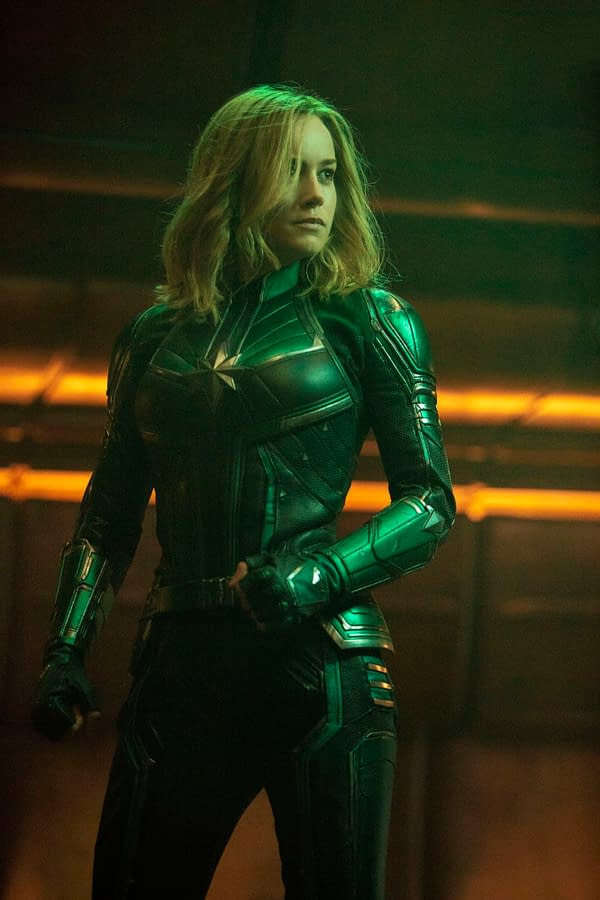 Remember back during Star Wars: The Last Jedi when suddenly the film's aggregate site's score dropped BEFORE the film opened to the public for no apparent reason? And then a group of folks in a (now shut down) Facebook group called "Down With Disney's Treatment of Fanboys" took credit for it? Yeah, that's a thing that happened, which was then REPEATED for Black Panther.
It would appear the same small-minded bullies are at it again, and they have their sites on Marvel Studios' first female-fronted solo superhero film, Captain Marvel.
A little look-through the audience review comments (we know, we know, NEVER read the comments) on Rotten Tomatoes reveals some pretty hateful lines from commenters who vow to "never see the film in theaters" despite offering their opinion on how the film plays *IN* theaters. How does that work?
Here's a sample of what you can expect to find: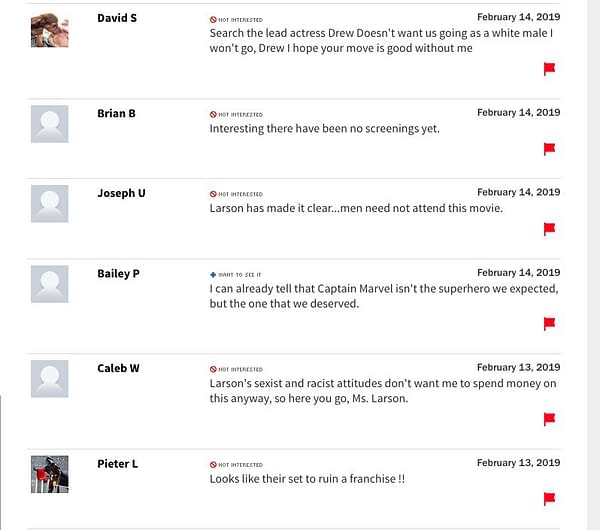 Yes, there have been test screenings for both fans and press alike, BUT- the embargoes don't come down til today (February 19th), and the press embargo doesn't come down til March 5th.
Needless to say, it's disheartening to see people (mainly men at this point, judging from the comments) hellbent on "ruining a reputation" of a film just because it's fronted by a woman. Don't you folks have anything better to do with your time?
Anna Boden (first female director for Marvel Studios, only took 21 films) and Ryan Fleck are directing from a script they wrote with Liz Flahive, Carly Mensch, Meg LeFauve, Nicole Perlman, and Geneva Robertson-Dworet.
Captain Marvel stars Oscar winner Brie Larson as Carol Danvers, Samuel L. Jackson as Nick Fury, Jude Law as the commander of Starforce (who may or may not have two names), Clark Gregg as Phil Coulson, Lee Pace returning as Ronan the Accuser, Djimon Hounsou as Korath the Pursuer, Gemma Chan as Minn-Erva, Ben Mendelsohn as Skull Commander Talos, Lashana Lynch as Maria Rambeau, Algenis Perez Soto, McKenna Grace, and Annette Bening in as-yet-undisclosed roles.
Captain Marvel is set to hit theaters on March 8th 2019 (International Women's Day), and tickets are on sale now.