The team behind the official Twitter account of the Trump 2020 Re-election campaign have come up with an… interesting tack to take. In light of Democrats launching impeachment charges against Trump's Presidency, his team has responded. With a scene from Marvel's Avengers: Endgame as he says 'I am inevitable' and clicks his fingers, using the Infinity Gauntlet to wipe out everyone. But Donald Trump doing it instead.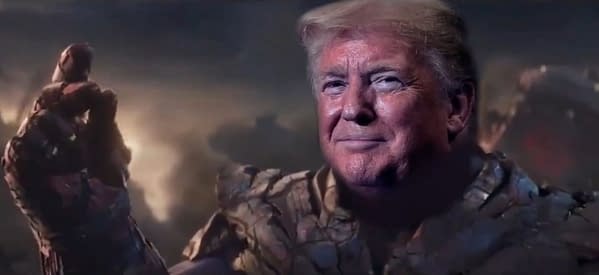 The video then shows the Democrats including Nancy Pelosi, launching their formal charges against him, only to be 'dusted' – all killed by Thanos's clicked fingers.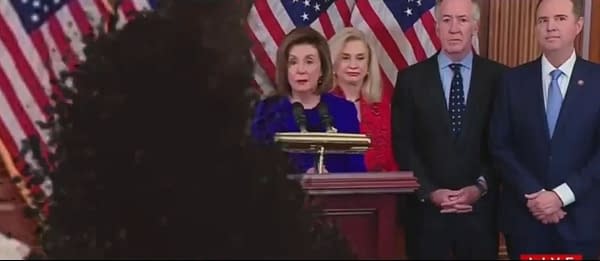 Interestingly, the scene in the clip is from Endgame rather than Infinity Gauntlet and (spoilers), Thanos discovers his Gauntlet has none of the necessary Infinity Stones and nothing happens. He is not inevitable at all. Tony Stark has the stones and he kills Thanos instead.
Disney may have an issue with their footage being used like this, but Trump just has to have a word with his personal friend, heaviest backer and one of Disney's biggest shareholders Ike Perlmutter to get everything sorted…
House Democrats can push their sham impeachment all they want.

President Trump's re-election is 𝗶𝗻𝗲𝘃𝗶𝘁𝗮𝗯𝗹𝗲. pic.twitter.com/O7o02S26nS

— Trump War Room – Text TRUMP to 88022 (@TrumpWarRoom) December 10, 2019
And a few reactions from Marvel peeps…
Trump's official campaign twitter just tweeted a meme comparing him to THANOS.

You know… the villain who wants to MURDER HALF THE UNIVERSE.

And depicts him killing the Democrats. https://t.co/xoUjscFZR9

— Jordan D. White (@cracksh0t) 10 December 2019
Trump's team is presenting him as a narcissistic child-abusing villain intent on wiping out half of all life, AND picked the moment right before Thanos was defeated. #TheBestPeople https://t.co/mNtVGL1Wqa

— Gerry Duggan (@GerryDuggan) 10 December 2019
Enjoyed this article? Share it!