Unseen Star Jolene Purdy on Horror Opportunity, Missi Pyle & More
Jolene Purdy (Firefly Lane) talks to Bleeding Cool about her latest horror thriller in Blumhouse TV's Unseen, Missi Pyle & more.
---
Jolene Purdy has been one of the most reliable and charismatic presences on television, appearing in shows like 10 Things I Hate About You, Breaking Bad, Gigantic, Under the Dome, Orange is the New Black, and Superstore. More recently, she's been in the critically-acclaimed series Disney+'s WandaVision, HBO's The White Lotus, and Netflix's Firefly Lane. Her latest is the Yoko Okumura (Good Trouble) horror thriller Unseen for Blumhouse and Paramount, which follows Two women who form an unlikely connection when a depressed gas station clerk Sam (Purdy), receives a call from Emily (Midori Francis), a nearly blind woman who is running from her murderous ex in the woods. Emily must survive the ordeal with Sam being her eyes from afar using video calls. Purdy spoke to Bleeding Cool about revisiting her indie film roots, working with Okumura, Francis, and Missi Pyle.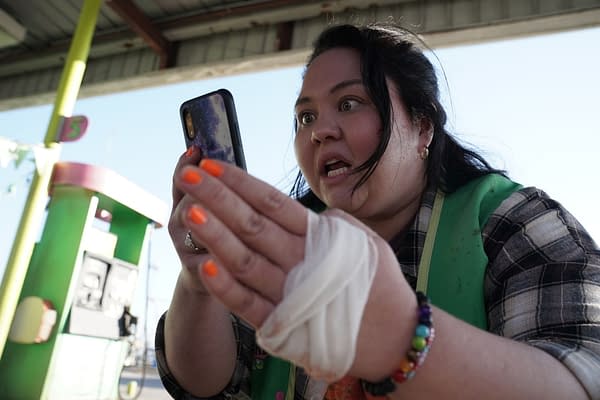 How Purdy Drew from Personal Experience in 'Unseen'
Bleeding Cool: What intrigued you about 'Unseen?'
Purdy: I've always wanted to do a horror movie. One that's part of my check-off list. Two, I loved the trauma bond between Emily and Sam developed, and third, when Yoko signed on for her directorial debut, I was in.
Since you've been meaning to do a horror film for a while, guessing you've grown up watching them?
I'm a scaredy cat, but I have watched enough to know there's something that still draws me in. I admit to watching some.
What helped you get into the headspace for Sam?
Sam has had the worst day every day of her life for as long as she can remember, I'm pretty sure. I suffered from postpartum depression with my daughter, and that felt pretty much like the worst day ever, even if it was also the most amazing time in my life. It was such a dark and hopeless place. I tapped into where I was during those years.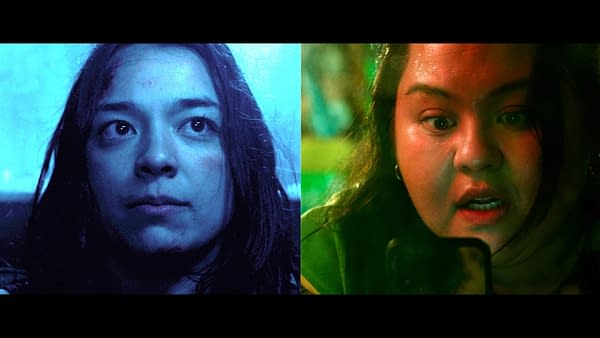 Was there any particular scene that stood out for you or a sequence that was difficult to film more than the rest?
There were so many difficult things. Some of my favorite scenes, I'll say working with Midori in the woods and getting to read lines off-camera with her. It was so impressive seeing her work ethic, strength, and talent. I have this vision of [Midori] ducking under a bush, scaling the wall, and working with Missi Pile. Having her spit Skittles at me is epic. Those would be my two favorite memories.
You and Missi had some memorable scenes.
Sharing a screen with Missy Pile is a dream. Surprisingly, she makes my job harder because she's so funny, and I can't really laugh at it. Some of my best acting was not laughing at her.
How do you compare your work on films compared to the structure of TV? Does it feel different in indie films?
My first project was an indie film called 'Donnie Darko'; I remember the passion present on that set. It felt like that again in this film, The passion was palpable, and everyone's heart was in it. The difference between TV and film is that TV is open-ended. You get a new script every week but stay the same character. You have to take your character kind of almost on an impromptu journey to where the writers are taking you. Whereas with a movie, you have a beginning, a middle, and an end, so you get to build where your character will go. Both are fun, but they're just slightly different.
Unseen, which also stars Michael Patrick Lane, is available on digital and on demand. It streams on MGM+ in May 2023.