Walmart Drive-Ins Will Show Up Around US Soon, In Their Parking Lots
Walmarts will convert 160 of their parking lots into drive-in theaters. Part of a screening partnership with Tribeca, the screenings will feature stars of the films, and people will have snacks brought to their cars. Curbside pick-up of concession type items will also be available at the locations yet to be announced. The Walmart screenings will take place in August, September, and October. More announcements on what films will be playing, who will show up at the screenings, and more will be available soon at a new URL Walmart has created for the series here. Tribeca will handle the curation of films as well, but I am willing to bet Walmart will have a hand in film selection as well. The Hollywood Reporter had the news.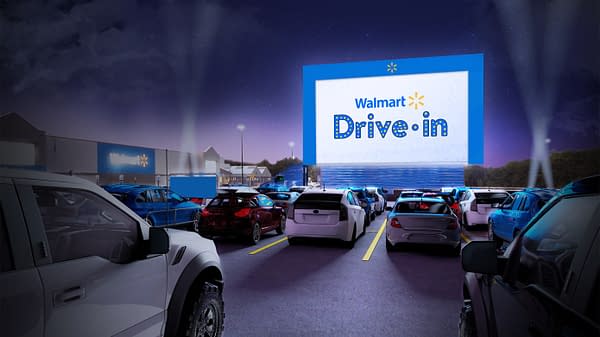 It's Already Hard Enough To Navigate Walmart Parking Lots
"Drive-ins have been a signature program for Tribeca since we started the Tribeca Film Festival 19 years ago after 9/11," Tribeca Enterprises and Tribeca Film Festival co-founder and CEO Jane Rosenthal said in a statement. "But now, the Tribeca Drive-In is much more than a fun, retro way to see movies — it's one of the safest ways for communities to gather. We are thrilled to partner with Walmart to bring more people together around the shared cinematic experiences that Tribeca is known for."
This is a good idea in theory, but I am a little confused about what types of films they will be showing exactly. As we all know, Walmart is not exactly a beacon of artistic freedoms and has censored things in the past. Will they try to do the same with these films? Will Tribeca be able to sneak in some indie fare? That could be interesting. I am guessing nothing R-rated though, as they object would be to get families in here no? This should be interesting to watch.