War And Peace, Ferrets, And "Blow Me" With Underworld And Resident Evil Madeline Ricchiuto writes from New York Comic Con,
Screen Gems and NYCC got together to give guests of NYCC a sneak peek at the latest installments of the Resident Evil and Underworld franchises.
Resident Evil: The Final Chapter follows Alice (Mila Jovovich) as she returns to The Hive in Raccoon City, where the Umbrella Corporation is gathering a massive hoard of zombies for a final strike against the only remaining survivors of the apocalypse.
The Resident Evil sneak peek was the final trailer for the film which included an absurd amount of Mila Jovovich in increasingly insane action scenes as well as a teaser for a possible air-born contagion.
Paul W.S. Anderson, Eoin Macken, William Birkin, Ali Larter, Mila Jovovich sat down for a Q&A. The Final Chapter is the final film and will hopefully answer the questions of "who is Alice? What are the true motives of the Umbrella Corporation?" And will give us some proper insight into Alice's background. Jovovich seemed sad to be ending the franchise joking about The Final Chapter 2, saying "I wish I wasn't joking."
There were no hazing rituals on set for Macken and Birkin, though the cast seems to have bonded well. Their first scene was a "big dialogue scene and they all start pulling their guns out and its one of the better dialogue scenes in movies. If only there were more guns in dialogue scenes."
Jovovich enjoys getting "back in my Alice shoes and kicking some ass." And told a story about meeting a fan from "one of those countries where women can't go to school" outside the film studio who started crying when she met Jovovich, telling her about how the Resident Evil movies inspired her to pursue her education and run away. "We were doing this female-led franchise before it was cool."
Anderson spent some time discussing his attempts to bridge the pure horror of the games with the hard action of the recent movies. Anderson attributed the success of the films to the cast and crew's love of the games. "I'm always surprised when directors who adapt video games say that they haven't played the games. The amount of hubris that goes into it… You wouldn't dream of adapting War and Peace without reading it first." Which had Larterand Jovovich giggling for a solid three minutes. Fan questions ranged from the usual gushing to questions about the hardhsips of filming grueling action scenes. "Paul likes writing big stunts and Mila loves doing big stunts and its grueling and then Paul comes in and says 'that was great, lets do it again 150 times'," Macken said.
Another amusing tidbit centered around Birkin who has a line where he has to shout "Blow Me!" Which he apparently did not understand. Somehow.
Underworld Blood Wars centers around Vampire death dealer Selene (Kate Beckinsale) as she fends off attacks from both the Lycan clan and the Vampire faction that betrayed her. Her only allies are David (Theo James) and his father Thomas (Charles Dance) as she tries to stop the war between Lycans and Vampires. Blood Wars premieres January 6th, 2017.
The final trailer was debuted at the panel featuring Selene's new hairstyle, insane powers, and a lot of brutal ass-kicking. The lycan leader Marius is after Selene and her daughter as are the Vampires, to steal their blood and become invincible. You'd think immortals would have better things to do with eternity.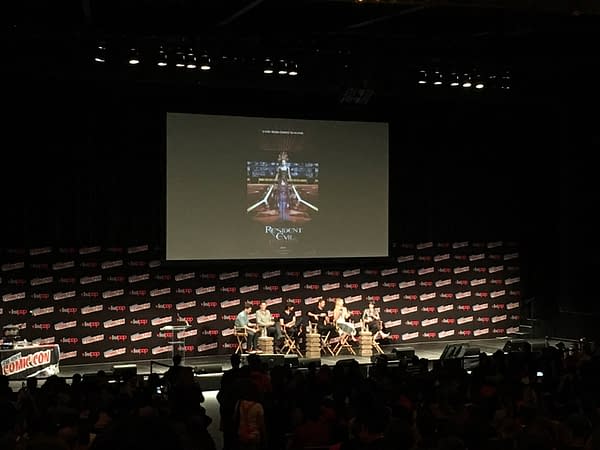 Actress Kate Beckinsale, director Anna Foerster, and Actor Theo James sat down for a Q&A. Beckinsale's approach to the role apparently included "not giving a fuck" which is a "good place for Selene. James described meeting Beckinsale as being nervous, "shivering and jibbering." While Beckinsale apparently wondered how he got away with "having the easiest costume… All the other men are in skirts and Theo is always in these skinny trousers."
Foerster is excited to join the team and bring her background in cinematography to the franchise. When asked about having a female director on the project, Beckinsale said "I'm all about having as many vaginas involved as possible… But Idont think gender has much to do with whether or not you are a good director… I hope that in a few years being a female director won't be as big a deal. Selene is a very emotional character and I don't know if it was Anna being Anna or her being a woman but she was very interested in that."
As for her own costume Beckinsale enthused, "She gets a cool coat and some highlights." Which is perhaps a very notable change given her usual leather jumpsuit and corset costume because it is a rather puffy white parka with fur trim.
One of the fan questions came from a man who played a Cleaner in the second film, asking if they would make a return, which prompted the joke "Underworld 6: The Cleaners."
When asked if they had any funny moments during the movie, Foerster interrupted to claim "they had a German director, there were no funny moments." While Beckinsale told a story of some of the cast taking photos with a prosthetic version of James' stomach. The cast also revisited the story of Theo the ferret.
Beckinsale's favorite part of playing Selene was getting to see the films after wrapping, while her favorite enemy was her "baby daddy" Michael Sheen.
No they will not be doing a crossover with Blade. But "we were all over that," Beckinsale joked.
There will be an Underworld mobile game coming out soon.