Why Batman Forever Turned Out to Be Never Again
Ever since Batman launched as a film franchise, numerous actors donned the cape and cowl. Tim Burton and Michael Keaton's two films laid the foundation for others to follow. The first post-Burton film was Batman Forever (1995) with Joel Schumacher taking over directing duties and Val Kilmer as the new Caped Crusader. Followed the film's release, Schumacher planned a sequel in Batman and Robin with Kilmer's return. The actor turned down the opportunity to reprise the role citing scheduling conflicts. He filmed the espionage thriller The Saint instead and George Clooney stepped in. Rumors circulated from Batman production of Kilmer's lack of professionalism. He spoke to the New York Times 25 years after Forever's release about his other factors.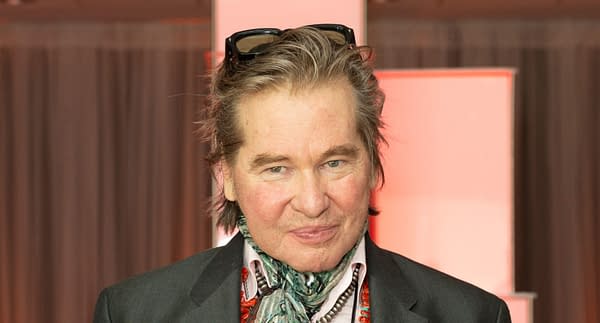 How Batman Wasn't What Val Kilmer Expected
Before taking the role of millionaire Bruce Wayne and his alter ego, Kilmer relished in playing characters with depth like Doc Holiday in Tombstone (1993). If they didn't have depth, he wanted to play entertaining characters. "I would've loved to have been on Saturday Night Live as a regular," he said. He had an uncredited cameo in 2011 for the long-time NBC late-night program. The actor had his Arrested Development moment when a character says, "I made a huge mistake" after a visit from billionaire Warren Buffett brought his family to the set of Batman Forever. The children had no interest in talking to Kilmer. Instead, they opted to play with the props and rode the Batmobile. The actor realized in a soul-crushing moment, Batman was no one special nor was he entertaining. "That's why it's so easy to have five or six Batmans," he said. "It's not about Batman. There is no Batman."
The fact Keaton, Clooney, Christian Bale, Ben Affleck, and now Robert Pattinson are Batman actors proves Kilmer's point. He also offered his response when accused of "being difficult to work with," and Schumacher's claims he rather work with Marlon Brando on The Island of Dr. Moreau (1996) than commit to his sequel. "Everyone has to work out their own salvation," Kilmer said. "How to live and by what morality, and I found that the part that I feel bad about is hurting somebody in the process." The actor stayed busy but didn't stay in demand as a top star in Hollywood and recently battling throat cancer. He returns to the role of Iceman in the upcoming Top Gun: Maverick slated for a Christmas 2020 release.