Will Smith, Guy Ritchie Talk Genie from 'Aladdin'
In 1992, Robin Williams became a beloved symbol of Disney when he first sang "Friend Like Me" as Genie in the Disney animated classic, Aladdin. Since Williams' passing, the character has become more important in many ways, a reminder of the creativity that can exist within the animated medium. [Seriously, there are reportedly hours of outtakes of Williams from his voice sessions.]
News of a live-action adaptation of the film was met with much discussion, but perhaps the biggest question of all was who would be taking on the role of Genie? Guy Ritchie's film will feature Oscar nominee Will Smith as the phenomenal cosmic power holder who resides in an itty-bitty living space.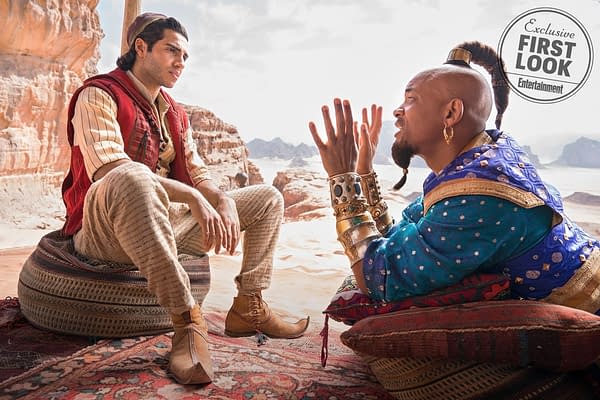 In Entertainment Weekly's next issue, Ritchie and Smith talk about their vision for the character. Smith mentions the meat-on-the-bone:
"Whenever you're doing things that are iconic, it's always terrifying. The question is always: Where was there meat left on the bone? Robin didn't leave a lot of meat on the bone with the character.

I started to feel confident that I could deliver something that was an homage to Robin Williams but was musically different. Just the flavor of the character would be different enough and unique enough that it would be in a different lane, versus trying to compete.

I think it'll stand out as unique even in the Disney world. There hasn't been a lot of that hip-hop flavor in Disney history."
Richtie's description of Genie is…interesting:
"I wanted a muscular 1970s dad. He was big enough to feel like a force — not so muscular that he looked like he was counting his calories, but formidable enough to look like you knew when he was in the room. I like the fact that our Genie has an ego and is a little bit vain and he cares about how he's presented because he's been doing this for a very long time."
According to the EW piece, Aladdin's first meeting with Genie will also be a bit different, with the outlet describing the moment:
When Aladdin first stumbles across the lamp in the Cave of Wonders, a big cerulean cloud whooshes out of the spout, forming into Smith's goateed Genie, complete with a topknot. After a quick musical introduction, Smith's swagger shines through as he asks a dumbstruck Aladdin, "You really don't know who I am? Genie…wishes…lamp? None of that ringing a bell? Wow, that's a first."
No doubt we'll be learning more about the film as its release date gets closer.
Aladdin is set to hit theaters on May 24th 2019.