Your Best "James Bond"? I'll Take Ursula Andress, Thank You. (OPINION)
We're having a pretty heated argument here at Bleeding Cool over who should play the next James Bond, with popular opinion saying it should be Idris Elba. But I'm more interested in where we've already been than where we could be going- guessing the next James Bond is a speculator's game. I want to talk about who played him best in what we've already seen.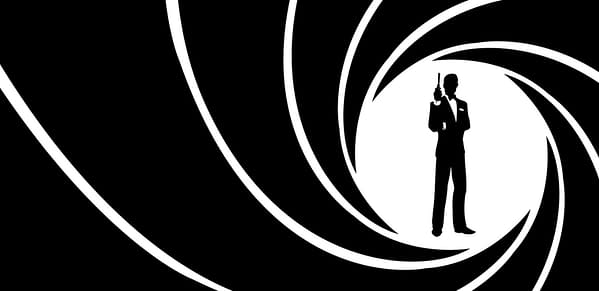 It's been over 60 years since Ian Fleming created James Bond, and there have been plenty of famous faces attached to play the suave secret agent since his cinematic debut. Sean Connery was the first face of Bond, sauntering his way into movie theaters with Dr. No in 1962. Connery, the eternally Scottish Man's Man, stayed on as Bond for nearly 10 years, appearing in From Russia with Love (1963), Goldfinger (1964), Thunderball (1965), You Only Live Twice (1967) and leaving the series (sort of) in 1971 with Diamonds Are Forever.
Connery went on to play Bond again in 1983 in Never Say Never Again, which was directed by Irvin Kershner. Rights issues made it possible for Kevin McClory to retain the filming rights to Thunderball, which this film is largely based on.
In 1969, George Lazenby attempted to wear the mantle of James Bond, which was the first Bond movie to actually try and follow the source material from Fleming closely. Audiences and critics alike largely panned On Her Majesty's Secret Service, citing Lazenby's wooden acting as a large note of contention. Lazenby had no intention to stay on as Bond, and producers were forced to back up a whole truck of money to get Connery back for Diamonds in 1971.
In 1973, Roger Moore stepped in to play Bond, which was the beginning of one of the longest runs with one actor playing the role in Bond history. Starting with Live and Let Die in 1973, Moore stayed on to play Bond through The Man With the Golden Gun (1974), The Spy Who Loved Me (1977), Moonraker (1979), For Your Eyes Only (1981), Octopussy (1983), and A View to a Kill in 1985. Moore's time with the franchise saw the character moving into increasingly campy territory, with a nearly 60 year old Moore straining credibility with obvious stunt doubles and incredulous love scenes with women over four decades his junior towards the end of his run.
Timothy Dalton made two Bond movies, with The Living Daylights (1987) trying to exert some restraint on the more campy elements of the franchise. License to Kill followed in 1989, but audiences were largely bored with the character at that point.
Goldeneye burst into cinemas in 1995, with audiences energized to return to the world of James Bond, and Pierce Brosnan locked in to play the venerable secret agent. Goldeneye was a huge success, and Brosnan went on to play Bond in Tomorrow Never Dies (1997), The World is Not Enough (1999), and Die Another Day (2002). The Brosnan Bond films tried to straddle that line between kitsch and clever, but often devolved into the schlocky camp elements that side-railed Moore's films.
2006 saw a re-boot of the franchise, with Daniel Craig playing Bond at the beginning of his career. Craig's Bond was less charming and far more brutal, and the series as a whole moved away from camp in favor of a deadlier, more grounded world view. Craig returned as Bond in 2008's Quantum of Solace, 2012's Skyfall, and 2015's Spectre. Craig is expected to play Bond at least once more, with an upcoming film in production.
Oddly enough, though, my favorite Bond movie is considered by many to be a parody of the franchise, even though it is still based off of Fleming's work, and was completely legitimate as far as rights were concerned. In 1967, Columbia Pictures released Casino Royale, which saw Sir James Bond (David Niven) pulled out of retirement to investigate the deaths of prominent British spies.
Bond decides that he alone isn't enough to bring the killings to an end, and recruits a crew of agents to act as "James Bonds". The actors playing these "Bond" agents are Peter Sellers as Baccarat master Evelyn Tremble; millionaire spy and seductress Vesper Lynd (Ursula Andress); Miss Moneypenny (Barbara Bouchet); the daugher of James Bond and Mata Hari, Mata Bond (Joanna Pettet), and two British agents, "Coop" (Terrence Cooper), and "The Detainer" (Daliah Lavi). Then there was Jimmy Bond, the original Bond's obnoxious nephew, who was played by Woody Allen.
Strangely, the 1967 Casino Royale follows the book after a fashion, with Bond needing to beat Le Chiffre (Orson Welles) at Baccarat to gain secret intelligence. Other than that, though, the film rampages across any semblance of a modern spy movie, with action scenes sped up to make them slapstick, a psychedelic magic show, dance numbers coming out of nowhere, and a finale which sees factions from all over the world battle each other to the death. It's a weird, wonderful movie that shouldn't exist, and wouldn't if it weren't for some strange rights issues. But it's still a completely authentic Bond movie regardless.
So, next time someone asks who your favorite James Bond is, just tell them Ursula Andress. You'll feel like you're in on a pretty great joke.
Who is your favorite Bond? We'd love to hear yours in the comments!