*** Spoilers **** No really, spoilers.
Okay, you've been warned.
David Ayers told Collider that one of the scenes in the new Suicide Squad movie was actually directed by Batman v Superman: Dawn of Justice's director Zack Snyder. It's a small flashback scene where The Flash (Ezra Miller) stops Boomerang (Jai Courtney) from robbing a bank. That being how he end's up captured. It was nice connection to the larger universe that they are trying to build.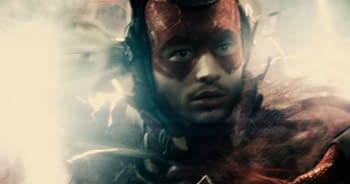 But it seems that Snyder was the man behind the lens for that scene.
Flash was always in the movie, we just got lucky because Justice League was happening and they had the uniform, they had the assets, so we were able to get that photography.
The scene was filmed while Suicide Squad was in post production and Justice League filming was underway. It was shot in London where they already had the costumes and Miller. Snyder snapped the shot and sent it back to Ayers to add into the film.
Suicide Squad is in theaters now.
Enjoyed this article? Share it!