Opinion: Why Wargames Falter: "Arena Rex", "Malifaux", and More
Last Sunday, I wrote a piece detailing a few trading card games which, while being super cool in concept, failed to attract a huge audience of players. In the end, they failed as a game for that reason and others. Today I want to go into this discussion from the angle of tabletop wargames and discuss why these games falter often as well.
First, though, I want to express that this is strictly my experience with these games and companies, and the world is large – while I may not be playing a given game, that doesn't mean you can't enjoy it yourself. The games I'm mentioning are also all fantastic and you should give them a try!
Games that fail to hold a player's attention for more than a season are a bit more hazardous to prospective players partly because it's much harder to sell a model that someone has painted than it is to sell a trading card. I'm considering all of the Malifaux models that I've tried and failed to sell for whatever reason – the market I was selling to was full of seasoned vets of the game, and I had too little room to keep most of my models, so I decided to sell. In the end, my models, poorly-painted (and some obsoleted by better models game-wise) sold in piecemeal for much less than I wanted them to sell for. But sell I did, and that honestly makes me pretty lucky. That doesn't always happen.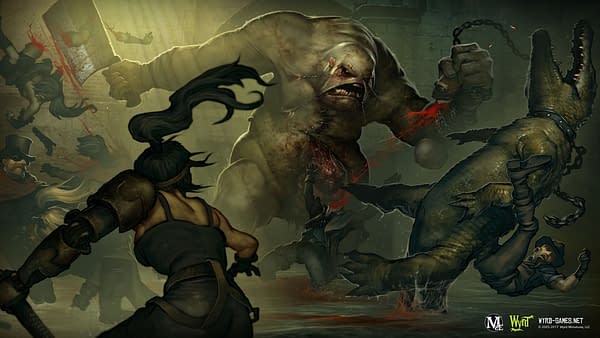 But why do games falter after people have gotten hooked on them for more than a season? I bought into Arena Rex, a brilliant game by Red Republic Games that I wish had stuck for longer than it has. This was back in 2016 when I was a more naive gamer. Now, I've gotten a whole season of competitive Arena Rex under my belt, and I even managed to place second in my local game store's tournament last year despite being a relative newcomer to actually playing the game. It put a great taste in my mouth to have won this tournament, and maybe that's why I wish the game had stuck, but for some reason, it didn't.
I happen to chalk that down to an inconsistent and/or infrequent release schedule. People clamor for innovations and novelty in their wargames, and Arena Rex is very much exactly what you expect from it. It also doesn't release new models en masse very often, unless you count the Helleniki faction, which only got their official starter box after the faction was out for about a year.

I also stopped playing Malifaux not for lack of trying. I distinctly remember investing a ton of money into Wyrd Games' magnum opus in college. I sold my first full Magic: The Gathering collection to fuel it because I was a broke college kid and wanted to broaden my gaming horizons. However, when I graduated, the game went south in the area where I went to school. People no longer wanted to play Malifaux around there, and I understand it was partly because of a general falling out. Was I the cornerstone there?
No matter, for when I was back to living full-time in New York City, I got back to playing Malifaux with a local gaming venue owned by a great person. The environment was remarkably positive and to my knowledge, they're all still playing it into its third edition. However, I had gotten into a situation where my time working as a Henchman for Wyrd Games had ended due to my own inactivity. Bad Things Happen, right? Yes, they do, and to this day I haven't played Third Edition, even after moving to a location which supports it (that's due to a player of authority being remarkably inhospitable, but that's another story for another day).
Malifaux is a great and awe-inspiring game in terms of aesthetic. Their Second Edition was fantastic and there was little reason for Wyrd Games to revamp it so soon except to shake things up. From what I recall, their open beta sessions were too slow to coalesce into a full game. In turn, this definitely peppered the opinions of many players I've seen on their main Facebook fan-page, A Wyrd Place. Many players just up and left for that reason alone. They started to get too big, it seems.

I know that just yesterday I wrote about going into another game – Gaslands, a model-agnostic car demolition derby-style game – but that's just the point. We are in an economy where models are at a premium. To play a game – an actual, good game – with no pressing need for new models is a huge boon to the gaming community. I really cannot wait to see this game flourish! The community needs something fresh at all times, and since things like Hot Wheels and Matchbox, two perfectly legal brands to derive from, release many different cars at all times, there will always be a new, shiny, next big thing in this game. It's mostly only dependent on how often Gaslands gets new rules support and if it catches their audience's attention.
In counterpoint, there are game companies which are "too big to fail", like Games Workshop, and they very likely are, but that's because they come out with multiple games at a time. Games Workshop hasn't failed (even with a single universe) because they know how to craft games that are different enough to draw attention from new players, but similar enough to keep attention of veteran players. Games like Warcry isn't just a downsizing of Age of Sigmar, nor is it a reskin of Kill Team. They seem to have the secret to longevity in the industry.
To conclude, games will continue to be made no matter how likely they are to succeed. I've dabbled in it myself, but it proves quite difficult to manage. Nevertheless, if a game takes off, it won't necessarily be afloat the next year. That's because of any number of factors. The point I want to make is to be wary of this when you make your next big wargaming purchase. It may not be sound in the future.