A Shop Called Quest is one helluva shop. Based out of California, they focus on pop art, comics, culture, and other cool things for the last 25 years. Laser Kitten — also based in Cali — creates clothing and accessories based on pop culture from the '80s and '90s. Combine the two with Betty and Veronica, and you have a partnership that should only be debuted at San Diego Comic-Con. This past weekend the trio released a limited-edition Betty and Veronica pin set which throws back to their glory days of big hair in the 1980s.
If you're at SD #ComicCon this weekend, be sure to pop by the @shopcalledquest booth #4519 to scoop up our limited edition collab #pins with @laserkitten! We're tapping into B&V's #80s vibes 😎! More BV x @laserkitten pieces coming soon! ⚡️💖⚡️ # SDCC40 pic.twitter.com/p6AFqQPkrg

— Betty & Veronica (@bettynveronica) July 20, 2018
So naturally I got one for myself.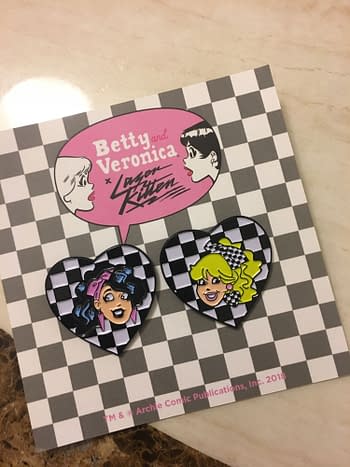 $20 got me this double pin set, which is an excellent deal. The pins have some weight to them, and the colors absolutely pop. The lines are clean, and the girls are defined super well. This was an excellent introduction to the B&V and Lazer Kitten collab, which I'm excited to see more of!
Enjoyed this article? Share it!