The Name Of The Wind – Epic Fantasy Or Fictional Biography?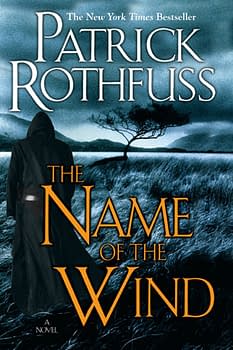 The Saturday after Thanksgiving I'd gotten together with a group of friends for what we call "Friendsgiving". A chance to have a Thanksgiving meal with the people you REALLY want to see. This particular group are voracious readers but on a wide array of genres. One friend reads Lovecraft, another is into science fiction while a third is addicted to Outlander. There are comic readers, romance fans and even someone who loves biographies. When we find an author that somehow appeals to us all, it's rare but a lot of fun. During that evening an author I had never heard of came up in conversation, Patrick Rothfuss. Only half of the group had heard of him, but I was intrigued.
Two days later, I'm working on articles and come across the announcement that Lin-Manuel Miranda was going to be working with Rothfuss to adapt his Kingkiller Chronicles. I like Miranda, and like many people, I'm a fan of Hamilton. Then a couple weeks later we get the announcement that John Rogers, the creator of Leverage, was going to be the show runner for the series. Leverage was one of my two favorite series at the time it was on (White Collar the other). I had already started reading the first Kingkiller Chronicles novel, The Name of the Wind… but now I had even more reason to read it. Except I don't really have time to read, I have time to listen so I got the book from Audible.com and jumped into the 27+ hours of entertainment. And now that that is complete, here are my thoughts on the book.
It's a very odd book. It stats off in the third person as we visit a small town's inn with a couple of locals having drinks when one of the locals stumble in having been attacked by a spider creature. We then meet a traveler on the road who goes by the name of Chronicler as he is being robbed by the soldiers. Chronicler must travel on foot the rest of his journey and comes across the innkeeper, Kote, in the middle of no where about to fight the spiders. Chronicler ends up unconscious and Kote takes him back to the inn to be patched up. Once better, Chronicler figures out that Kote is not the man he appears to be, that in reality he is Kvothe – a legendary swordsman, magician and musician. Chronicler has come to Newarre specifically to find Kvothe and to write his real story down. After some odd negotiating, Kvothe agrees and they are joined by his assistant Bast, then he begins to tell his tale.
The story then switches to first-person as we meet a very young Kvothe who is traveling with a performing troupe lead by his father, the famous bard Arliden. This is where he would meet Abenthy, a scholar who begins teaching Kvothe magic, or what they call Sympathy. From there we follow the young boys journey through discover, tragedy, and hard times. The loss of everything, surviving on the bitter streets of a big city and eventually making his way to the University where he excelled like no other. He would unlock secrets, hone his musical skills and find the woman of his dreams… but he would also make enemies, get in trouble and face countless dangers. Like every good fantasy character should.
The Name of the Wind is the first of three books in the series and it focuses on Kvothe's life from age seven or eight on into his late mid to late teens. In that time he has some very specific goals: track down the mythical cause of the great tragedy that befell him, get an education, get closer to the girl and to play music. The problem is that these goals don't always work well together. In truth, they work against the others more often than not and Kvothe makes spur of the moment decisions as if he was obsessed with a single goal and damning the rest only for a few pages later he will make a different decision towards a different goal, damning all the rest. At some points there is almost a bi-polar feeling to his thought process. You can understand his choices, but he does seem okay cutting off his own nose to spite his face.
Occasionally we come out of the past and catch up with what's going on at the inn, but the majority of the book takes place in the story being told to Chronicler. It doesn't feel like an epic fantasy, but rather someone writing their own biography. The writing is strong, the characters are engaging and Rothfuss takes the time to give you details on stuff like sympathy without over burdening you, making it lose it's magic. It's not a straight forward story told in a three act structure. It's more of a timeline where events are relayed as they happened with some upcoming moments hinted at. Kvothe is a likable character, but sometimes too confidant and it catches up with him. But he's also the type that can usually land on his feet with only a minor bruise or two.
Rothfuss created a vibrant world for Kvothe to live in with friends, enemies and loves, but he does so in a style that you don't normally get in a fantasy series. Our hero isn't on a quest, he's on a couple of quests and says that he is eager to complete it, but he also gets easily distracted by other quests. It's a fun and engaging read / listen that you can get lost in. The 27 hours will fly by and the next thing you know, your starting to look up the second book… The Wise Man's Fears.