[#WonderCon] Gather 'Round the Campfire: Tellin' Tales with Patrick Rothfuss, R.A. Salvatore, Tina LeCount Myers, and Jenna Rhodes
[Editor's Note: This piece comes to us from the Gather Round the Campfire panel during WonderCon 2018 from Bleeding Cool contributor Dana Han-Klein.]
Throw a bunch of fantasy writers in a room and what do you get? Philosophy, minimal practicality, and some great zingers.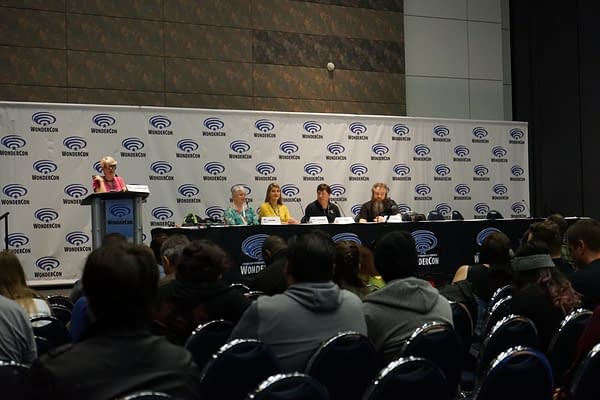 WonderCon 2018 special guest Patrick Rothfuss, author of The Kingkiller Chronicle series, was joined by fellow writers R. A. Salvatore (Child of a Mad God, The Legend of Drizzt), Tina LeCount Myers (The Legacy of the Heavens series), and Jenna Rhodes (Elven Ways series) to discuss what drives them to be storytellers.
The Zinger of the Panel goes to Jenna, who works for the same publisher (Penguin Random House) as Rothfuss and is the one who has to make up to the gaps between Pat's books… to which Rothfuss provided a generous response of "you're welcome."
To hear them spin it, it's a mix between compulsion and destiny (well, except for Rothfuss, who claims it's his contrarian nature that drives him). Whether they started out always wanting to be a writer, being encouraged to be one and avoiding the call, or dipping into mathematics before becoming one, it's clear that writing is the world they were all fated to enter.
Rothfuss in particular was in fine form, dispensing wisdom (though if you directly asked him for wisdom I'm sure he'd rebel against that immediately) left and right. Some of my favorite tidbits on writing included: Writing only gives you two questions, what is? Or what if?
On why fantasy over other genres: "I can do everything I want in fantasy… plus magic."
On how to convey a strongly held opinion without preaching: "Don't preach… involve me in a discussion, don't jam it down my throat: that's gross."
On how to fight the fear that you may be doing something that has already been done before: "I wrote about an orphan boy who went to a school of magic and everything's turned out just fine."
The most fascinating part was watching Rothfuss start out with the hypothesis that fantasy isn't necessarily tied to hope, and then over the course of the panel completely contradict his original argument, and eventually join team hopeful fantasy. Thus showing us he truly is the contrarian he says he is.
And no, he did not answer when the next Kingkiller Chronicle book would come out (at this rate we may get the Lin-Manuel Miranda TV series first), so it sounds like Jenna will still have plenty of time to fill.