AwesomenessTV is about to test the limits of the old adage that "love never dies" as the media company finalized casting and began production on their new scripted series My Dead Ex for Verizon's go90 video streaming service.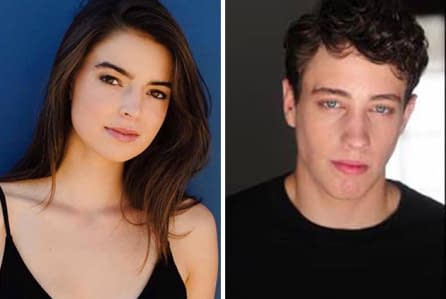 My Dead Ex puts a very unique spin on the whole "will they/won't they" romantic storyline: sure, Charley (Katherine Hughes, Me, Earl, and the Dying Girl) is living the life of a typical teenager: school, family and a not-so-secret admirer named Ben (Ryan Lee, Goosebumps). Except this is the part where things get a little "unique" because Ben is kinda', sorta' dead. As in, no longer living. Will Charley and Ben let a little thing like cold skin and the lack of a pulse come between them? They need to decide, because there might be forces at play who would be more than happy to make that decision for them. Joining Hughes and Lee on the cast of My Dead Ex is Medalion Rahimi (Still Star-Crossed) as Wren, Charley's best friend; Ryan Malaty (#RealityHigh) as Luke, Charley's love interest; Alexa Losey (Mr. Student Body President) as Bethany, Wren's love interest; Beth Littleford (Dog with a Blog) as Charley's mom Laurel; Audrey Wasilewski (Mad Men) as Ben's mom Mary; Marc Evan Jackson (Brooklyn Nine-Nine) as Vice Principal Kelly; Matt Braunger (Agent Carter) as Officer Maloof; Sal Lopez (El Chicano) as Wallace the janitor; Todd Weeks (The Menendez Murders) as Ben's dad Bob; Isabella Kai Rice (Unforgettable) as 10-year-old Charley, and Ryan Alessi (Virtual Boys) as 10-year-old Ben.
AwesomenessTV was founded by Brian Robbins and Joe Davola as a YouTube channel and multi-channel network with a targeted viewing audience of teenagers and preteens. Charged with creating original web series, television shows and theatrical films across all available platforms, AwesomenessTV operates as a unit of DreamWorks New Media (Verizon and Hearst are minority investors). The company oversee a number of divisions, including: talent; branded entertainment; consumer products; publishing; music; and an international network of affiliate YouTube channels.
Here's a trailer for AwesomenessTV's Freakish, currently on Hulu:
My Dead Ex is set to premiere on Verizon's go90 video streaming service some time in 2018.
Enjoyed this article? Share it!