 Less than 24 hours after the announcement that Michael Sheen (Masters of Sex, Frost/Nixon) and David Tennant (Doctor Who, Broadchurch) had been cast as the leads in Amazon's adaptation of Neil Gaiman and Terry Pratchett's humor-fantasy novel Good Omens, Gaiman took to his Tumblr account on Tuesday to begin managing fan expectations as the series ramps up production. Two key areas that Gaiman seemed to emphasize the most in his post were: the show is being done "with love and with faithfulness to the story" that is Good Omens; and fans need to come to the series with an open mind, because it would be impossible to create a vision for the series that will meet everyone's personal expectations. The post reads:
"Good Omens: a gentle reminder

Your headcanon is your headcanon. The characters in your mind are what they are, and nobody is trying to take them away from you. Think of the Good Omens TV series as a stage play: for six full hours, actors are going to be portraying the roles of Crowley and Aziraphale, Shadwell and Madame Tracy, Newt and Anathema, Adam, Pepper, Wensleydale and Brian and the rest. Will they look like the people in your head? The ones you've been drawing and writing about and imagining for (in some cases) almost 30 years?

Probably not. Which is fine.

The people in your head and your drawings are still there, and still real and still true. I've seen drawings of hundreds of different Aziraphales over the years, all with different faces and body-shapes, different hair and skin, and would never have thought to tell anyone who drew or loved them that that wasn't what Aziraphale looked like. (And a couple of years after we wrote it, I was amused to realise that the Aziraphale in my head looked nothing like the Aziraphale in Terry's head.) I've loved every instance of Good Omens Cosplay I've seen, and in no case did I ever think anyone was doing it wrong: they were all Aziraphales and Crowleys, and it was always a delight.

Good Omens has been unillustrated for 27 years, which means that each of you gets to make up your own look for the characters, your own backstories, your own ideas about how they will behave.

The TV version is being made with love and with faithfulness to the story. It's got material and characters in it that Terry and I had discussed over the years, (some of it from what we would have done it there had been a sequel). Writing it has taken up the greater part of my last three years. You might like it – I really hope you will – but you don't have to. You can start watching it, decide that you prefer the thing in your head, and stop watching it. (I never saw the last Lord of the Rings movie, because I liked the thing in my head too much.)

Remember we are making this with love.

And that your own personal headCrowleys and headAziraphales and headFourHorsemen and headThem and headHastur and headLigur and headSisterMary and all the rest are yours, and safe, and nobody is ever going to take them away from you."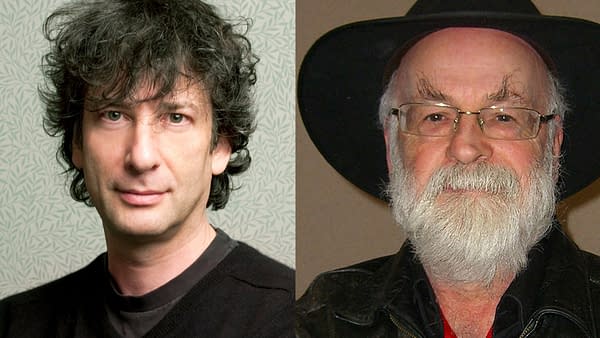 Good Omens is co-produced by BBC Studios with Narrativia (Rhianna Pratchett's production company) and the Blank Corporation in association with BBC Worldwide for Amazon Prime Video and the BBC. Gaiman, Caroline Skinner, and Chris Sussman are executive producing for BBC Studios, and Rob Wilkins and Rod Brown will executive produce for Narrativia. Gaiman adapted all six episodes of the series and will also serve as series showrunner.
Enjoyed this article? Share it!