Neil Patrick Harris Confirms 'Unfortunate Events' Ending with Season 3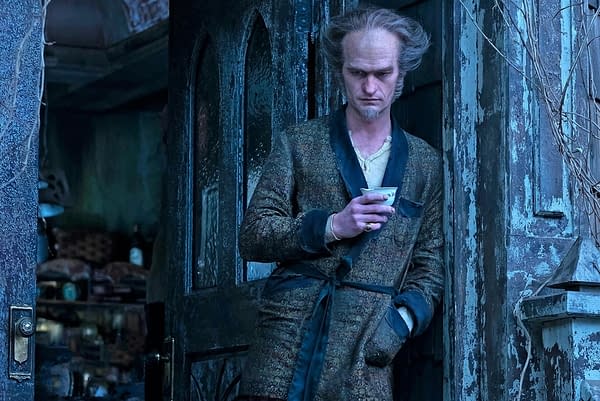 As unfortunate as the events are that continue to haunt "The Baudelaire Orphans" – Violet, Klaus, and Sunny – are, it would appear there's finally some light at the end of the tunnel for our trio (one no, the light's not from an oncoming train). Count Olaf himself, Neil Patrick Harris (who also serves as a producer), confirmed in an interview that Netflix's A Series of Unfortunate Events would be ending its running after its already-announced third season.
The announcement doesn't come as much of a surprise to fans of the books. With the first season covering Books 1-4 combined with news of the Season 2 & 3 renewals, it was expected that each season would cover about four books and wrap up the entire run of 13 books. In an interview with TV Guide, Harris explained that the biggest concern from the very beginning was making sure that the series was respectful to the source material:
"We're three seasons all in. We've intentionally been very truthful and factual and loyal to the books. We've added a few characters that aren't in the books, we've added some songs that you probably couldn't put into the books, but for the most part we're sticking to the structure of what already worked." – Harris
Here's a look at the teaser trailer for Season 2:
This series follows the tragic tale of three orphans — Violet, Klaus, and Sunny Baudelaire — who are investigating their parents' mysterious death. The siblings are saddled with an evil guardian named Count Olaf (portrayed by award-winning actor Neil Patrick Harris), who will do whatever it takes to get his hands on the Baudelaire's inheritance. Violet, Klaus, and Sunny must outsmart Olaf at every turn, foiling devious plans and disguises. The series is based on the best-selling series of books by Lemony Snickey (aka Daniel Handler).
Netflix's A Series of Unfortunate Events stars Harris as Count Olaf; Patrick Warburton as Lemony Snicket; Malina Weissman as Violet Baudelaire; Louis Hynes as Klaus Baudelaire; K. Todd Freeman as Arthur Poe; and Presley Smith as Sunny Baudelaire. Joining the show for Season 2 are Lucy Punch (Into the Woods, Hot Fuzz) as Esmé Squalor; Nathan Fillion (Castle, Firefly) as Jacques Snicket; Sara Rue (Bones, The Ring) as a Librarian; Roger Bart (Graves, Episodes) as Vice-Principal Nero; and Kitana Turnbull (The Bachelors, Supergirl) as Carmelita Spats.