Ricky Gervais Sets Second Stand-Up at Netflix Ahead of 'Humanity'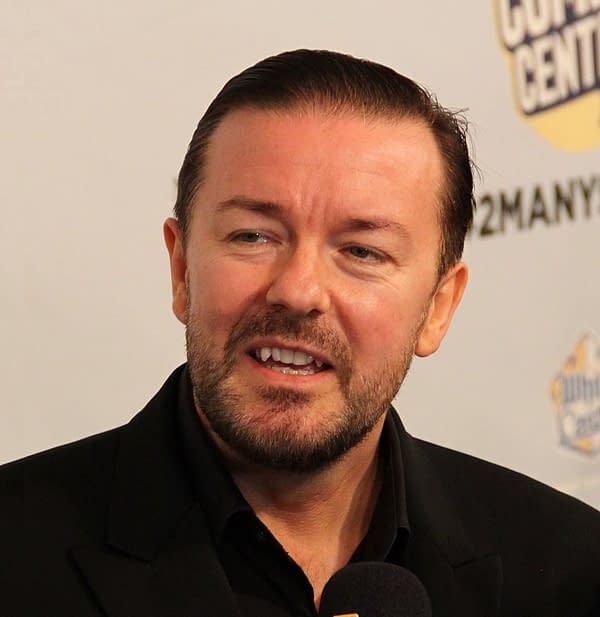 Netflix and actor/writer/comedian (and killer Golden Globes host) Ricky Gervais have been making beautiful music together over the past few years, and it looks like that dance is going to go on a little longer. Having previously bought the rights to his current stand-up comedy tour Humanity, the streaming service has also secured the rights to his next, as-yet-unnamed stand-up show.
Filmed in London's Eventim Apollow and set to premiere in the early part of 2018, Humanity is only the recent example of the offerings Netflix has had for Gervais fans. The streaming service still hosts the original U.K. version of The Office; as well as several of his films, including his The Office spin-off movie David Brent: Life on the Road.
Earlier this week, Gervais took to Twitter to confirm the news and survey his followers to get their thoughts on a theme and title for the new special:
While Gervais has never been one to shy away from expressing his personal view on social media on a wide range of topics — from animal rights to climate to change to artistic freedom — he makes a point of going in a slightly different direction when it comes to his stand-up show. He addressed this very topic in an interview with The Gothamist in August 2017:
"I also don't get too overtly political in my standup, or anything, clearly. I know not to, just because I think comedy is an intellectual pursuit and I think that if you start rallying, if you start just stating your set of beliefs, then it loses something comedic. It relies on the people agreeing with you or not. I don't like it when the other side does it. I don't like it when I see a racist comedian go up and say, "What are we gonna do about all these immigrants?" and they get a round the applause. I think, "Well that's not a joke. That's just your biased opinion." Getting a round of applause from your like-minded rabble. And I don't want to be in that position so there's a certain fairness, I think, to everything I do."
Source: Deadline-Hollywood