'SuperMansion: Drag Me To Halloween' Scares Up A Trailer, New Pics From beautiful ghosts to demonic spirits to evil dentists, the League of Freedom is ready to roll out the tricks and the treats this October in the all-new stop-motion animated Crackle original special SuperMansion: Drag Me to Halloween, debuting on October 5th. There's just one tiny little problem: Titanium Rex (Bryan Cranston) is not a big fan of Halloween — and with good reason. Check out some of those reasons for yourself in this official trailer:
https://www.youtube.com/watch?v=MpaxGQ3-eBM
Created by Matthew Senreich (Robot Chicken) and Zeb Wells, SuperMansion follows the adventures of Titanium Rex and his team of hapless superheros who also find themselves living as roommates together. Guest voices for this special include comedians Lake Bell (Children's Hospital) as Millicent and Phil LaMarr (Futurama) as Hugh Dorvaks. Bell and LaMarr are also joining series regulars Keegan-Michael Key (American Ranger), Jillian Bell (Viking Woman, Clown Girl), Tucker Gilmore (Black Saturn), Zeb Wells (Robobot) and Heidi Gardner (Cooch). Senreich and Wells serve as executive producers on the special under their production company Stoopid Buddy Stoodios alongside Seth Green, John Harvatine IV, and Eric Towner. Cranston and James Degus also serve as executive producers under their production banner Moon Shot Entertainment. SuperMansion: Drag Me to Halloween was written by Tom Sheppard (Robot Chicken) and Wells, under the direction of SuperMansion's Nick Simotas.
Crackle's all-new stop-motion animated original special SuperMansion: Drag Me to Halloween is set to stream for free on Thursday, October 5th. You can check out some additional pics from the special below.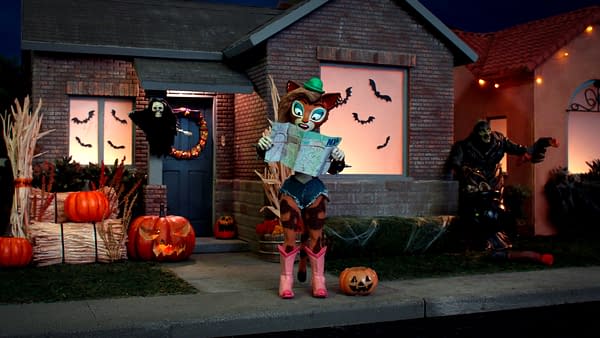 Renewed for a third season in earlier this year, Crackle summarizes the series as:
"From the sick minds that hatched Robot Chicken comes the newest Crackle Original Series. Bryan Cranston (Breaking Bad) voices Titanium Rex, the leader of a hapless team of superheroes turned mansion roommates. Also stars Seth Green (Family Guy), Keegan-Michael Key (Key & Peele), Jillian Bell (Workaholics) and Chris Pine (Star Trek)."