Veep Season 7: Julia Louis-Dreyfus to Return in August Following Breast Cancer Treatment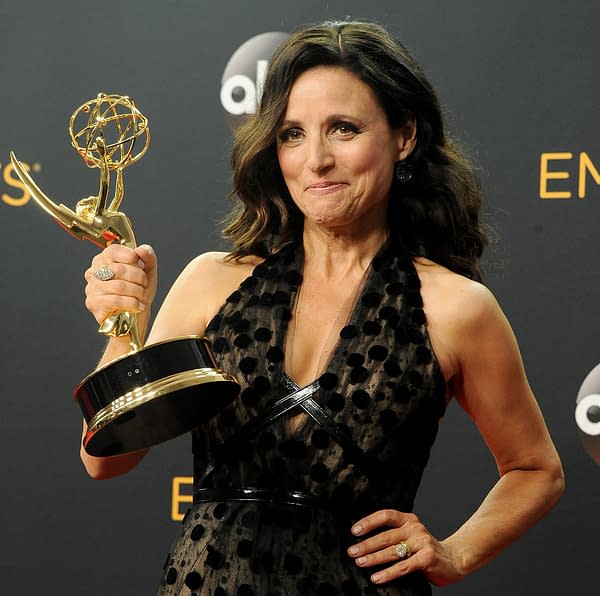 ***UPDATE*** Thanks to Bleeding Cool's Mary Anne Butler and her very cool Screen Actors Guild (SAG) Awards live-tweet (which you can check out here), we've just learned that Louis-Dreyfus has won Best Actress in a TV Comedy. Congrats!
Julia Louis-Dreyfus appears ready to resume the remainder of her administration with word that the Emmy Award-winning star of HBO's Veep plans to resume filming the show's seventh and final season in August. Co-star Matt Walsh (Upright Citizens Brigade) updated fans on both the actress's status as well as the status of the show's production when he spoke with Entertainment Weekly, revealing that Louis-Dreyfus has completed chemotherapy treatment for breast cancer and has been participating in table reads for the upcoming season. Walsh expects production on Season 7 to gear up by the end of the summer, with new episodes airing in 2019.
Walsh said:
"Veep is on hiatus, we'll start filming in August and it will air in 2019. We've known for about a month. We've seen [Julia], she's done some table reads, she's doing well, she's finished her last chemo, she's in recuperation. Her prospectives have remained excellent throughout. She's very well loved; she's a tremendous person."
Nearly four of the final season's scripts are written, with both the show's creative and the cable giant committed to taking their time and having the series end on a high note quality-wise. Through it all, Walsh admired her co-star and friend's openness with what she shared about her health progress:
"I would hide if I had an illness like that, but she's very brave and also better for it because she's helped other women and other women have supported her. It's a really unique, brave thing she's doing just by being so out there with it."
On September 28th, 2017, less than two weeks after she took home her record sixth Emmy for her role as Selina Meyer on Veep, Louis-Dreyfus took to Twitter to reveal to her followers and the public that she had been diagnosed with breast cancer.
Louis-Dreyfus was actually diagnosed the day after the Emmy Awards, and all parties wanted it to be clear that her diagnosis had nothing to do with the decision to end Veep's run with the upcoming seventh season. Less than two months after the reveal came word that production on the HBO series' seventh and final season had been put on hold while the actress underwent cancer treatment.