Grey's, The Boys, Wrestling Spoilers, and More! [The Weekly Static s01e30] And this is how it starts: you take your shoes off in the back of my van. My shirt looks so good when it's just hanging off your back. And you said, "Use your hands and my spare time. We've got one thing in common it's"… The Weekly Static!
With all due respect to an incredibly cool song from The 1975 – I'm thinking you might want to get that looked at. Seriously? Cause it looks like it's getting a little… The Weekly Static is our look at the past week in the land of the networks, cable, streaming, smoke signals, cloud formations, and shadow puppets from an interesting and entertaining perspective. So The Weekly Static team (myself, Rocky, Trejo, Bat-Murr and Margot Staten) makes you three promises… because we're good like that:
● Offer blunt, honest perspectives on five TV topics from the past week covered by Bleeding Cool's team of news-thirsty writers. Just to be clear? My views are my views and don't reflect on the writers. We own what we say 110%.
● Spotlight a news item that we missed when it first hit, but we're pretty sure you'll want to know about.
● Feed my insatiable-yet-fragile ego with buckets of praise, adulation, social media shares, pizza, Superman Funkos, Eisner Awards, write-in votes for the 2020 U.S. Presidential Election (…now more than ever…) and a Coop's "Devil's Advocate" Zippo lighter.
M*A*S*H's David Ogden Stiers Dies at the Age of 75
Oscars 2018 Complete Winners List
The Boys: Rampage's Jack Quaid Set as Hughie in Amazon Series
Wrestling Promotion Declares War on Spoilers with Cease and Desist Letters
Grey's Anatomy Star, Showrunner Blast Deadline Hollywood over Report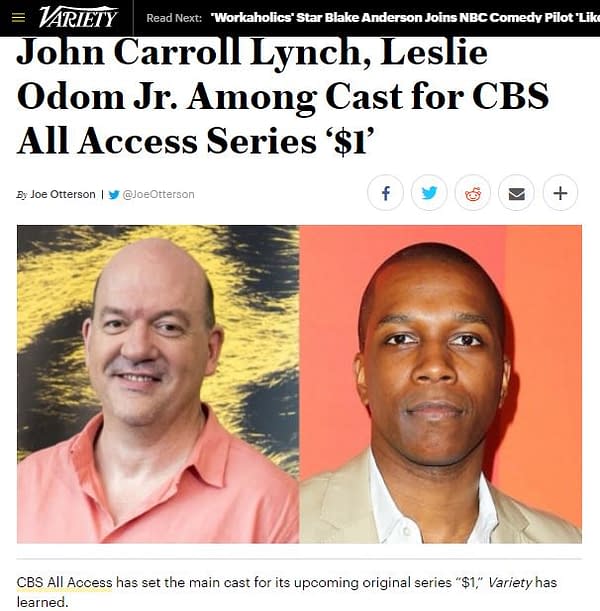 John Carroll Lynch, Leslie Odom Jr. Among Cast for CBS All Access Series '$1'
"CBS All Access has set the main cast for its upcoming original series "$1," Variety has learned.

The series is a mystery set in a small rust belt town in post-recession America, where a one-dollar bill changing hands connects a group of characters involved in a shocking multiple murder. Production of the series is set to begin in late March on location in Pittsburgh, Penn… (more)"