Nerd Food: Eating And Drinking Your Way (Or Attempting To!) Around Epcot's World Showcase! Epcot–the Experimental Prototype Community of Tomorrow–is one of the most popular parks in the vast Disney park landscape. The park is broken up into two sections, Future World and World Showcase. World Showcase is one of the best attractions in most theme parks (seriously!) as you can travel through 11 different world pavilions, where you can learn about different cultures, buy (overpriced) items, and of course eat and drink food from the country. This is arguably Epcot's biggest draw. There are loads of drinking guides to Epcot too. It's super serious.
I've been to Epcot a number of times, and have attempted to drink around the world. However, I'm a tiny person (I'm not even 5 feet) and after 4 adult beverages I'm pretty much done. Combine that with the Florida heat and sun, and you're in for a bad time if you seriously do drink around the world. There are other challenges though, such as snacking/eating around the world, which I highly suggest over drinking. I also urge people to visit Epcot during the spring or fall to take advantage of The Flower and Garden Festival (spring) or The Food and Wine Festival (fall). Both bring in temporary food/drink kiosks which seriously offer some amazing treats. I've been to Flower and Garden a number of times and love it, but I have yet to visit Food and Wine. Maybe that'll change this year. I've also admittedly not eaten at every place in the world showcase.
If you're like me though, you prefer a good deal. Especially in Disney, where good deals are very hard to come by. The UK and Morocco Pavilions both offer flights of beer and wine, respectively. The beer flight in the UK will set you back around $15, while the wine flight in Morocco is around $12. After taking in a flight, grab some falafel and a desert rose at the temporary Moroccan kiosk (it comes back yearly from Fower and Garden). The falafel is delicious, but the desert rose drink is the real winner. This will set you back about $11. Still hungry? Head over to France to the Les Halles Boulangerie Patisserie, the quick service restaurant. I highly recommended the roule lard et fromage roll (bacon and cheese roll). It's served warm and it's my go-to every time I'm in Epcot. The croissants and quiche are divine as well, and all of the desserts are excellent. Norway also offers a fantastic dessert selection, I urge you to try the school bread (sweet bread roll with vanilla pudding, covered with icing and coconut).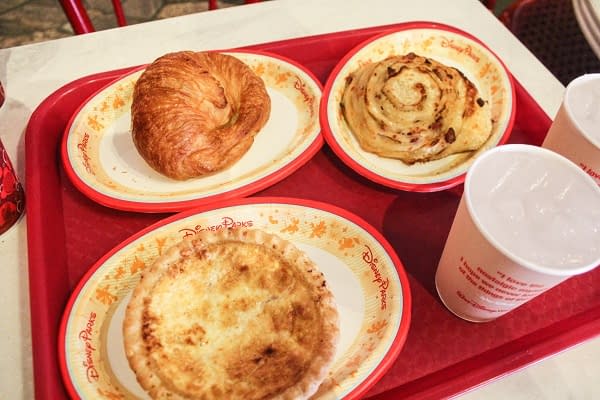 France is also a great drinking country. Skip the beer here (it sucks) and just stick to the wine. World Showcase does have an official drinking challenge (of sorts) called the Wine Walk. For $30 you can visit France, Germany and Italy and sample two 2oz pours of various wines. I did this with my mom a few days ago, and they even threw in the reusable wine glass. This says to me the glasses aren't as popular as Disney had hoped, but whatever. It is a cool souvenir.
Alright, you need to eat more food to combat all of this alcohol. Why not head over to Japan and grab some udon at Katsura grill, and for dessert grab the frushi (fruit sushi)? If you're feeling up for it, there's a little known sake bar at the back of the Mitsukoshi department store. I suggest the pear sake.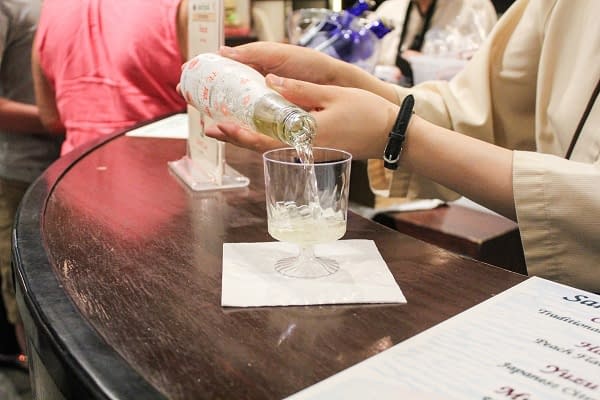 At this point I hope you've decided you're done drinking, but chances are you're not. The tequila bar in Mexico is one of the greatest tequila bars I've ever been too. They offer flights of tequila, which is a more wallet friendly option. Germany honestly has the best tasting beer, while the American pavilion is a close second. I've never drank in the Chinese pavilion, but these candied strawberries were the perfect way to beat the heat. Germany also has a great sit down restaurant–Biergarten. For $40 a person you get all you can eat German food, and there's even a music show to go with your meal. All in all you will likely spend around $100 (if not more) in one day eating/drinking around the world showcase. It's one of the highlights of Disney World, and one of the reasons why I keep going back so much.