The Invaders: Angie's Blog, An All-Ages Science Fiction Webseries – Look! It Moves! by Adi Tantimedh
Adi Tantimedh writes, One thing I like about NYCC is to walk around and stumble upon something completely new that I never heard of. That was how I was introduced to the booth for the all-ages webseries The Invaders: Angie's Logs, an comedy series about a precocious, unflappable seven-year-old girl named Angie (Catori Crawford) who sets out to fight alien invaders, aided by her freaked-out teenage babysitter Beth (Catherine Manett).
[youtube]https://www.youtube.com/watch?v=L6KJ3V0Jedw[/youtube]
This is not some amateurish webseries by a bunch of 20something geeks telling their favourite nerdy jokes. This is a professional online TV series made by a director and producer with decades of TV experience. Creator, writer and director Mark Cabaroy has worked in children's television, on shows like Sesame Street and The Electric Company, and producer Marti Davis has won awards, been involved in producing, casting and also manages her daughter Leila Jean Davis' acting. Leila, who has appeared in Cinemax' acclaimed The Knick, plays an alien in the webseries.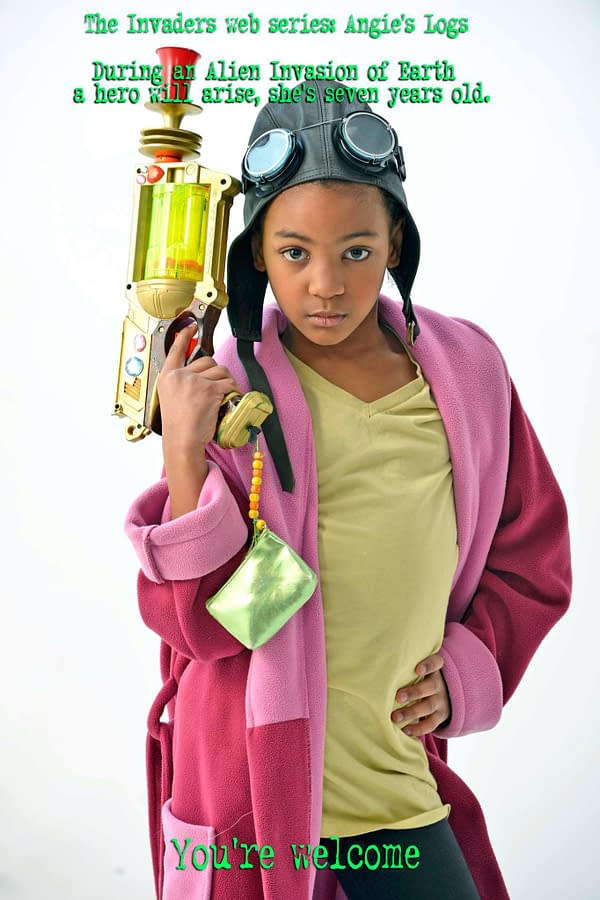 The series is about Girl Power and comedy, and reminded me that there aren't enough all-ages shows on the internet for children who might be too young for the various nerdy and video game-oriented web shows aimed at teens and twentysomethings and geeks. There's a sly, sometimes snarky sense of humour that should familiar to anyone who's grown up watching Sesame Street. Creator and director Mark Cabaroy had seen the need for a show for kids and little girls on the internet after years of working in children's television and created one himself.
[youtube]https://www.youtube.com/watch?v=ogXRDc4j7a4[/youtube]
As someone who's always interested in alternate means of production for film and TV outside of the monied gates of the networks and studios, a show like The Invaders: Angie's Logs is something to support in principle. The show is made on a tiny budget and uses special effects and post-production help from crowdsourced friends and helpers around the world via the internet. I managed to interview producer Marti Davis at NYCC.
[youtube]https://www.youtube.com/watch?v=g8p5uB120BY[/youtube]
(I had shot another interview with director Mark Cadaroy, Marti and actress Catherine Mannett, but unfortunately there were problems with the sound due to a noisy day on the con floor, so I couldn't post it.)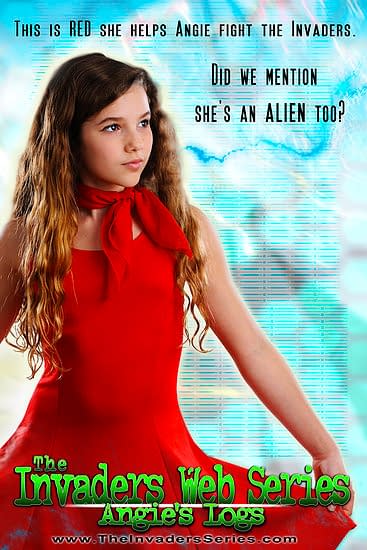 The fact that the world-saving heroine is a mixed-race little girl and her babysitter sidekick and alien best friend are also girls is a significant step in balancing the gender ratio in children's programming, and the show has already won Telly Awards is something of a big deal here.
[youtube]https://www.youtube.com/watch?v=R2AQrygWVXE[/youtube]
The writing has charm and knowing humour, and the production bears all the hallmarks of experienced professionals. This show deserves to be seen by more people, especially kids. Marti and Mark have said they plan to raise more funds via crowdfunding to produce the rest of the series. Meanwhile, they're proceeding with the production of more episodes.
You can watch the show from the beginning and new episodes as they're posted on their official website and on Youtube.
Saved by kids at lookitmoves@gmail.com
Follow the official LOOK! IT MOVES! twitter feed at http://twitter.com/lookitmoves for thoughts and snark on media and pop culture, stuff for future columns and stuff I may never spend a whole column writing about.
Look! It Moves! © Adisakdi Tantimedh