Frances McDormand's Stolen Best Actress Oscar Recovered, Suspect in Custody
Best Actress winner Frances McDormand had an interesting night after the 90th Annual Academy Awards. She picked up her second Oscar last night (she'd also won for Fargo back in 1997) for her role in Three Billboards outside Ebbing Missouri after sweeping the category across multiple awards shows, but the excitement didn't stop there.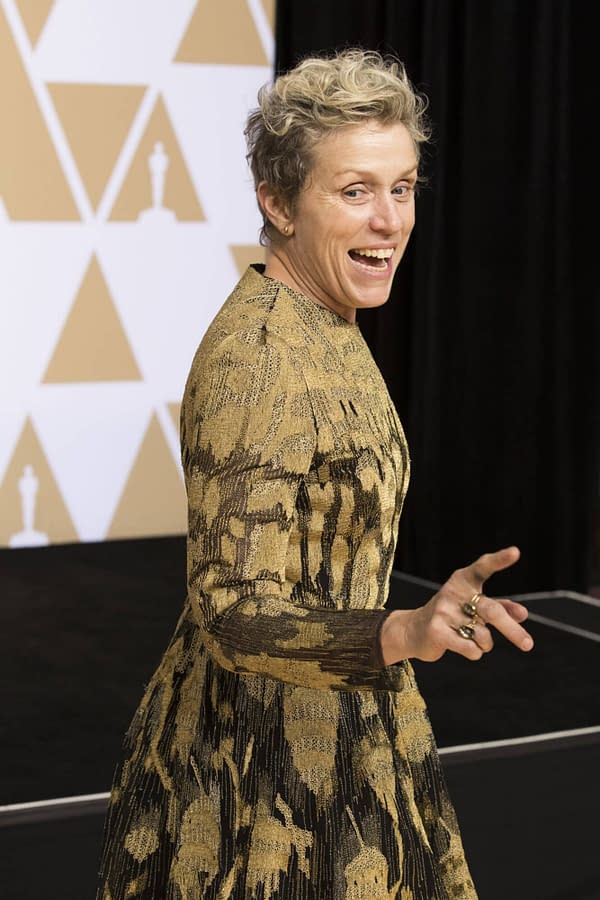 Post awards show, the winners and several high profile guests usually make their way to the annual Governors Ball, this year taking place at the Ray Dolby Ballroom. There's your average photo op moments, dancing and drinks, speeches and notable relief that the marathon of Awards Season is over.
Apparently at some point during the night at the Ball, someone stole Frances McDormand's Best Actress Oscar. No, this isn't a Meryl Streep joke setup.
Deadline reports that suspect Terry Bryant, who had a ticket to attend the event, is currently in custody. They go on to say that a LAPD spokesperson told them that Bryant was arrested at 11:50 p.m. and taken to the Hollywood Division station. He reportedly faces a charge of felony grand theft, with bail set at $20,000. He was booked at 3:41 a.m.
Turns out that Bryant was even more of an idiot (the statues get engraved with the winner's names backstage at the ceremony, so he obviously isn't Frances) and he posted a video on Facebook holding the statue.
Needless to say, the golden statue has been returned to McDormand, who won the award for her role as a grieving mother dealing with the loss of her raped and murdered daughter and the ineptitude of her local police department.