Adam Savage Talks MythBusters, Hamilton, And Pasties At NYCC
Bleeding Cool contributor Richard Epstein writes from the Adam Savage panel at NYCC,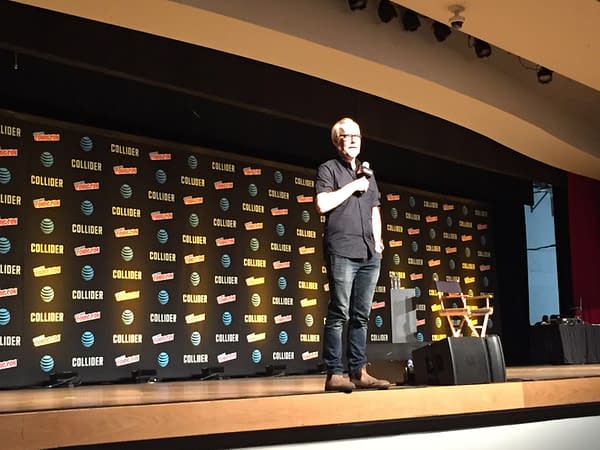 Adam Savage made his annual trip to New York Comic Con for a question and answer session with his fans. After a brief clip highlighting some of his past cosplay, Savage came out and thanked the fans, pointing out that because they keep coming out to see him, he gets to do what he loves. Continuing with his penchant for dressing up in full body costume at conventions, he dressed once again as Chewbacca. Only this time, he had with him Norman Chan dressed as a stormtrooper and leading him around. After that, it was straight to the questions.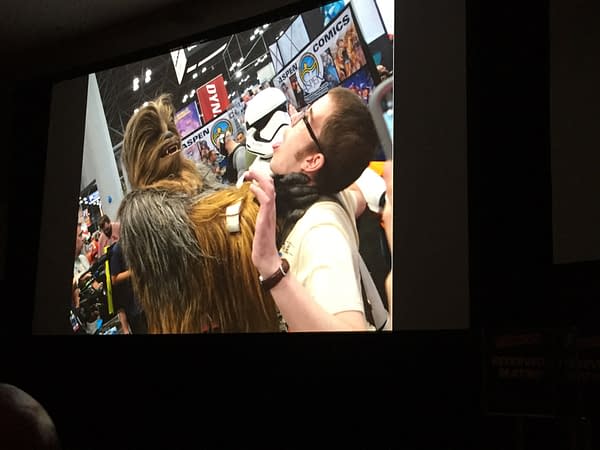 The first question was over what would make better armor, metal or bone. Savage said obviously metal as it's more versatile and malleable. When a fan asked about dragon bone, Savage responded without missing a beat by saying that sounded like the worst slash fiction he had ever heard.

As far as future costumes, he promised to appear in something Hamilton inspired at some point (we're betting on a King George). He also indicated he wants to do a drag costume at some point. He mentioned how he started his career working at the 8th Street Playhouse in Manhattan, one of the first theaters to run midnight showings of the Rocky Horror Picture Show before moving to San Francisco where he did the lights for a drag show. He loves gender mashup cosplay, as he strongly insists, "heroes don't belong only to men or only to women". He wants to wait until he has something to contribute to the culture rather than just doing something to do it.

Savage mentioned how much he enjoyed the new Blade Runner 2049. When asked his thoughts on Deckard, Savage came down clearly on the side of replicant, pointing to the symmetry between Deckard and Roy towards the end of the movie for evidence.

One of his favorite Mythbusters experiments was testing bullets dropped vs. fired. Savage told the crowd how the success they had achieved to that point gave them the luxury of 2 weeks to shoot each episode. That let him and Jaime spend 4 days designing the timing mechanism to make the experiment work.

As to future technology, Savage is really looking forward to self-driving cars. Remembering how hard it was when his parents became too old to drive, Savage pointed out that the next generation will never have that problem.

His favorite cosplay is Chewbacca and Totoro. Not much of his work ends up in his house, but there is a giant Totoro in the living room.

The most challenging thing he has worked on was Mythbusters, because of the standard of excellence he held himself to. The show was fun, but mentally draining at the same time.

When the question turned to Star Trek, Savage related how he was lucky enough to have a production-made Captain Kirk uniform, even though it really isn't flattering for anyone who isn't Chris Pine. In fact, the outfit is so sheer Savage needs to wear nipple covers with it.

Savage paused to tell the audience about his new podcast series Sci-Fi origins, in which he will interview 15 creators about how they got their start in the genre.

Asked about his favorite art lesson growing up, Savage replied "cardboard." He found that restricting the materials he could use acted as a great motivator.

He was also asked about his first acting job, the drowning boy in Billy Joel's You're Only Human video. Savage mentioned how he met Joel a few years ago, and they had a conversation about the video that resulted in an awkward silence until Joel admitted the video was terrible at which point they laughed.

The Mythbusters crew was lucky enough to not have any real injuries on set, nothing more than a few broken fingers.

As to his happiest accident, Savage said the inspiration that people have found from Mythbusters to go study science and to create is amazing, but was not something they ever planned on.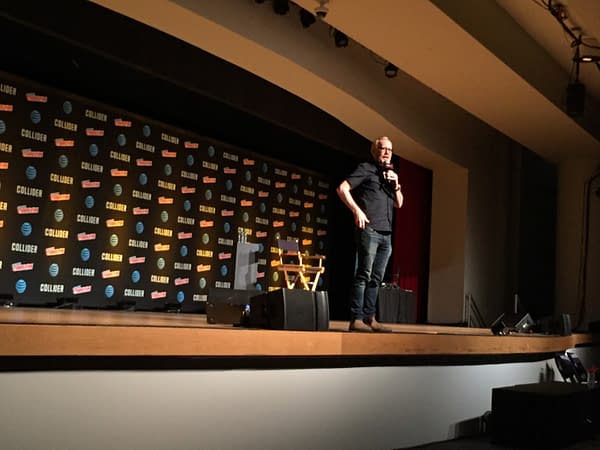 Savage ended the panel by reminding the audience that everybody fails. Savage talked about some of his failures, including the time he ruined a friend's student film and ended up losing the friend over it. Savage said he still feels bad everyday, but that he learned from that failure not to be afraid to ask for help or admit you can't do something. He said our failures define us as much as our successes in that we can learn from them, and that he wouldn't trade any of his failures.