News of the release date for the Harley Quinn animated series on DC Universe simply not enough Harley Quinn for you? DC has got you covered, announcing a new four-issue mini-series launching in September by Amanda Conner and Jimmy Palmiotti. Harley Quinn and the Birds of Prey is billed as a sequel to Conner and Palmiotti's fan-favorite Harley Quinn run. From the press release:
With Harley finally done with The Joker, she's moving forward with her life (as only she can) until she's beset by a rogue's gallery of Gotham City's worst villains, the target of a $10,000,000 bounty placed on her head by the Clown Prince of Crime. It will take the help of Black Canary, Cassandra Cain (a.k.a. Batgirl), Renee Montoya, and the Huntress to help Harley and get to the bottom of why The Joker has turned Gotham's worst loose on her.

Since taking on Harley Quinn in 2013 with DC's New 52, Conner and Palmiotti have brought a new sense of style to the character while retaining the same sass, swagger, and attitude (and an even bigger hammer) that brought in a new legion of comic book fans and expanded her appeal to those who knew her only from her origins as The Joker's girlfriend in Batman: The Animated Series.

Harley Quinn and The Birds of Prey is a 32-page, four-issue miniseries debuting in comic book stores and participating online retailers February 2020 (exact date TBD) and shipping every other month thereafter; each issue will sell for $5.99. Each issue will also carry DC's "Black Label" descriptor, identifying the content of this book as appropriate for readers ages 17 and older.
Said Conner:
Jimmy and I are so looking forward to this project. I'm excited to be co-writing it, but it's been some time since I've been able to draw interiors, so I'm doubly excited. Harley is a blast to write and draw; throw the Birds of Prey into the mix and it's even more fun. And since this will be a mature readers title, we'll do our best to get away with as many shenanigans as possible!
And Palmiotti:
Amanda and I are super excited to be creating this new series for DC. We've been waiting for the right opportunity to let loose on a project with a no-holds-barred Harley story where we revisit Harley's supporting cast and take her on an adventure back to Gotham. Teaming up with the Birds of Prey, Harley will turn all their worlds upside down—exactly how she likes it. Working with Amanda on the art and storytelling has been a blast so far and this book will be like nothing we have ever done before.
And Editor-in-Chief and real-life supervillain Bob Harras:
The combination of Amanda, Jimmy, and Harley Quinn has always resulted in great stories for Harley fans and this series will be no exception. Their interpretation of Harley has made her a favorite of fans everywhere. Much like Batman: Last Knight on Earth or Batman/Catwoman, this miniseries is another example of great creative teams who are adding to their storytelling legacy with a memorable sequel.
No release date beyond "February" has been set.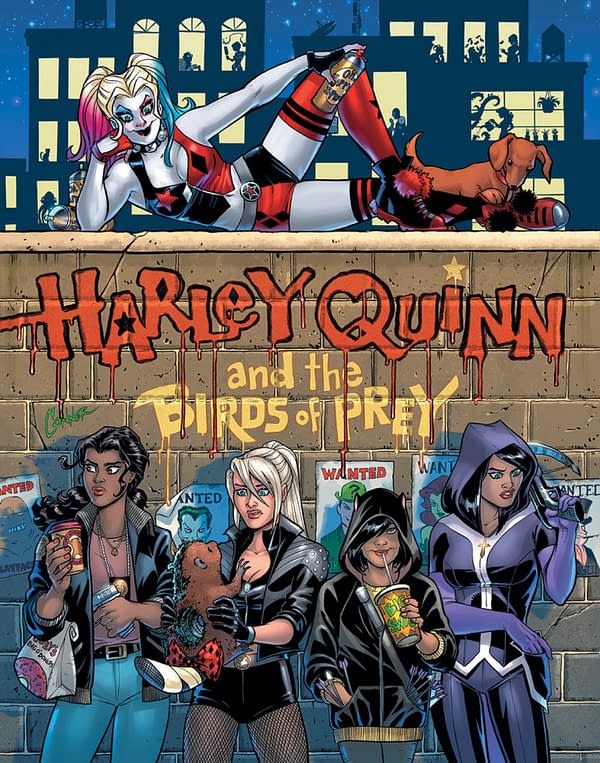 Enjoyed this article? Share it!