By Mike Sangregorio Friday afternoon, shortly before the "Rick & Morty" panel held in the Hilton hotel adjacent to the Convention Center, the creators and cast of the Adult Swim cartoon discussed the show and actively worked to avoid revealing anything resembling an actual spoiler.
First up were co-creators Dan Harmon ("Community") and Justin Roiland (also the voice of the two main characters), and Ryan Ridley (who voices pretty much every NPC). In keeping with tradition Harmon had a drink in hand and Justin could not believe there was not someone following him around with booze.
After a "lively" discussion concerning "Pokémon Go," including asking which teams each creator was on, I learned that I know nothing about "Pokémon Go." This continued when Chris Parnell (voice of Jerry Smith, Morty's father), Sarah Chalke (voice of Beth Smith, Morty's mother and Rick's daughter), and Spencer Grammer (voice of Summer Smith, Morty's sister) took their place. Everyone had answers regarding which team each of their characters were most likely to be on but, honestly, this was all white noise to me.
I did find it interesting that at no point did anyone mention "Pocket Mortys" which is the Pokémon inspired mobile game that the show's creators released a while back. Hopefully we will see a "Go" version of that in the future which brings all R&M fans together.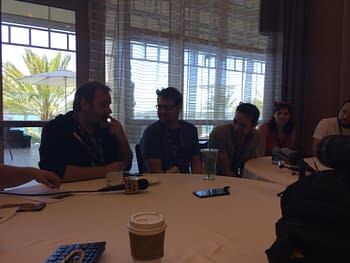 For those not familiar, the show centers of the adventures of super mad scientist Rick Sanchez and his sidekick/grandson Morty Smith. If you have not seen the show, please watch it, I think you will enjoy it. If you have seen the show then let me tell you that as far as Harmon was ready to reveal there are no plans for Snowball to return.
Harmon described the show as being what happens when "plot devices were a non-starter… the show becomes about people." This is regardless of the fact that each episode features a different high-concept sci-fi premise, usually turned on its head.
Harmon said that being at Comic Con is like being at Vegas though he does remember it from "back when you could still sit on the floor [in the hallways]." He was happy to be here but not sure how to once again answer "a bunch of people asking why your show is so awesome." He does not feel that they are at [Bryan] Cranston levels" of fame just yet.
As Season 2 ended on a cliffhanger Roiland was quick to state that "all fan theories [we've seen] are wrong" with regard to how the plot is resolved. This was followed-up with a statement that Season 3 will be the least friendly place for a new viewer to start and goes to even darker places than what fans have seen so far.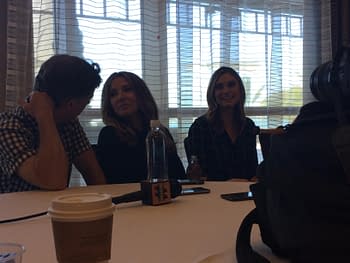 When asked about one-off characters that fans ask to return Harmon mentioned that any "callback has to make more opportunity" and not limit the scope of the show. Harmon and Roiland added that if something such as Snowball's plot were to be picked-up it would probably be as a "fade in on his world [of intelligent dogs] with him thanking Rick for his help battling, I don't know, the Reptillians. Viewers would never see that battle, though, and things would progress from there." They both would like to see Keith David return as the US President.
As for celebrity guest stars they want to provide voices on the show Roiland was quick to point out that "[David] Bowie is top on the list, for two seasons and counting" and then tacked on Gary Coleman. Ridley mentioned Vin Diesel which had all three creators agree that Diesel was actually a serious candidate they would want.
Parnell, when asked what Jerry would think of any resolution to the cliffhanger, remarked that he thought Jerry would be fine with the show being named "The Smiths and Morty" going forward. Chalke mentioned that she was able to do a scene for the upcoming Season 3 that was "with someone I love and admire" but would not name.
No release date for the start of Season 3 was mentioned so until then remember that no one goes back to the carpet store.
Enjoyed this article? Share it!