Normally, when someone is blacklisted, it's considered to be a bad thing, such as when this reporter was blacklisted by DC Comics in 2013 for saying mean things about them. But in the case of Shad Gaspard, formerly of the WWE tag team Cryme Tyme with partner JTG, it's actually a good thing, because the blacklist in question isn't a literal blacklist, but rather The Black List, a list of unproduced screenplays that someone should make into movies.
On Wednesday, The Black List featured a script by Gaspard on its Twitter account:
For your weekend read: PINFALL by Shad Gaspard: https://t.co/L89azQEP5c pic.twitter.com/6tv1cpd4mR

— The Black List (@theblcklst) December 27, 2018
Pinfall is a story about the behind-the-scenes drama that's often more interesting than the actual in-ring action in the wrestling business.
Professional wrestlers battle their personal demons while the new CEO of their organization struggles to rebuild the business. It's high stakes in a world where nothing is real, everything hurts, and you can't trust anyone.
But Pinfall isn't the only script of Gaspard's featured on The Black List. Gaspard also penned a screenplay about the Haitian Revolution called Zoe:
After witnessing the public execution of MACKANDAL as a child, TOUSSAINT comes of age as a free man in one of France's most valuable colonies. Shifting political winds call for freedom that incites several men & one woman to ignite the Haitian Revolution.
Unfortunately, you must be a Hollywood professional to register for the site to read the scripts. But if you are one of those, perhaps you should give Gaspard's scripts a read, as Netflix's GLOW has proven there's money in behind-the-scenes wrestling dramas. In addition to being an accomplished pro grappler and screenwriter, Gaspard is also a real-life superhero, having personally thwarted a real-life robbery in 2016. Gaspard also worked as a stunt double for M'Baku in Black Panther.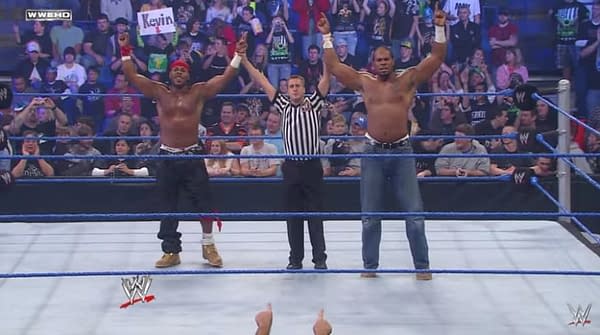 Enjoyed this article? Share it!