Review: Torchwood Miracle Day – A Look, It Moves! Special by Adi Tantimedh
Adi Tantimedh writes for Bleeding Cool: US cable channel Starz were holding preview screenings of the first episode of TORCHWOOD: MIRACLE DAY in cities across America on Tuesday evening, and I went over to the one in Downtown New York at the Landmark Sunshine Cinema, a rather nice Cineplex showing independent and arthouse films like Terrence Malicks' TREE OF LIFE. The line was long but not as long as the DOCTOR WHO screening BBC America held as a major event back in Spring. This was a more low-key affair, with no celebs showing up. Some people had been there since 9 in the morning, yet the cinema wasn't completely packed. This was also a more grown-up audience, a cross-section of geeks and hipsters – Starz' desired target audience – and not a single cosplayer in sight. It was too hot to cosplay anyway.
This review is spoiler-free beyond what we already know from synopses and publicity material already released by the BBC and Starz.
So let's get this out of the way:
Yes, TORCHWOOD: MIRACLE DAY is good.
As far as openers to a TV series go, it's very good. Fast, fun, glad to be here, eager to please, pulling Blockbuster Movie Moments to be as entertaining as possible, utterly determined to keep the viewer hooked and hopefully back for more the next nine weeks.
There are echoes of past premiere episodes: two CIA agents start to investigate a defunct UK spook organisation called Torchwood and all hell breaks loose.
Overnight, people around the world stop dying. The two agents start to suspect Torchwood might be the key and their search for the surviving members sets off squads of heavily-armed assassins also intent on getting to Torchwood and silencing them. There's an echo of past Torchwood episodes in following these new characters as they try to find out who or what Torchwood is, and Russell T. Davies' script seems aware of this as a kind of motif and reference point, replaying the plot as a new and reconfigured set-up for the new, more US-based show. There's a sense of political commentary brewing underneath the surface, emboldened by the success of CHILDREN OF EARTH, and now the show has ten weeks to play that out.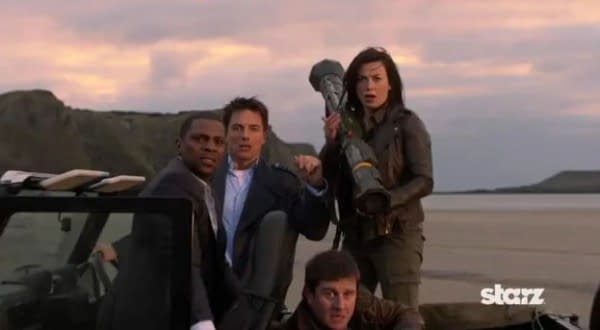 For those people who are afraid that the show has been 'Americanised', there is really nothing to worry about. TORCHWOOD had always aspired to be like an American show before to start with but lacked certain creative resources to be as fast, dense of slick in its storytelling. With Davies finally getting a US-style writer's room staffed with writers like Jane Espensen, a smart and knowing veteran of genre shows like BUFFY, BATTLESTAR GALACTICA and A GAME OF THRONES to help hash out the entire season, the show finally gets to be the jet-engine-driven Science Fiction Thriller vehicle it always wanted to be. It's faster and denser than the UK episodes of previous series. There's more cross-cutting between locations and continents, more chases, more action, more sweeping helicopter shots, and more plot incidents in 10 minutes than an entire hour of a typical episode from the first two series. The higher budget and production values are up on screen for all to see, as are the gunfights and explosions. The opener was written by Russell T. Davies himself and contains the usual quirky Welshness we've gotten used to, it's just the scenes move and end much faster here. There's still a British sense of humour, especially one particularly nasty bit involving a head. It's possible that the version shown on BBC1 in Blighty will have extended character-driven scenes, though I got a strong sense watching this US version is that Davies now knows a faster-paced show is better at making the viewer pass over clunky bits and plotholes. The premiere was directed by Bharat Nalluri, who has already spent years directed more episodes of BBC1's SPOOKS (that's MI-5 to you Americans) than I can count. He's probably going to be listed as the director of more episodes of MIRACLE DAY as the season progresses.
The only caveat I have is Bill Pullman playing someone who's obviously going to be a Big Baddie. I say 'obviously' because he goes for every cheap actor's trick of telegraphing "I AM EVIL". It's not enough that everyone keeps reminding his character (and us) that he's a paedophile and child murderer, his entire performance in the premiere seems to consist of leering at everyone and everything in the most oily manner possible. He didn't have a moustache to twirl, but that might be because he already swallowed it in his scenery-chewing.
Other than that, John Barrowman and Eve Myles are back and they seem to be delighted about it, especially with the story making them even more bad-ass than ever. I won't spoil anything else, other than that the cinema was filled with loud squeals of satisfied fangirls. This first episode felt like a hybrid of a US show and a BBC1 show, and all the better for it. It finally feels like the show it always wanted to be.
Ding-di-ding-di-ding at lookitmoves@gmail.com
Follow the official LOOK! IT MOVES! twitter feed at http://twitter.com/lookitmoves for thoughts and snark on media and pop culture,
stuff for future columns and stuff I may never spend a whole column writing about.
Look! It Moves! © Adisakdi Tantimedh