Master of Horror Ramsey Campbell on The Wise Friend and the Uncanny
This episode Jason talks to Ramsey Campbell, who the Oxford Companion to English Literature describes as "Britain's most respected living horror writer." It's practically impossible to talk about Campbell without an awareness of his importance to the horror genre—he's received more awards than any other horror writer, including the Grand Master Award of the World Horror Convention, the Lifetime Achievement Award of the Horror Writers Association, the Living Legend Award of the International Horror Guild and the World Fantasy Lifetime Achievement Award.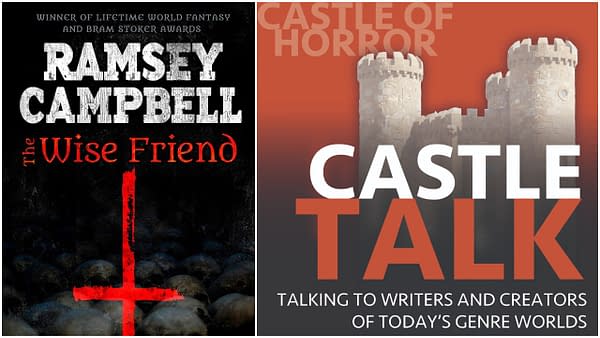 Flame Tree Press reports that, "In 2015 [Campbell] was made an Honorary Fellow of Liverpool John Moores University for outstanding services to literature. He is the President of the Society of Fantastic Films. The Influence, the film based on his novel, is now a major movie on Netflix."
We caught up with Campbell at his home on a Saturday morning when the author, like everyone else, was under quarantine. Amidst the global pandemic, Campbell is releasing a new book called The Wise Friend from Flame Tree, which the publisher describes thus:
Patrick Torrington's aunt Thelma was a successful artist whose late work turned towards the occult. While staying with her in his teens he found evidence that she used to visit magical sites. As an adult he discovers her journal of her explorations, and his teenage son Roy becomes fascinated too. His experiences at the sites scare Patrick away from them, but Roy carries on the search, together with his new girlfriend. Can Patrick convince his son that his increasingly terrible suspicions are real, or will what they've helped to rouse take a new hold on the world?
Campbell opened up about his writing process—he flows from one book into the next, much like his contemporary Steven King, whom he calls "Steve." He also held forth about his own focus on what he calls "the uncanny," the sense that what we perceive is not real—or at least "not the whole of what is real."
Listen here:
Listen on YouTube:
Jason Henderson is the host of the Castle of Horror and Castle Talk Podcasts, the editor of the Castle of Horror Anthology series, and the author of Quest for the Nautilus: Young Captain Nemo from Macmillan Children's Books. His new horror novel under the pseudonym Peyton Douglas, The Book Man, debuts on June 2.