Stormtroopers are at Disney Springs Enforcing Social Distancing
Disney fans looking for their magic fix have flocked to Disney Springs at the Walt Disney World Resort since it's reopening. People took to Twitter and YouTube to document what it was like to be at Disney Springs during the COVID-19 pandemic. For the most part, people seem to be following the rules and minding their business. But then you have the outliers. People who don't want to follow the rules. People who just won't listen to the polite cast members.
So Disney called on a special task force to make sure people are following the rules: First Order Stormtroopers. If you've been to Galaxy's Edge in either American park, or Disney's Hollywood Studio's before Galaxy's Edge opened, you'll know that Storm Troopers walking around aren't anything new. The character atmosphere they provide is lighthearted, and they know how to interact with guests. I've had run-ins with the Stormtroopers around Hollywood Studios, especially when I'm wearing one of my droid shirts!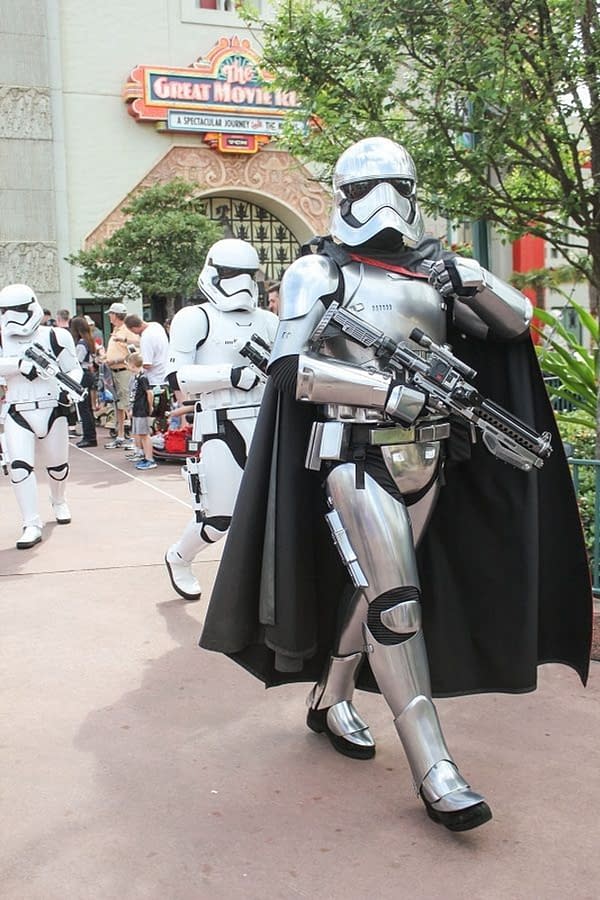 The Stormtroopers arrived at the popular Orlando shopping district to remind everyone to keep their masks on and to maintain social distancing. The Stormtroopers stood on a balcony above the Kheil's store, talking to one another via pre-recorded dialogue. Such fun lines included;
"Yeah, I'm going to need you to move one male bantha's length away, please."

"Some nice face coverings down there. Probably nicer than these helmets."
"Hey, you! With the face covering!"
"They all have face coverings."

"Well, we made them all look"
"And now they all know who's in charge."
You can check out the entire video at Attractions Magazine. It's delightfully fun and shows how out of the box Disney has been thinking since Disney Springs reopened on May 20. Have you been down to Disney Springs lately? Tell us your experiences in the comments below!