Struberville: Consequences of Isolation, a Haunting, Sorrowful True Crime Story [Book Review]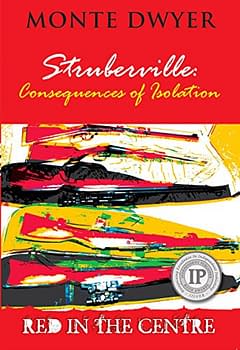 Struberville: Consequences of Isolation is Monte Dwyer's Independent Publishers Book Award-winning novel about the true-crime murder of Bruce Schuler. Bruce went hunting for gold in the Australian outback with his friends, expecting a weekend of prospecting and enjoying the company of his friends. While they returned home with tales of terror… he never did, unwillingly leaving behind a grieving family. The Schuler family's loss and search for their missing loved one sticks in the mind long after the story is over, because for them, it isn't over. They still search the Palmer Station property, hoping to someday find their family member's remains and bring them home.
Unlike other True Crime, where you end up with everything wrapped up and a general feeling that sometimes the good guys DO win, the incident at the Palmerville Station leaves one with a gaping, haunting sorrow and so many questions.
The local vernacular and the author's connection to the story and interviews keep it down to a very human level, and the story itself adds to the visceral fear of what can happen to one away from the prying eyes of civilization. The wilds have always been a place haunted by the imagination. Sometimes it is also haunted by the monsters people become when they are convinced that they are a law unto themselves and the rules no longer apply.
The book is 247 pages, available in Kindle or Paperback, and contains maps of the pertinent places and photos of the people involved. It is a quick read, but one that stuck with me because of the trauma Mr. Schuler's family had to unjustly endure. I hope that the book brings more recognition to the case, and I hope that one day they can finally bring Bruce back home.