AEW Dynamite Returns Live, Goes For Broke, and Royally Succeeds
All Elite Wrestling's (AEW) announcement team of Excalibur, Jim Ross, and Tony Schiavone welcomed viewers back to the first live episode that has aired in some time. Due to the worldwide COVID-19 pandemic, live events have all canceled. AEW had recorded several episodes to tide themselves over, but this week AEW is back live on TNT. This week's episode took place at Daily's Place in Jacksonville, FL. Joey Janela and Cody opened tonight's show with much fan-face and pyrotechnics. This was a fast-paced match, with both men showing off and selling moves on an exceptional level — likely because they've had time to work out while on quarantine. Janela and Cody told an exceptional story, pushing each other to the edge. This was a nail-biting match with plenty of close calls and pins. In the end, Cody took the win.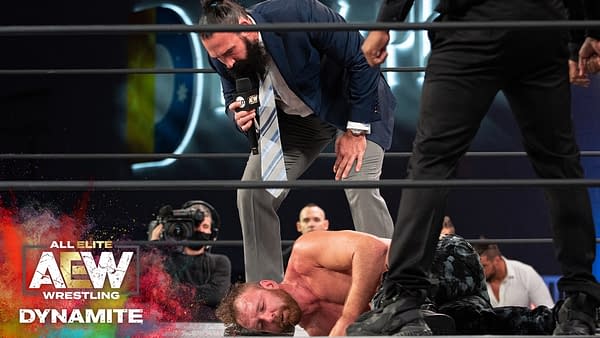 Tonight's episode featured a great promo for the women's division of AEW after having the bare minimum the past few weeks. AEW Women's Champion Nyla Rose made her return tonight, facing off against AEW newcomer Kenzie Page. This was a classic squash match where Rose taunted her opponent and beat her with little effort. While squash matches are the norm for returning talent, in this case, it seemed a little over the top. Rose is already the champ. We don't need to be reminded that she can dominate everything around her.
MJF delivered another great promo. First in front of a high rise luxury green screen apartment, and then ringside. MJF is truly one of the most gifted wrestlers when it comes to his mic skills, something that can take years to develop. He's charismatic and uses both vocal tone and facial responses perfectly.
Frankie Kazarian from SCU and AEW World Champion Jon Moxley took to the ring next. This was Kazarian's first singles match in AEW. This non-title match was even-keeled, with both men matching each other's wrestling styles, selling the moves beautifully. This was a fun, solid match. Moxley took the win. After, The Dark Order and Brodie Lee attacked Moxley. SCU tried to save him, but the group was outnumbered. I guess we'll see another ex WWE employee go for the gold now.
Lance Archer had another squash match, this time against QT Marshall. By now we know Archer is a monster. That's how he's been billed. I don't think he needs any more squash matches. This one wasn't awful, but you can easily skip over it. That is, at least until Jake "TheSnake" Roberts drops a python on the knocked-out body of Brandi Rhodes in an almost disgusting display. But also, good on her for selling it.
Le Sex Gods' Chris Jericho and Sammy Guevara went against Kenny Omega and Matt Hardy in a gritty street fight style match. This match turned into a chaotic one, with the fight spilling into the empty arena. At one point Hardy pulled out a ladder (something that is par for the course), where he sent Guevara through a table from. This was a great match, arguably the best of the night, and one of the best main events AEW has had in recent weeks.
The audience comprised of AEW talent and staff were excited and genuinely looked like they were having fun. This has been the biggest upside to AEW week after week. Watching WWE talent perform in silent arena's — while I've grown used to it — is still weird. If you haven't watched this week's AEW Dynamite then you're in for a treat.