'American Gods' Season 2, Episode 4 "The Greatest Story Ever Told" Review: Brutally Honest, Unflinching Standout [SPOILERS]
So here's a quick rewind to how things ended up leading into this week's new episode of STARZ's American Gods, "The Greatest Story Ever Told"…
Last week's episode "Muninn" had our old gods and their allies back on their respective road trips, as both the new and old gods prep for a war that pretty much feel inevitable at this point. But even with Jinn (Mousa Kraish) and Salim (Omid Abtahi) successful on their mission to secure Wednesday's (Ian McShane) weapon, and Wednesday and Laura (Emily Browning) effectively taking out "The Eye in the Sky" that was Argus – things weren't looking too shabby for the new gods, either.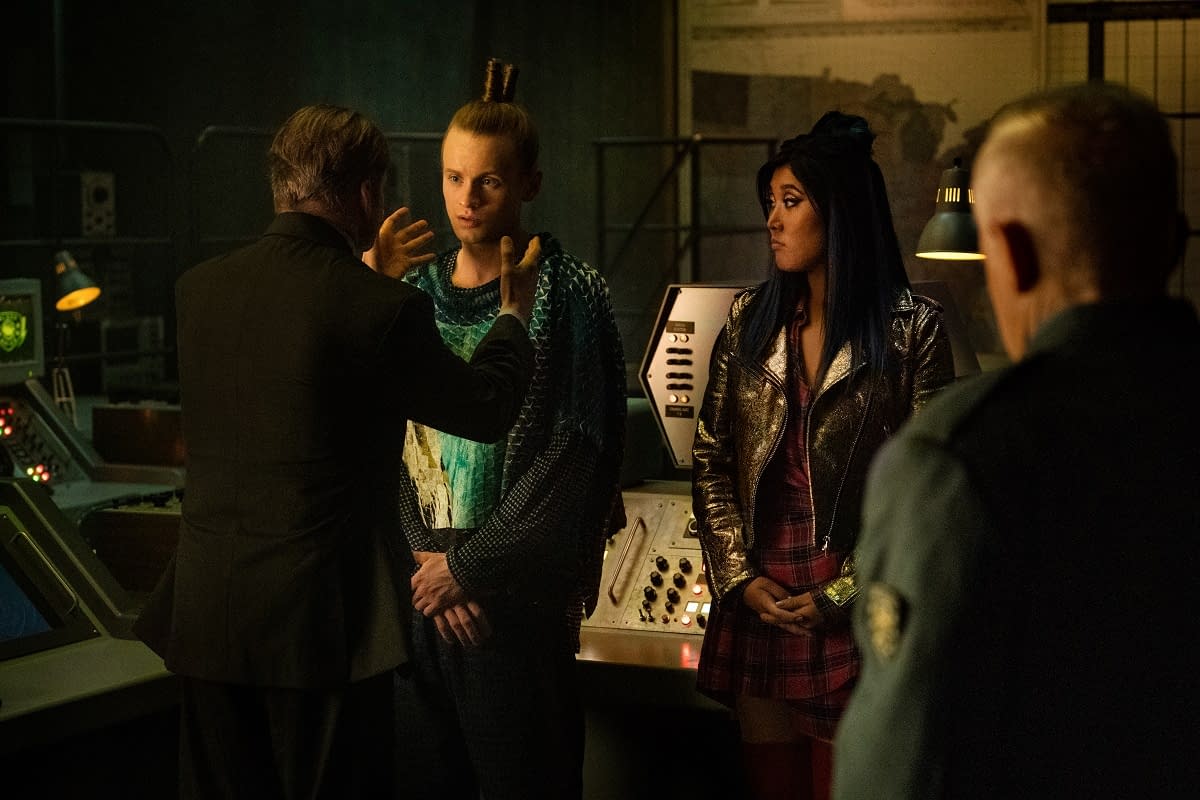 Mr. World (Crispin Glover) got his "media" back in the form of New Media (Kahyun Kim) – though Tech Boy (Bruce Langley) learned quickly that she is nothing like her previous version. New Media is her own "god," differentiating herself from her previous version – which she appears to either salute or mock with a Marilyn Monroe visual reference – where she served at the side of World. Meanwhile, World is making overtures to Bilquis (Yetide Badaki) – who will have to choose a side… before it's too late.
Then we have Shadow (Ricky Whittle), whose life just got a little bit better – and maybe a clearer path ahead – all thanks to Sam Black Crow (Devery Jacobs). But first? It's Cairo… and a visit to a certain funeral home.
American Gods s02e04 "The Greatest Story Ever Told": While Shadow and Mr. Wednesday take a secret meeting in St. Louis, Bilquis arrives at the funeral home in Cairo, where she engages in a debate with Mr. Nancy and Mr. Ibis. Laura rejoins Mad Sweeney, and Tech Boy pays a visit to his first worshipper. Directed by Stacie Passon and written by Peter Calloway & Aditi Brennan Kapil.
It's rare that I give high marks to and recommend an episode based solely on a scene (and there were definitely more highlights, which I'll get into in a minute) – but the debate between Mr. Nancy (Orlando Jones), Bilquis (Yetide Badaki), and Mr. Ibis (Demore Barnes) over what their roles should be in the old/new gods war moving forward was every bit as raw, brutal, and historically honest as I was hoping it would be. Let's be clear – this wasn't a debate about whose philosophy was better: Wednesday or World. Oh no, as Nancy makes crystal clear: this isn't about choosing between two white "men" who don't give a damn about black people – gods or not.
For me, this was the kind of debate many think of when Malcom X and Dr. Martin Luther King Jr.'s names are brought up: does change come from taking the fight to the power structure – or does it come with time, patience, and working within the system to change the system? While evidence has shown over time that both historical figures beliefs evolved and nuanced over the course of their lives, that sociological debate rages to this day – and in this case, Nancy makes a damn persuasive argument that anger with a purpose serves the faithful.
Though the comparison of Raisin in the Sun playwright Lorraine Hansberry's philosophy with poet Maya Angelou's is all the more fitting with the season's theme of empowered women pushing back against "the norm"… the "status quo."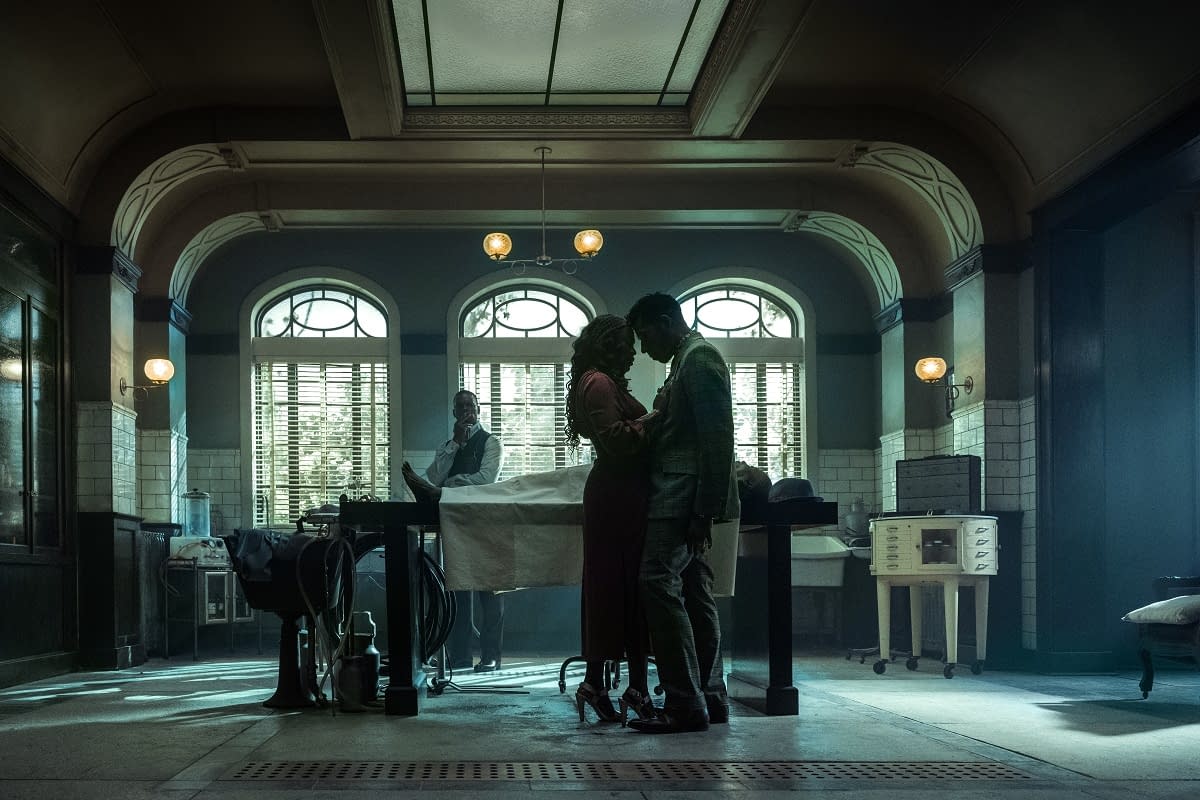 "Slavery got a rebrand like the mutha-fuckin' 'alt right'!" – Mr. Nancy
And that's where this gets even more interesting: while Ibis and Bilquis approach their argument against war with calm and reason – it's the "angry" Nancy who has the greatest weapon on his side: facts. While Ibis and Bilquis hang onto hope – onto their "faith" that things will get better, Nancy's "faith" is based on cold, hard historical truths about the historical atrocities and crimes commited by this country against people of color – and there's no debate. He's right. It's all true. Every uncomfortable bit – whether white society chooses to accept how this nation was founded (and continues to operate on many levels) or stick to the whitewashed version. The combination of anger, focus, and facts are a powerful one – one that can even sway the mind of a god – as we see when Bilquis offers a "rebel version" of Jesus Christ's backstory that would make for a great reinterpretation.
If this segment makes you feel uncomfortable? Good. It should. Means it's doing it's job.
That's what quality television does: it should make us think and feel – even when we don't always want to.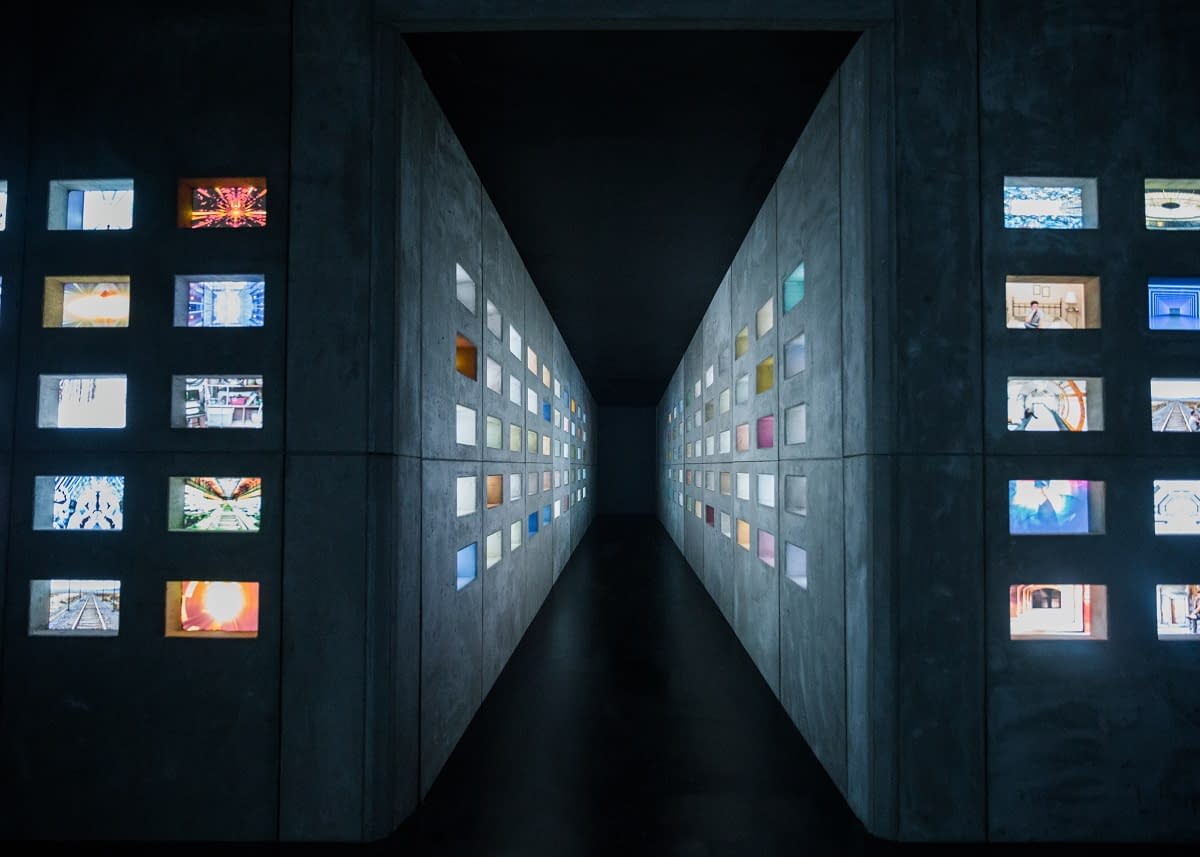 Here's a look at some random takeaways from this week's episode, "The Greatest Story Ever Told":
● The backstory on one of Tech Boy's first faithful (Andrew Koji) was a heartbreaking representation of the divide that exists even between the followers of the new and old gods, played out to the tune of Bach.
● World's physical assault on Tech Boy shocked and distubed me – way more of a personal, hands-on violation than I was expecting and that part with the eyes? Yeah, the eyes stuff always gets to me…
● I feel like we need a mini-series based around Mama-Ji (Sakina Jaffrey) and her staff/followers at their national Motel America chain/house of worship. Serious anthology potential there…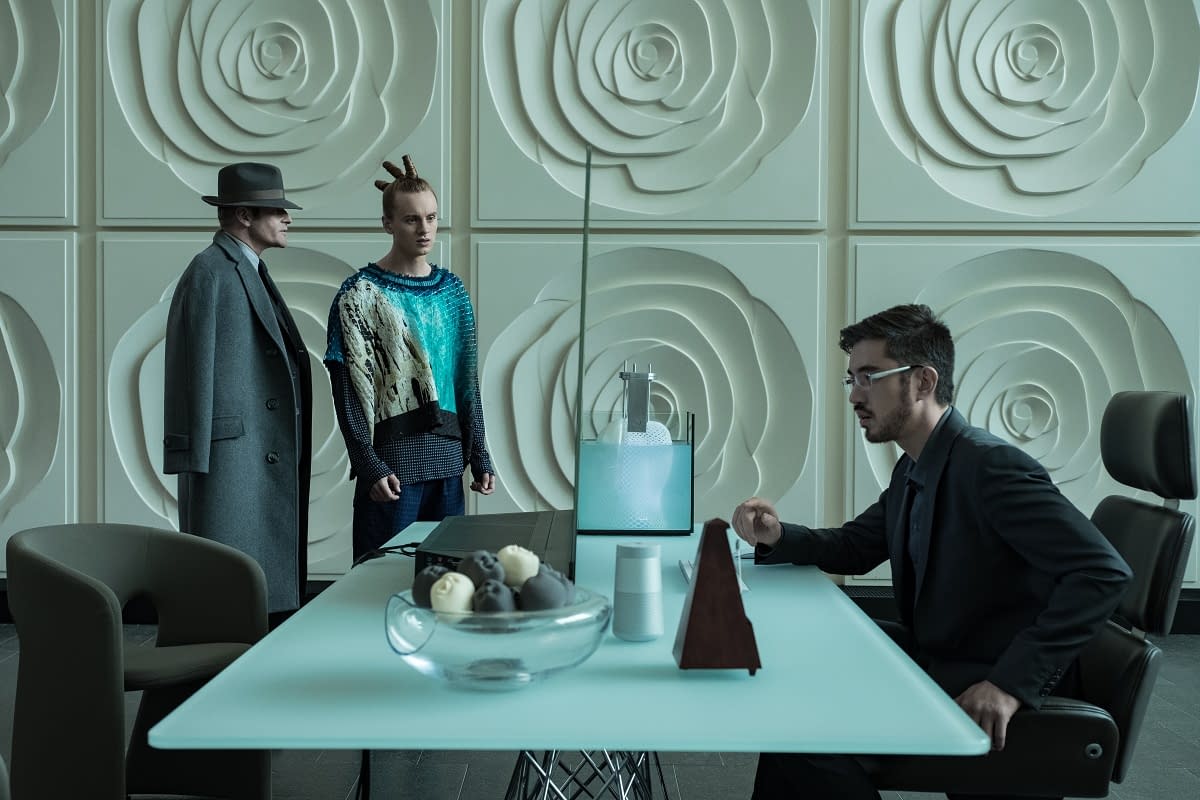 ● So it looks like both World and Wednesday have some power-hungry gods in their ranks: Nancy is looking to part from Wednesday – and have Bilquis as his "queen" – while New Media has gone from rebirth to corporate ladder-climber in no time. How much longer until World is a little too "old world" for her – she already "seduced" away Tech Boy's OG faithful.
● Watching World and Wednesday court Money (the great William Sanderson) not only gave us a nice trifecta of some fine quality acting – it stood as a not-too-subtle contrast to the debate Nancy, Bilquis, and Ibis were having earlier. While one group is debating how to best change/bring down the system after centuries of abuse – here are two white guys pitching another white guy abut how important the system is and how they want it working for them. A sadly perfect bookend to what transpired earlier in the episode.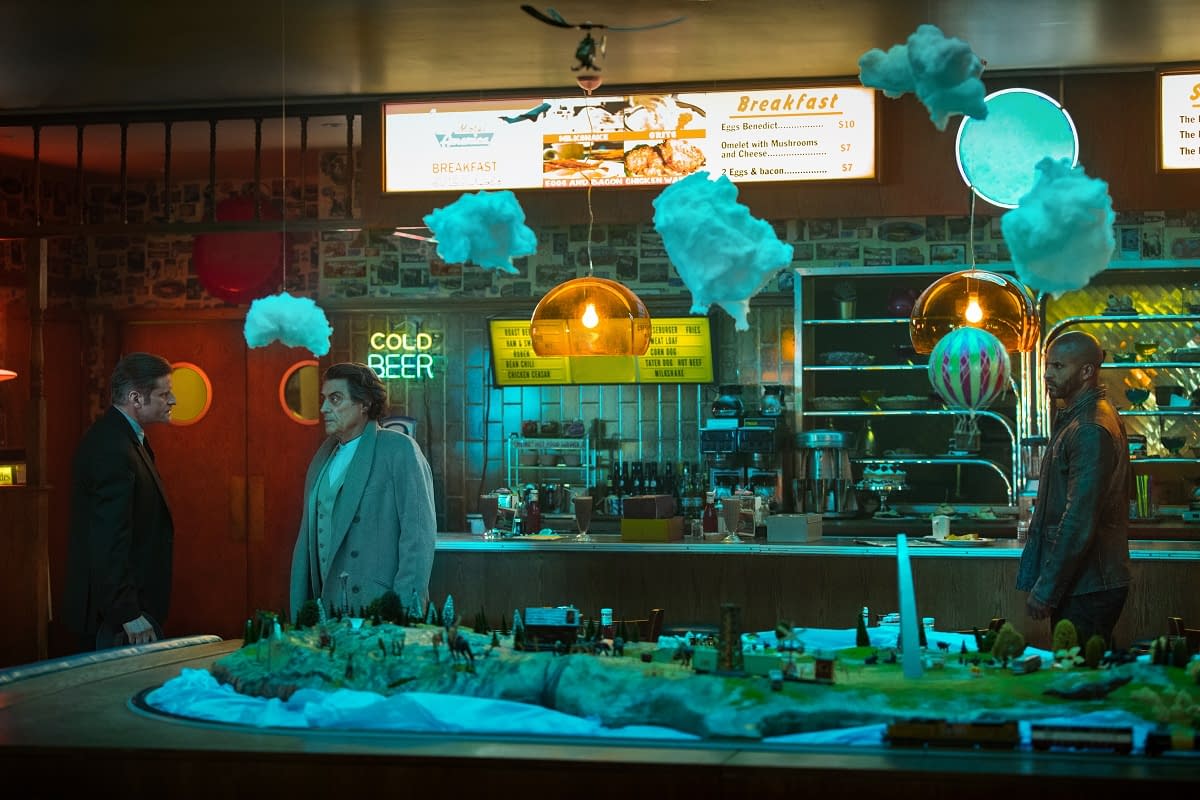 ● Bonus points for Money using pseudo-girl scouts selling cookies as the "gateway" to the meeting.
● One complaint? I'm not buying into the idea that Shadow suddenly realizes now that Wednesday needs and he's important. Wasn't that a bit obvious about a dozen or so times before this episode?
● At the end of the episode, we have possibly "The Greatest Lie Ever Told": that World prefers to be feared over bing liked; while with Wednesday, it's the opposite. Yet these two "gods" can't even see the truth about themselves: they want to be both – and yet they're not powerful enough to make that happen.
So thanks for checking out our review of STARZ's American Gods and we hope you got as much out of it as we did. Make sure to join us next week as we take a look at "The Ways of the Dead":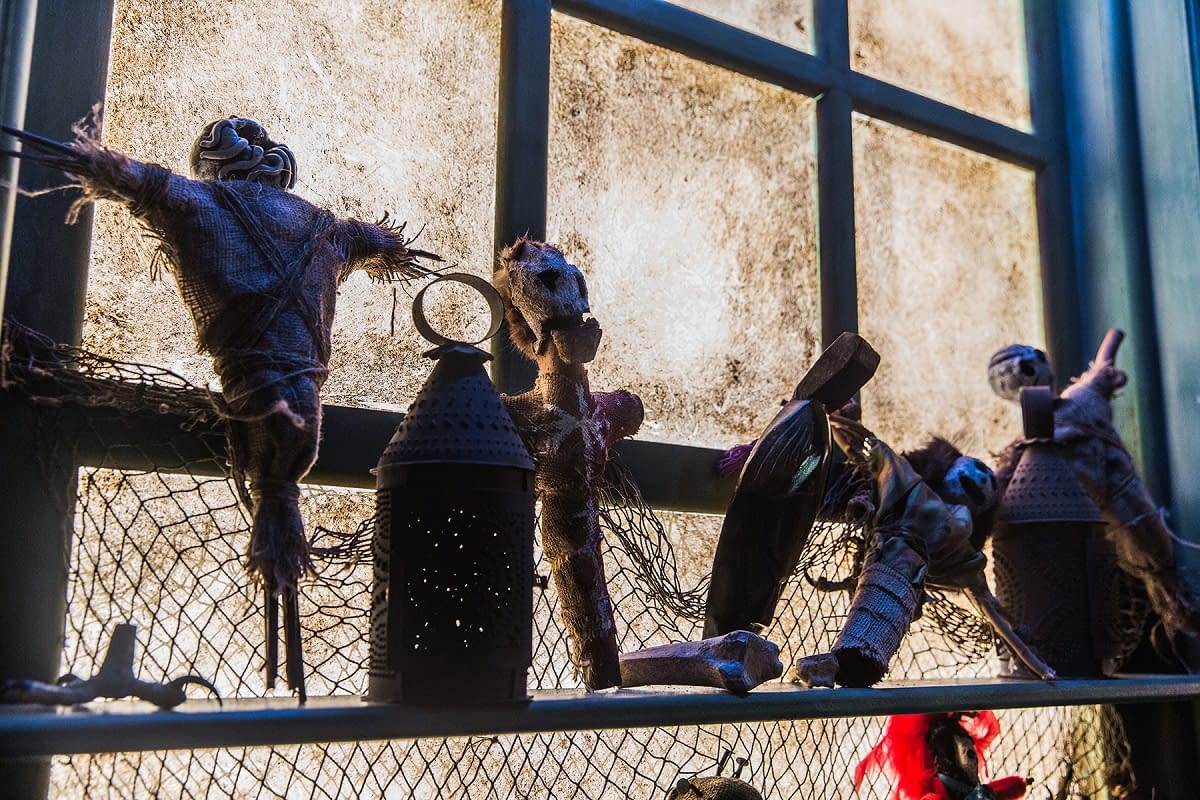 We were forged in God's image, but the Gods are also made in ours — and in Season Two the battle moves inexorably toward crisis point as the destinies of gods and men collide. While Mr. World plots revenge for the attack against him in Season One, Shadow throws in his lot with Wednesday's attempt to convince the Old Gods of the case for full-out war, with Laura and Mad Sweeney in tow. A council at the House on the Rock explodes into chaos, sending deities both Old and New on quests across America that will converge on Cairo, Illinois: forcing Shadow to carve out a place as a believer in this strange new world of living gods — a dark world where change demands commitment, and faith requires terrible sacrifice.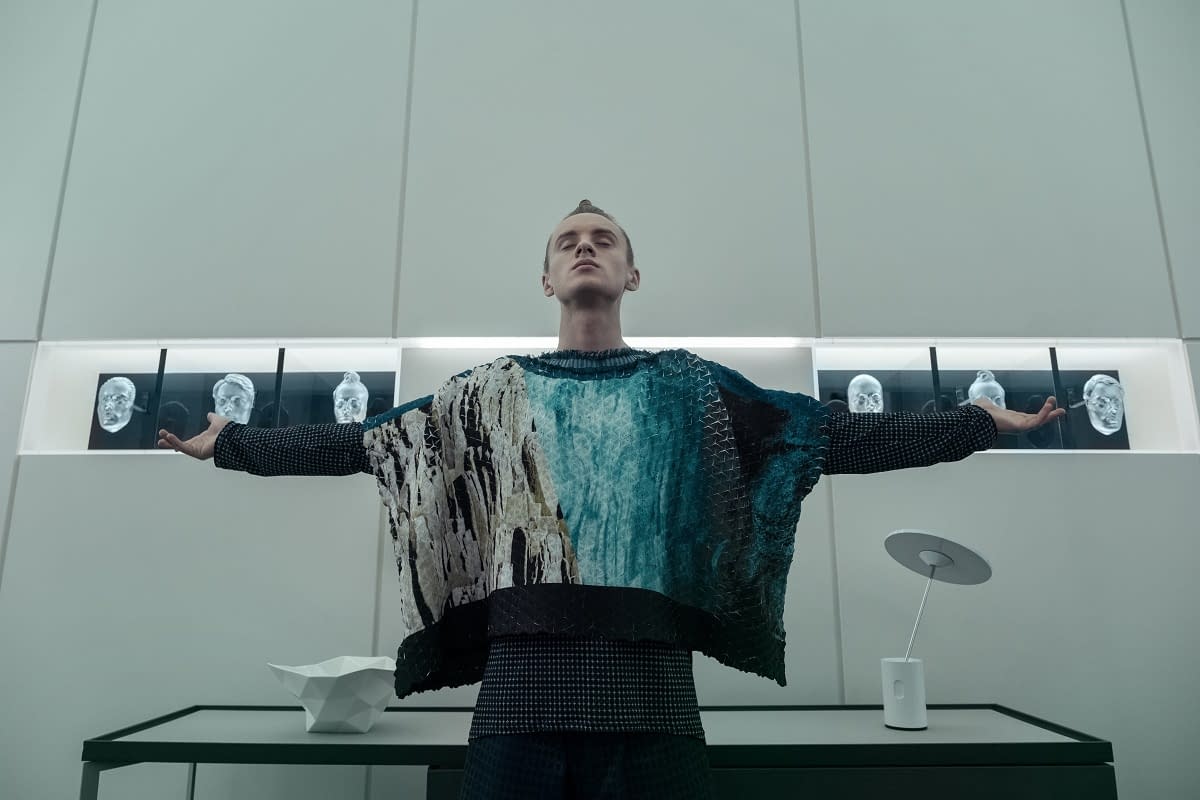 American Gods stars Ricky Whittle, Ian McShane, Emily Browning, Pablo Schreiber, Crispin Glover, Yetide Badaki, Bruce Langley, Mousa Kraish, Omid Abtahi, Demore Barnes, Peter Stormare, Sakina Jaffrey, Dean Winters, Devery Jacobs, Kahyun Kim, Derek Theler, Laura Bell Bundy, and Christian Lloyd.
American Gods season 2 airs on STARZ on Sundays at 8 p.m. ET/PT.