Arrow Season 6, Episode 13 Recap: The Devil's Greatest Trick
This article contains spoilers for the Arrow season 6 episode 'The Devil's Greatest Trick'.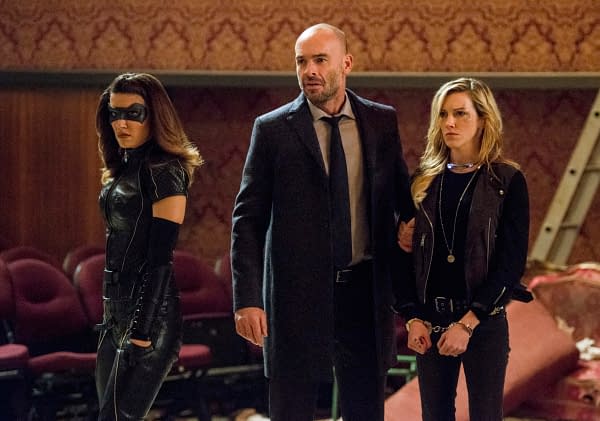 This episode of Arrow turned out to be pretty important, answering some major questions, asking some new ones, and featuring a surprise cameo.
This episode is all about the fallout of Vigilante's death. Dinah (Juliana Harkavy) is in a rage over Black Siren (Katie Cassidy) having killed Vincent (Johann Urb), while Cayden James (Michael Emerson) has decided the betrayal of Vincent is enough and he's going to detonate the bomb over the city at midnight. He tells his cohorts Laurel, Anatoly (David Nykl), and Richard Dragon (Kirk Acevedo) that he will send an air lift for them and then he starts to leave town.
Meanwhile, Alena (Kacey Rohl) and Felicity (Emily Bett Rickards) break the encryption on the video of Oliver (Stephen Amell) shooting James's son and revealing the real killer. They find where James is and to get there fast enough to talk to him, Oliver calls in the Flash… who we don't get to see, we just get the signature lighting and then Green Arrow and Spartan (David Ramsey) are in front of James's SUV. James watches the video and sees that someone in his own group made it. He tells Oliver that if they deliver his three partners to him so he can find out which of them killed his son, he wouldn't detonate the bomb.
Dinah finds Laurel first and wants to kill her, but Quentin (Paul Blackthorne) shows up to try to stop her, then Green Arrow, Spartan, Mr. Terrific (Echo Kellum), and Wild Dog (Rick Gonzalez) arrive to end the fight. Dinah and Quentin hold Laurel, Curtis and Renee go after and capture Dragon, while Oliver and Diggle catch Anatoly. They call James to find out where to meet. William (Jack Moore), who's in the Bunker for his safety, hears the address and sneaks out to go there himself.
We end up in an old theater with everyone there, including William. James demands to know who killed his son and Laurel admits to it. But James see through it as a lie — that she didn't even want to kill Vincent. His remote for the bomb interferes with the power dampener Black Siren has on. Once it cuts out, she uses her sonic scream to knock everyone down and then run. Dinah and Lance go after Laurel. Wild Dog and Terrific go after Anatoly. Spartan goes after Dragon, and William tries to grab the detonator just as James does too. Oliver takes him down. Dinah finds Laurel, they fight. Quentin shows up, Dinah uses her powers on him, takes his gun and shoots Laurel as she screams and knocks out Dinah. Only Quentin is left on his feet. The others get away.
James is taken into custody, where he meets with Oliver and gives him a list of places where the others might have gone and the account number where all of the city's money went. We find out that Quentin took Laurel, bandaged her up, and is going to take her someplace to find that bit of his Laurel he sees in her. That was just a wee bit crazy-sounding at the time. And then the big reveal as Richard 'Dragon' Diaz shows up as the camera turns off in the police station. The new Captain is on his payroll. He admits to having killed James's son and sending the video. That now Oliver is under indictment, the team is in splinters and the city is ripe for a take over. Dragon then stabs and kills James. Meet the real big bad.
The bad guy storyline has been playing out very well this season. The twist about Vigilante was good, as was the fact that James was betrayed by one of his own. And where Dragon made a lot of sense from what we've seen in the comics, of the three left he was the only one that didn't seem to know Oliver Queen was Green Arrow prior to the season. But since it is him, we'll have to find out his backstory and how he knew Oliver's secret. And there is still the matter of the team being fractured. Good thing there are another 10 episodes left in the season.
Speaking of which, looks like things will get worse between the two teams, but we'll have to wait until March 1st to see why as both Arrow and Flash are taking two weeks off during the Olympics. There will still be new Legends of Tomorrow starting Monday and Black Lightning on Tuesday… just now Oliver or Barry.
https://youtu.be/gT3bboPDhw0