Having just wrapped up crossover week with Crisis on Earth-X, now all of the Arrowverse shows are having their mid-season finales. Each show has ended with a bit of a cliffhanger and some major movement on the overall plot of the season. And there has been more than a few surprises. But there is still one more show this week. What will see on tonight's mid-season finale of Arrow? Well, if you haven't seen the crossover, then you shouldn't be looking here about the next episode. Ye be warned.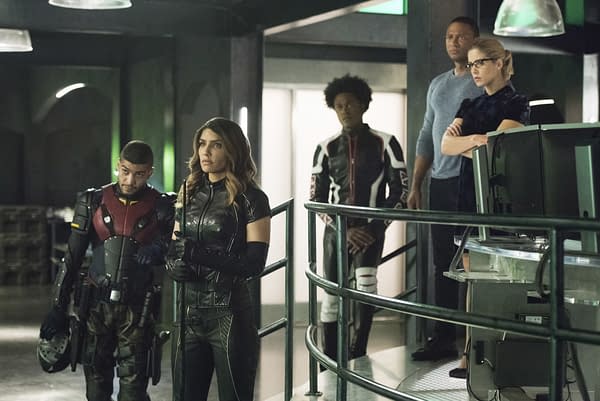 Executive producer Marc Guggenheim takes us inside episode 9, 'Irreconcilable Differences'. The episode picks up right after the crossover as Oliver (Stephen Amell) and Felicity (Emily Bett Rickards) having a party for their recent marriage, and while they dance, Quentin Lance (Paul Blackthorne) arrives with very bad news. The FBI has a witness that is willing to testify that Oliver is the Green Arrow, and it's someone from the team.
Amell has talked recently about how there would be a wedge driving between original Team Arrow and the newer recruits, Wild Dog, Black Canary, and Mr. Terrific. Though it is possible that it could just be a story to mess with the team or it could be someone who used to be on the team like Arsenal, Ragman, or even Speedy. This should cause a lot of drama.
Arrow mid-season finale airs tonight at 9 p.m. ET on the CW and then will be on hiatus until January 18th.
Enjoyed this article? Share it!