"Arrow": Tommy Merlyn, Adrian Chase/Prometheus Return; Mia Smoak Series Regular; Season 8 Premiere Title Revealed
Now that we're past the mid-summer point otherwise known as July 4th, now's about as good a time as any to start thinking about the return of the CW's "Arrowverse" shows. With Arrow shuffling off the network's programming coil after an abbreviated eighth season (making The Flash the "elder states-show" of the "Arrowverse"), Ruby Rose-starrer Batwoman joining the family, and a looming "Crisis on Infinite Earths" crossover that could change things dramatically (more on that below), the 2019-2020 season isn't exactly going to be lacking in change.
With Arrow's run coming to an end with its now-filming season 8, there's been a ton of rumors and speculation swirling regarding storylines, returning characters, etc. – especially with a looming "Crisis" on the horizon. Well, never let it be said that your friends at Bleeding Cool don't have your back – here's what's new: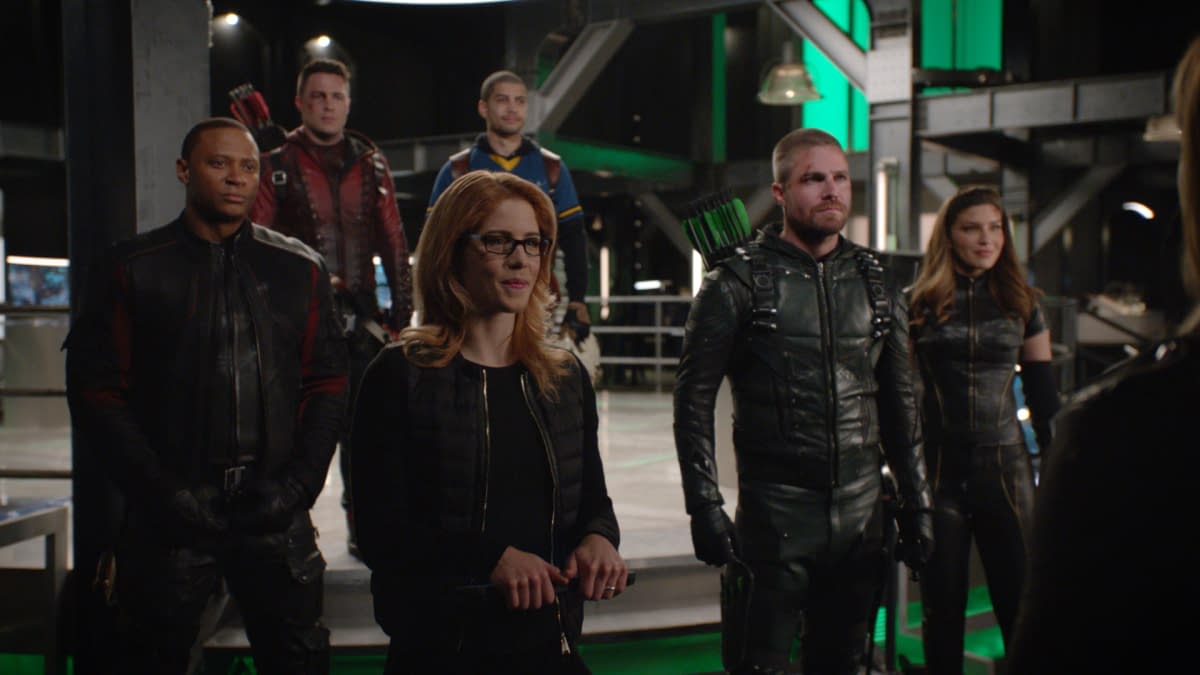 ● First up, Entertainment Weekly is reporting exclusively that Colin Donnell's Tommy Merlyn and Josh Segarra's Adrian Chase/Prometheus will be making a return – but showrunner/executive producer Beth Schwartz needs fans to know that this isn't the Adrian Chase they're expecting (possible "multiverse" versions?!?):
"Adrian Chase comes back in a different way than expected. We're really excited about that because obviously he's one of our favorite villains."
EP Marc Guggenheim stuck with that theme when teasing the version of Donnell's Tommy fans will meet: "not coming back as the Tommy we know."
● Considering the note on which last season ended, the news that Katherine McNamara (Mia Smoak) has been promoted to series regular for the final season seems only logical.
● Finally, Schwartz took to Twitter to give followers a first-look at the script to the season opener, "Starling City" – the original name of Star City. Are we looking at a flashback episode – or are the red skies of "Crisis" making their presence known earlier than we thought?
Arrow and DC's Legends of Tomorrow co-creator/writer/EP Guggenheim took to Twitter to tease fans about what they expect when the Emerald Archer returns for an eighth and final season this fall. In the tweets below, he revealed two close-up images of some serious leather – but whose? Connor Hawke (Joseph David Jones), who we're expected to see more of next season? Maybe Mia Smoak's (Katherine McNamara) future suit? Since we're talking "Crisis," could it be a version we haven't seen yet from another universe – maybe with a familiar face?
Guggenheim's keeping things a little vague – but he does clarify a few things:
Guggenheim also teased that some news would be coming out of this year's San Diego Comic-Con (SDCC) regarding guest stars for the final run of The CW's Arrow:
The same day that Guggenheim signaled that work on the crossover was already underway (the earliest they've started work on an "Arrowverse" crossover), LaMonica Garrett introduced fans on Twitter to the first day of table reads – and to his very own "Monitor Mini-Me" the following day:
On Saturday, July 20, the "Arrowverse" takes over SDCC's Ballroom 20 for a morning session with Batwoman (10:30–11:45 a.m.). Starting mid-afternoon, the CW begins a gauntlet of presentations: Arrow (3:30–4:15 p.m.), Supergirl (4:15–5:00 p.m.), Black Lightning (5:00–5:45 p.m.), and The Flash (5:45–6:30 p.m.).
The CW's Batwoman and Supergirl premiere Sunday, October 6; while The Flash premieres Tuesday, October 8, with Arrow joining them on October 15. Black Lightning premieres the following week, on Monday, October 21.