Ever since the producers of Black Lightning came out and said that the show was not set in the same universe as Arrow, The Flash, and the others they seem to have gone out of their way to make it part of the Arrowverse. They changed the city setting to the fiction city of Freeland, something the other series do. Then they added Black Lightning to the Suit Up video, this year's version of the Superhero Fight Club.
Spoilers below for this week's episode.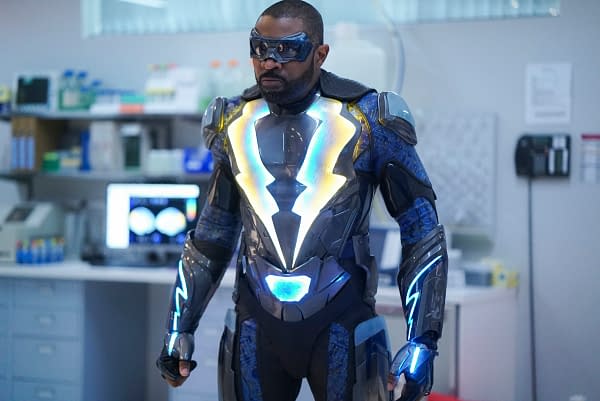 But this week we got the best connection yet. Jennifer (China Ann McClain) is having a hard time dealing with the idea of having superpowers. Anissa (Nafessa Williams), in an attempt to make her feel better, reveals that she is Thunder and that Jefferson (Cress Williams) is Black Lightning. But instead, this makes her more upset that everyone's been lying to her.
Lynn (Christine Adams) comes to talk to her and Jennifer makes a joke that she can come in, as long as she's not there to admit to being Vixen. Lynn says, "Busted." And then laughs, telling Jennifer that she's not Vixen or Supergirl, she's just mom.
Vixen (Megalyn Echikunwoke) and Supergirl (Melissa Benoist) are, of course, members of the Arrowverse active in the modern day. Though Supergirl is on a different Earth, she has come over to Earth-1 enough times now to become known. I don't think these references are hinting that the show is going to get a guest star or anything soon, but I think they are subtly setting up Black Lightning's place in the shared universe without the writer's having to deal with what's going on in the other shows for the first season. I think season 2 will be a bit different, and we might start seeing a reference or two of Black Lightning mentioned in the other shows.
Enjoyed this article? Share it!