Better Call Saul: Looks Like "Roger" Is A Big Bryan Cranston Fan
Even with Vince Gilligan and Peter Gould's Better Call Saul staring down a sixth and final season that's expected to hit screens sometime in 2021, the series is still doing its part to make sure that awards voters remember just how amazing the fifth season of the Bob Odenkirk-starring series was. In particular, not recognizing Rhea Seehorn's turn as Kim this season would be a dereliction of nominating duties. Both Odenkirk and Seehorn hosted a marathon of the Breaking Bad Spinoff's most recent season, offering their socially-distanced thoughts of the series as well as taking questions from the fans. And it's during one of those Q&A sessions that the magical "reunion" with Breaking Bad's Bryan Cranston happened, due in large part to "Roger Tinkelbaum from Tampa, Florida":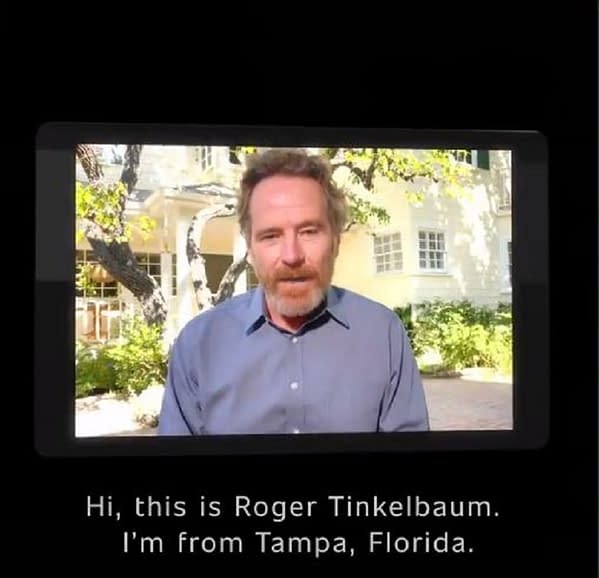 Speaking last month at Deadline Hollywood's virtual Contenders Television event, Odenkirk, Seehorn, and Gould offered some thematic clues for fans to keep in mind heading into the final, 13-episode season. For Odenkirk, Jimmy's journey to Saul is pretty much complete: it's now just a matter of seeing the particulars that go into the handing off of the baton to Breaking Bad. But it's where the fifth season left Kim that will serve as the basis for the core question of the sixth season: "The mystery at the start of the show was, 'who is Saul Goodman?' We met this Jimmy McGill character, we got to know many sides of him and we saw him evolve into Saul. This year he saw the stakes of that choice. He sees that it is life or death, this choice, played the way he played it. Now the mystery is, 'who is Kim?'".
For Seehorn, the season not only presented new sides to Kim but also fleshed out aspects of her character that had been there from the start of the series: "I feel lucky that I did not think of this as one giant arc of this mask coming off. It was for me, filling in the jigsaw puzzle, taking the pieces that are there in these brilliant scripts that have as much loaded in not speaking as speaking." While still early for specific details on where the final season may take things, Seehorn appreciates the journey: "I don't know where we are going, but I feel very lucky that I was allowed to play it honestly, incrementally a step at a time."
Of course, there's someone there who has some idea where things are going. "We have a lot of ideas about where Jimmy and Kim are going," teased Gould. Excellent! So it's never too early for an extra teaser or two, right? Watch what you wish for because Gould's excitement over what's ahead might not necessarily translate well for some of our favorites: "There's some ideas which I am so excited about, but there is also a lot of sadness to where this is going."