Hiro, Baymax, and the Team Fight for San Fransokyo in 'Big Hero 6 The Series' Trailer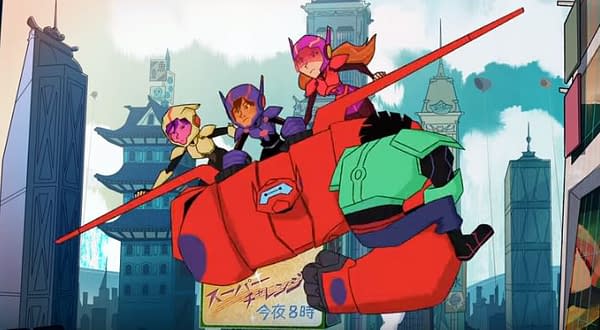 With Big Hero 6 The Series bringing Hiro, Baymax and the rest of the team over for a series run at Disney Channel starting this June, the official trailer for the sequel series has finally been released. Disney Channel is going all-in when it comes to promoting the series: the first two episodes will air on Saturday, June 9th, at 9 a.m. ET; with two additional episodes airing on Monday, June 10th, at 9 a.m.
You can check out the first official trailer for Disney Channel's Big Hero 6 The Series below:
The adventure continues for 14-year-old tech genius Hiro and his compassionate, cutting-edge robot Baymax. If dealing with the academic pressure of being the new kid at the prestigious San Fransokyo Institute of Technology weren't enough, it's off campus where things really get tricky. Hiro and Baymax, along with their friends Wasabi, Honey Lemon, Go Go and Fred, unite to form the legendary superhero team Big Hero 6, protecting their city from a colorful array of scientifically-enhanced villains intent on creating chaos and mayhem!

Disney's animated series Big Hero 6, picks up immediately following the events of the Walt Disney Animation Studios' Academy Award-winning feature film and continues the adventures and friendship of Hiro, the fourteen-year-old orphaned tech genius and Baymax, his very special plus-sized inflatable healthcare companion Big Hero 6 The Series premieres Saturday, June 9 at 9 a.m. ET on Disney Channel.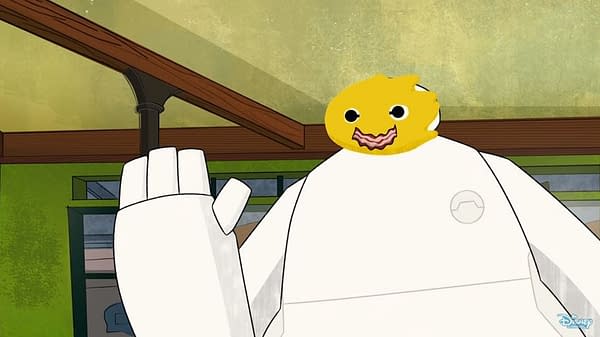 Disney XD's Big Hero 6: The Series features Ryan Potter (Hiro Hamada), Scott Adsit (Baymax), Genesis Rodriguez (Honey Lemon), Jamie Chung (GoGo Tomago), Maya Rudolph (Aunt Cass), Alan Tudyk (Alistair Krei), and Stan Lee (Fred's wealthy father) returning to their original roles from the Walt Disney Animation Studios' Academy Award-winning movie. Rounding out the cast are Brooks Wheelan as Fred (taking over from T.J. Miller) and Khary Payton as Wasabi (taking over from Damon Wayans, Jr.).
Additional voice cast members and guest stars for the first season of Mark McCorkle and Bob Schooley's Big Hero 6: The Series include Maya Rudolph, Alan Tudyk, David Shaughnessy, Gordon Ramsey, Alton Brown, James Cromwell, and Diedrich Bader.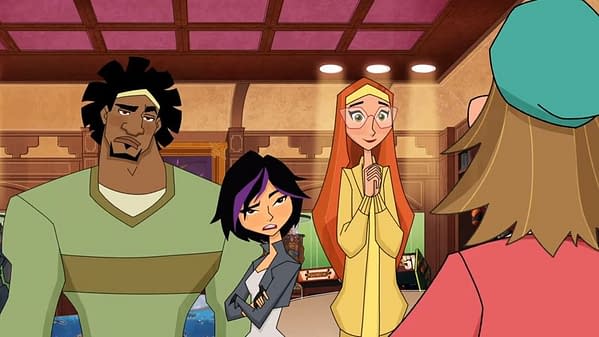 Here'a a look at the opening credits for the series, which Disney premiered during their 2017 D23 media event:
The original film earned $222.5 million in North America, with a worldwide estimated total of $657.8 million. Those box office numbers would earn Big Hero 6 a number of records, including: highest-grossing animated film of 2014; third-highest-grossing non-Pixar animated film from Disney; and 16th-highest-grossing animated film of all time.