'Black Lightning' Review: "Just and Unjust" Shows (Super) Power of Grief [SPOILERS]
In this week's new episode of the CW's Black Lightning, the Pierce family is back this week–united by grief over the death of Khalil but still facing the pressures attempting to tear Freeland apart. We also find out more about the pod people Tobias stole, international intrigue from Markovia, relationship troubles for Anissa, and a lesson in racism and white fragility. It's a pretty packed episode!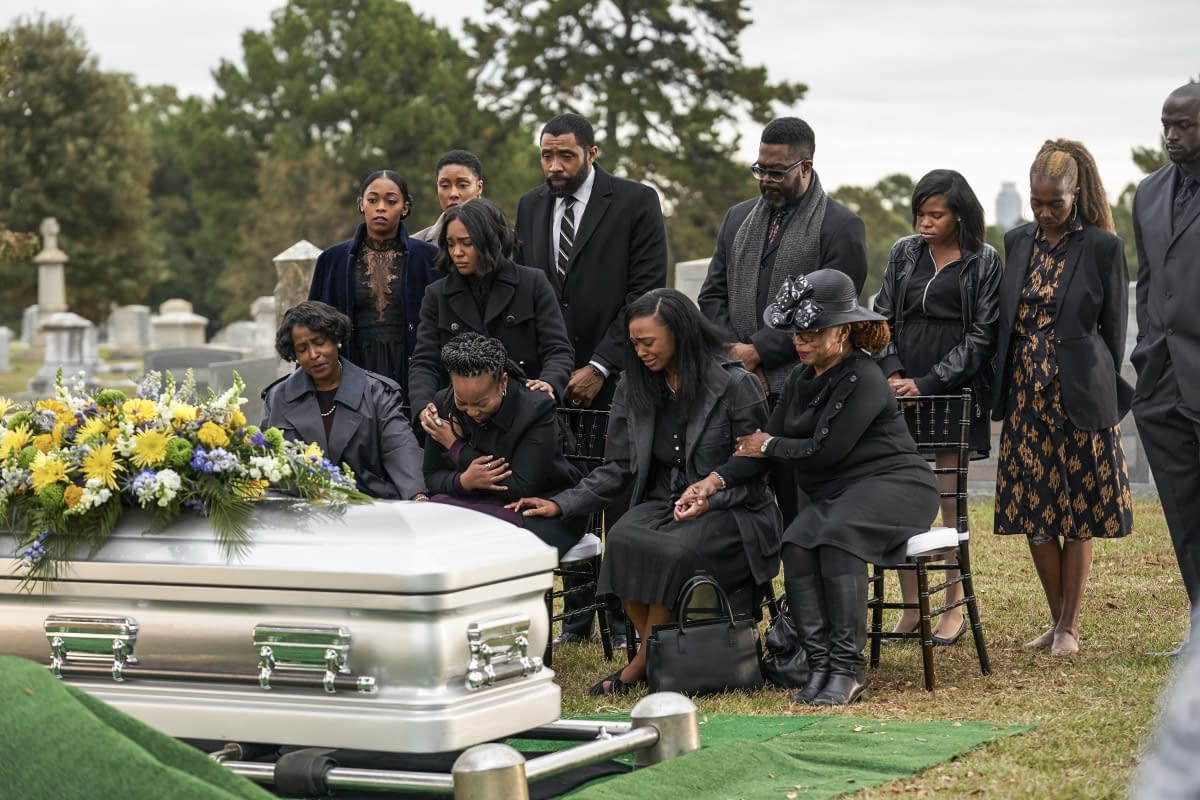 Our story starts with a bang–literally–as masked gunmen try to kidnap Lynn (Christine Adams) and Anissa (Nafessa Williams) but are foiled by Agent Odell and the ASA. It seems Markovian intelligence wants Dr. Jace back – and Lynn – to help with their meta research. This leads Jefferson to take down a cell of Markovians and deliver them to Henderson – only to discover their diplomatic immunity. At least we see them meet their match more than once, though: first, when Jefferson takes them out; and then later, when they try to nab Perenna and get a taste of just how strong her mental powers are.
The best part is this gives us more of Agent Odell (Bill Duke) who enjoys his mustache-twirling turn as a secondary villain/foil for Lynn. We also get to see him verbally spar with an imprisoned Dr. Helga Jace, who – in a bid for her own freedom – proclaims that she is Beethoven and Lynn Stewart is Mozart, and they'll need both of them together to continue their work. Hence, why the Markovians want Lynn (and are likely coming for Jace in the future).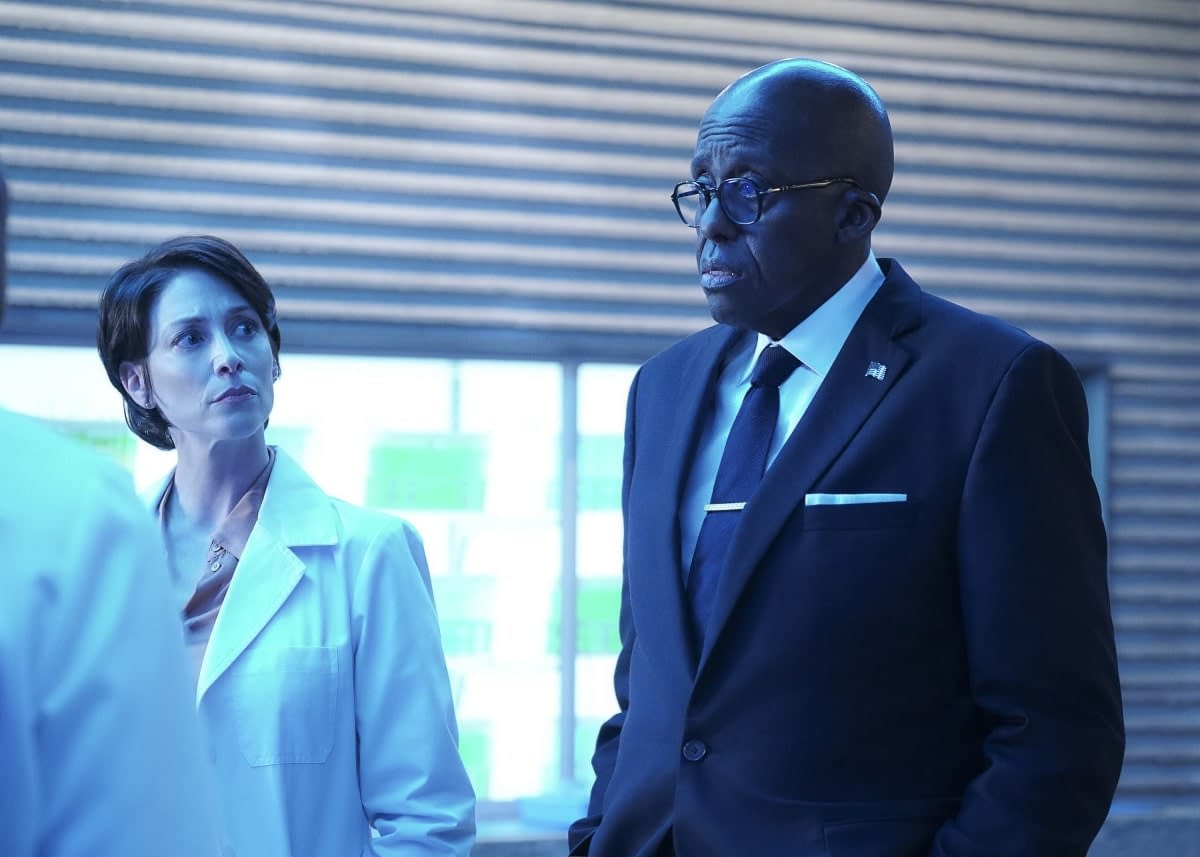 This storyline is great. It's not even the main focus of the episode, but all of the government intrigue and conspiracy behind the history of Freeland and meta-research is fascinating and frightening. It reminds us of some of the worst parts of our own history, such as the Tuskegee experiments. It also brings a realpolitik to the idea that if we were able to isolate a gene that creates superpowers, this would be weaponized by governments and the most vulnerable populations victimized.
Anissa tries to get back to a normal routine–but when a girl named Monique comes in for treatment, Anissa isn't taking her excuses that she "fell down." She knows a victim of domestic violence when she sees it, so upon finding out from a co-worker that the girl is involved with a capo of The 100 "and we don't ask questions," she tracks down said gang members and beats the crap out him and his crew as Thunder. She is also almost beaten by some pepper spray and an aluminum bat, exposing the limits on her powers.
In some quieter moments with her girlfriend Grace, we also see some cool bits of meta-commentary (get it? meta… I'll show myself out…) with in-universe Black Lightning and Thunder comic books. Even with comics to get them through, their relationship hits a trouble spot when Grace's appearance begins to change unexpectedly. She excuses herself abruptly from a date, and when Anissa comes by her apartment later she finds Grace is gone and an empty closet. There's obviously a lot more going on here, and it will be key to find out if Grace's appearance-altering is the result of more meta gene experimentation (that's where my money is) or some other freaky goings on in Freeland.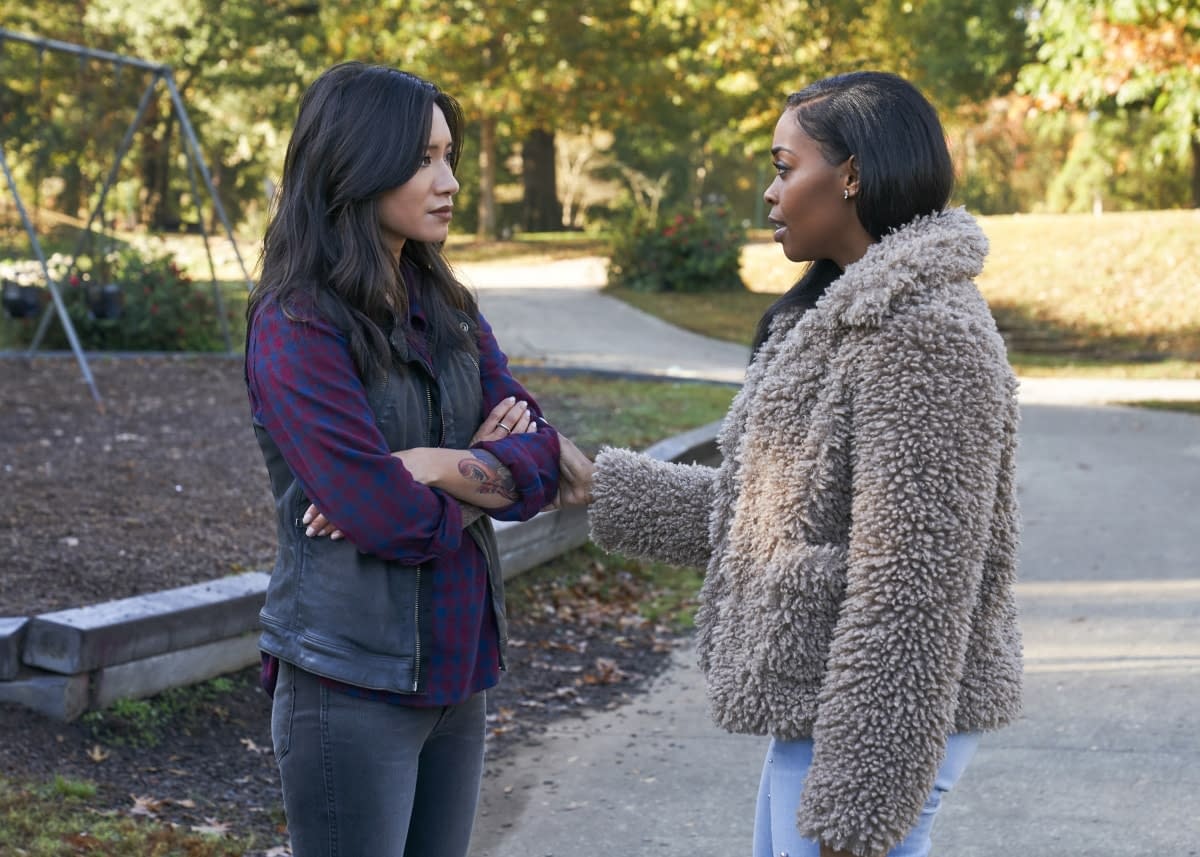 Oh, and all that isn't even the main storyline of the show! For that, we go to Jennifer–deep in mourning for Khalil–who finds out his mother can't even afford a funeral for him. Her parents aren't even sure what to do with her, but Lynn argues she can't be alone as that feeds depression and likely in Jennifer's case a superpower freakout. This means back to school, where Jennifer quickly finds herself in a confrontation with Principal Lowry after he orders custodians to take down impromptu memorials to Khalil claiming he was a gang member who attacked the school.
The cell phones come out to record as Jennifer defends Khalil, saying his life matters and Black Lives Matter. Principal Lowery is having none of this, gets defensive at the implication he is racist, and orders school security to remove Jennifer and expel her. Later in his office, he defends himself to Jefferson talking about how hard his life was: son of junkies who overdosed, lived on the streets, and had to eat dog food. He claims what is truly racist is people aren't giving him a chance as a white man–while Jefferson explains that despite all that, as a white man he gets a presumption of innocence and invisible advantages that even the richest black child in Freeland would never get–and that is all the kids want him to acknowledge.
And this is one of the key lessons of this episode, of our moment in history these last few years: a national conversation about race. We often think of racism as some personal moral failing instead of viewing it as a system of largely invisible advantages. Principal Lowery had a hard life and no amount of "white privilege" can erase that, which is why he scoffs at the concept–but he can't see the invisible barriers that the black children of Freeland will have to overcome, barriers he never had to deal with. <End soapbox discussion about racism>
https://youtu.be/F5hEHC-EAnY
With Jennifer now expelled from school, her thoughts turn toward revenge on Tobias while her father tries to talk her out of it. She's not wrong: Tobias does deserve to die. But Jefferson is right in that they have to allow the system to work to take him down for good. He also warns that while their powers can supercharge their emotions, their emotions can also charge their powers. Revenge and hate are a bad cocktail for someone with superpowers–and going after Tobias when things are still so fragile is dangerous.
Still, thoughts of revenge continue to plague Jennifer. At Khalil's funeral, she doesn't want to get out of the car, doesn't want to watch him be lowered into the ground, as it's all too much. In a show of solidarity, Jefferson offers some of the strongest, most sage fatherly advice and comfort, letting her know they stand beside her no matter what:
"No matter how much the world hurts, you're still a Pierce. You say 'Yes' – WE say 'Yes.' We say yes because it matters. We say yes because we honor those we love. Because we are loyal to their memory. Because we do not give up on them, or ourselves. Right?"
This family – this broken, superpowered family – is so awesome. Jefferson and Lynn may be overbearing parents, but they back up their kids and would do anything for them. It's what's so great to watch week after week on this show.
In a final, important moment, Jennifer stands by Khalil's grave and promises to put Tobias in the ground for what he did. I personally can't wait to see this–but I'm also a little scared. We don't know exactly the limits on Jennifer's powers yet, and being out for revenge isn't going to help.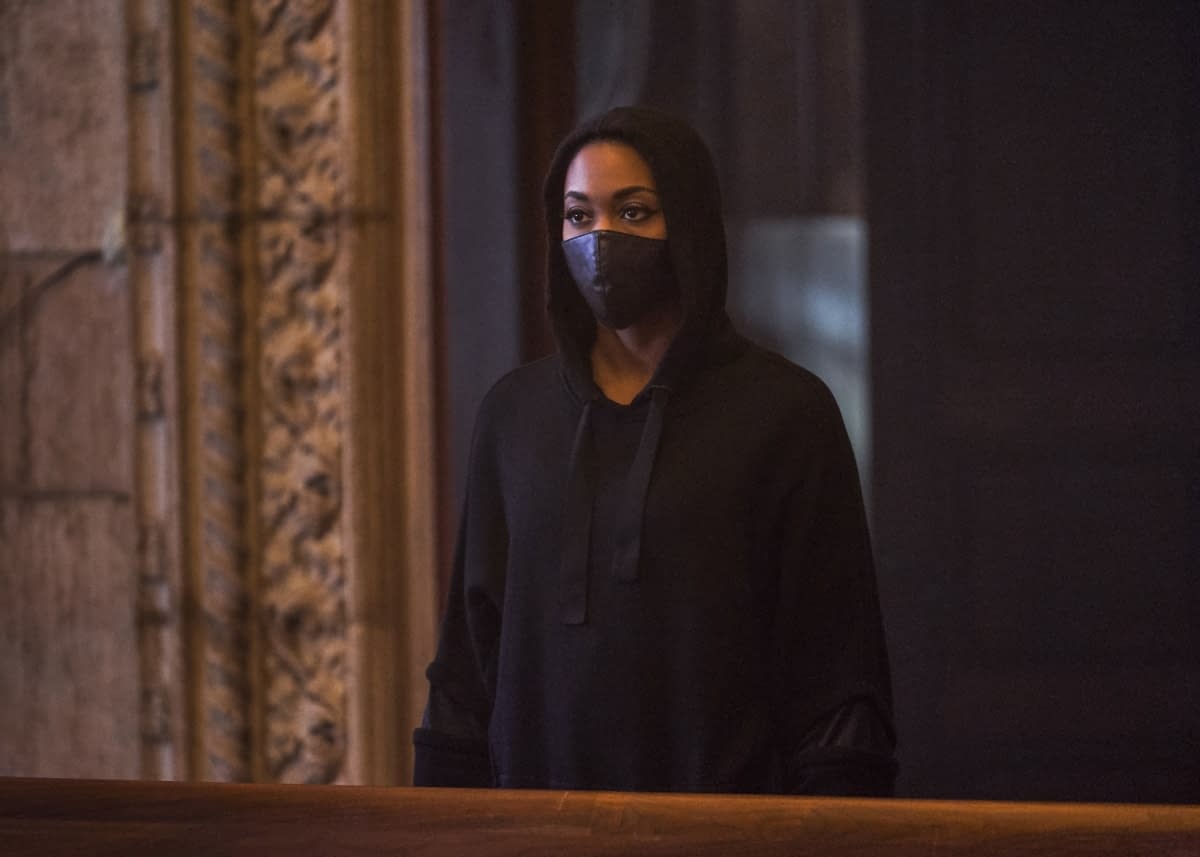 Finally, let's talk about that title, "Just and Unjust." It wouldn't be above Black Lightning to make a biblical reference, which this potentially is. Specifically, from Jesus preaching in the Sermon on the Mount, he says in Matthew 5: 45, "your Father which is in heaven…maketh his sun to rise on the evil and on the good, and sendeth rain on the just and on the unjust." The implication is that God doles out good and evil to people who both do and don't deserve it.
Looking at the context a bit more, this is a smaller soundbite from a broader sermon where Jesus implores his followers:
"Ye have heard that it hath been said, Thou shalt love thy neighbour, and hate thine enemy. But I say unto you, Love your enemies, bless them that curse you, do good to them that hate you, and pray for them which despitefully use you, and persecute you"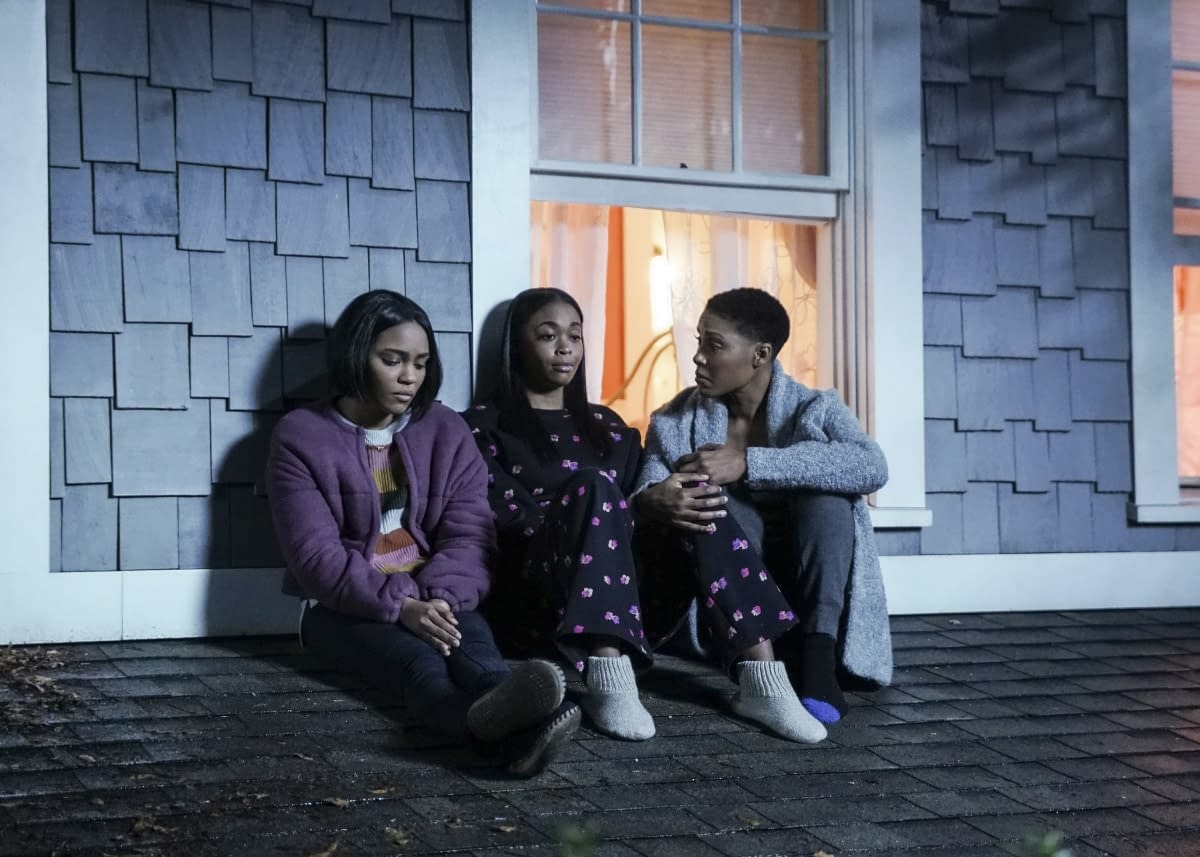 This lines up nicely with Jefferson's and Jennifer's discussion about how vengeance on someone like Tobias is justice, where Jennifer even invokes the Biblical "an eye for an eye." How perfect that this is the same sermon where Jesus instructs that rather than going by the old law of "an eye for an eye," if someone should strike you across your face, you should turn the other cheek so that they can hit you again (rather than take rightful recompense of striking back).
Another implication of the title is famous political philosophy text Just and Unjust Wars, written by Michael Walzer in the 1970s. He tries to make the case for when going to war is and is not morally justified. Again this would seem like a smart reference for this title. Regardless of whether it's referencing political philosophy, The Bible or a la Jules Winfield someone just thought it sounded cool, it's a nice look into what this episode may be trying to say beneath the surface.
Overall, this was another great episode for Black Lightning. While maybe a little short on action and moving the main story together, it deeply developed so many of the side storylines that it was more than worth it.

Next week we continue with the (likely) biblical references with Black Lightning s02e13 "The Book of Secrets: Chapter Three: Pillar of Fire" – where it looks like Jennifer is sticking with her promise:
https://www.youtube.com/watch?v=BZ3DLROUjQ4
Black Lightning stars Cress Williams as Jefferson Pierce/Black Lightning, Nafessa Williams as Anissa Pierce, China Anne McClain as Jennifer Pierce, James Remar as Peter Gambi, Damon Gupton as Inspector Henderson, Christine Adams as Lynn Pierce, Marvin Jones III as Tobias Whale, and Jordan Calloway as Khalil Payne.
The CW's Black Lightning returns next Monday, February 11, at 9 p.m. ET/8 p.m. CT.