Black Lightning Season 1: Why the Best Episode was 'Black Jesus: the Book of Crucifixion'
Today we're going to take a look at the single best episode of the season in each of the superhero-related shows I cover for Bleeding Cool. These are, of course, based on my opinion, and you are welcome to disagree in the comments below. What I look for in an episode is how it moves the characters, plot, and/or universe forward, as well as how memorable the episode is and how I felt about the series after having watched it. In the case of the Arrowverse shows, I'm skipping the Crisis on Earth-X crossover.
Taking a look at the new member of the CW family, all 13 episodes of Black Lightning were strong, but Black Jesus: the Book of Crucifixion was on top.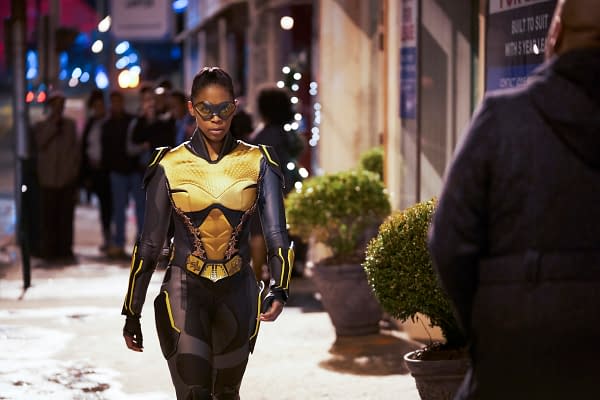 One of the things that the Black Lightning series did remarkably well was balance the things that make up a superhero television series with the unique issues that a black superhero would have to deal with. The episode, written by Melora Rivera and directed by Michael Schultz, had Jefferson Pierce (Cress Williams) being framed for drug dealing and arrested.
He was just one of three heroes arrested in the Arrowverse, the others being Oliver Queen (Stephen Amell) for being a vigilante/murder and Barry Allen (Grant Gustin) for murder. Of the three crimes, drug dealing was the non-violent one and Pierce is a respected member of the community, but the cops were all ready to fire upon him. That's not something Oliver and Barry had to deal with even though their alleged crimes were much more severe. They also showed how quickly people were willing to turn on Pierce and the way he was treated and interrogated compared to the others. Also it showed how hard it was for Pierce to keep his powers in check when being abused, regardless of him being innocent. It was a powerful episode.
It also allowed other characters to step up. Gambi (James Remar) and Anissa (Nafessa Williams) worked together to help clear Jefferson. Inspector Henderson (Damon Gupton) worked on the inside, rooting out crooked cops to help his friend. And we get a good idea of just how powerful Martin Proctor (Gregg Henry) and the ASA are. This episode also started putting Gambi and Jefferson back on the path of working together, a bond that had been shattered earlier in the season.
While all of the season was high quality, this episode was able to make an unmistakable real-world social statement and still move the overall story of the season along.