Black Lightning Season 1: Damon Gupton Talks Inspector Henderson and Vigilantes
We've only seen a bit of it, but one of the things I am interested in with the new Black Lightning series is going to be the relationship between Black Lightning/Jefferson Pierce (Cress Williams) and Inspector Henderson (Damon Gupton). These two are friends in civilian life, but Henderson does not seems to like Black Lightning at all.
The cop-vigilante relationship is not new when it comes to the CW shows, but on Arrow the relationship between Oliver (Stephen Amell) and Lance (Paul Blackthorne) was adversarial at both levels in the beginning, and the relationship between Joe (Jesse L. Martin) and Barry (Grant Gustin) was revealed in the pilot on The Flash. This could be very interesting if Henderson doesn't discover Pierce's secret too soon.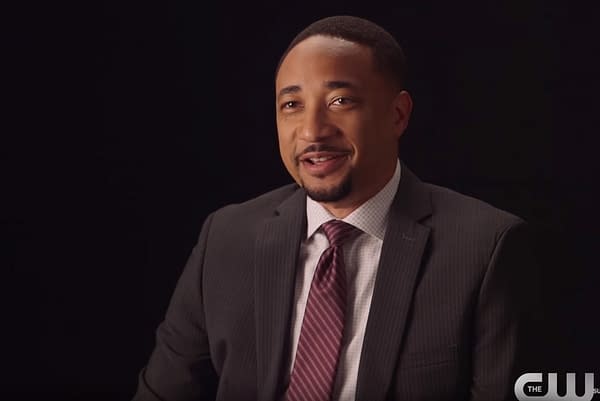 According to the interview, Henderson and Pierce go way back, and the word is that this is the same character that appeared in the comics and originally debuted on the Superman radio program. On the radio and in the comics he is Inspector William Henderson, credited as created by Elliot S. Maggin and Curt Swan, and appearing first in Action Comics #442. He was also a player in the Black Lightning comics series and has appeared on multiple television series including Adventures of Superman, Lois and Clark: The New Adventures of Superman and Superman the Animated Series. Executive Producer Salim Akil says this Henderson is onto his own, and as far as I can tell, we haven't actually heard his first name yet on the series.
Gupton has been working like crazy the last few years, having recurring/regular roles on multiple series including Rake, The Divide, Empire, The Player, Goliath, Bates Motel and Criminal Minds. And in the middle of all that he was also in La La Land.
Black Lightning airs Tuesdays at 9 p.m. ET on the CW.
https://youtu.be/F7ZJWrvmOoQ