Posted in: Netflix, Preview, streaming, Trailer, TV | Tagged: black mirror, netflix, preview, Season 6, trailer
---
Black Mirror Season 6: Charlie Brooker on Netflix Being In on The Joke
Black Mirror creator Charlie Brooker shares Netflix's reaction to his take on the streaming service in Season 6 episode "Joan Is Awful."
---
With only a week to go until Netflix & Charlie Brooker's Black Mirror returns for a sixth season, series creator Charlie Brooker is sharing some additional insights into how the season came about and what viewers can expect to see. After not being too impressed with what ChatGPT has to offer, Brooker is spotlighting one of the upcoming episodes, "Joan Is Awful" – more specifically, what Netflix thought about Brooker's very-Netflix-like streaming service "Streamberry" playing a major role in how Joan's (Annie Murphy) life is unfolding in front of a whole lot of eyes. So was Netflix okay with being in on the joke? "We just said, 'We've got this streaming platform called 'Streamberry' in this episode… can we make it look like Netflix?' They went away and came back quite quickly – weirdly quickly – and said, 'Yeah, okay.' There wasn't any resistance to it, that I could tell. Which is a bit disappointing because it would be good to be able to say, 'I just did it anyway because I'm an anarchist!' But no," Brooker shared during an interview with Empire. "That episode is quite meta and weird anyway," Brooker added. "It's one thing me watching it in the edit, but the thought that people are going to be watching it on the Netflix platform itself? That's quite bonkers."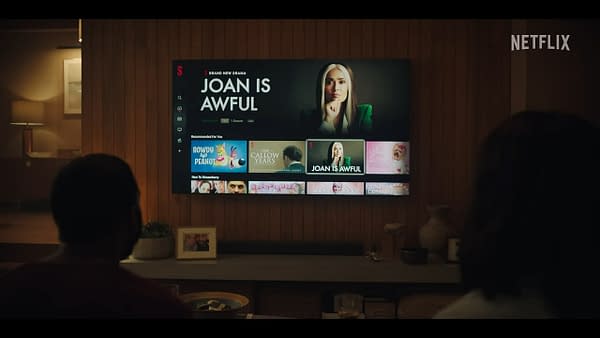 As for casting Murphy in the role of the person who finds their life has been on a very large stage for some time, Brooker couldn't think of a better choice than the Schitt's Creek star. "Sometimes you write things, and you have someone in mind. Annie Murphy was quite quickly in my head as Joan because I'd watched 'Schitt's Creek' during the pandemic, like everyone else, and she's so naturally funny and likable," Brooker shared. Now, here's a look back at the official trailer as well as a breakdown of the season:
A Look at Netflix's Black Mirror Season 6
With an all-star season cast that includes [takes a deep breath] Aaron Paul, Anjana Vasan, Annie Murphy, Auden Thornton, Ben Barnes, Clara Rugaard, Daniel Portman, Danny Ramirez, Himesh Patel, John Hannah, Josh Hartnett, Kate Mara, Michael Cera, Monica Dolan, Myha'la Herrold, Paapa Essiedu, Rob Delaney, Rory Culkin, Salma Hayek Pinault, Samuel Blenkin, and Zazie Beetz, here's a look at what you need to know about the five chapters:
"Joan is Awful": Directed by Ally Pankiw and starring Salma Hayek, Annie Murphy, Michael Cera, Rob Delaney, Ben Barnes, and Himesh Patel. An average woman learns that Hayek is portraying her in a streaming series based on her life (vibes The Truman Show).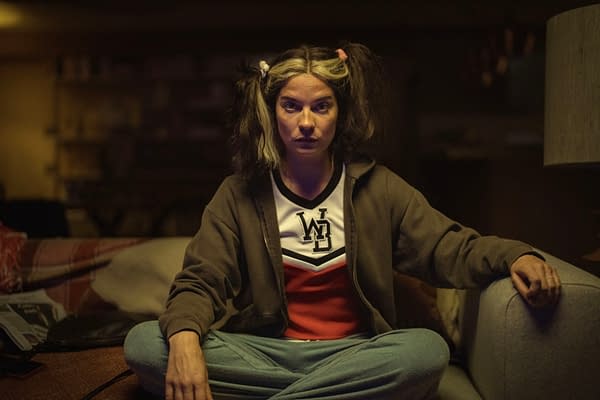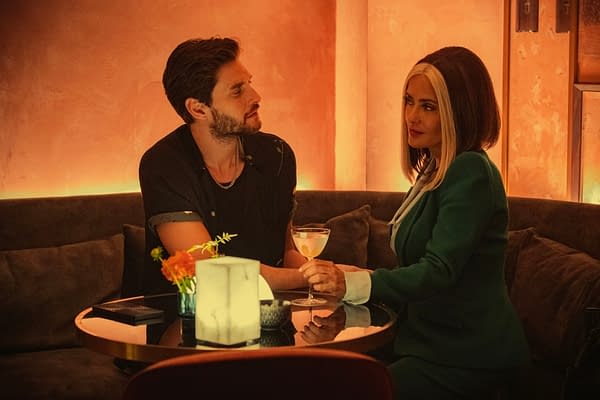 "Loch Henry": Directed by Sam Miller and starring Samuel Blenkin, Myha'la Herrold, Daniel Portman, John Hannah, and Monica Dolan. A young couple, a Scottish town, and a twisted story of the town's past leads to some very unexpected results.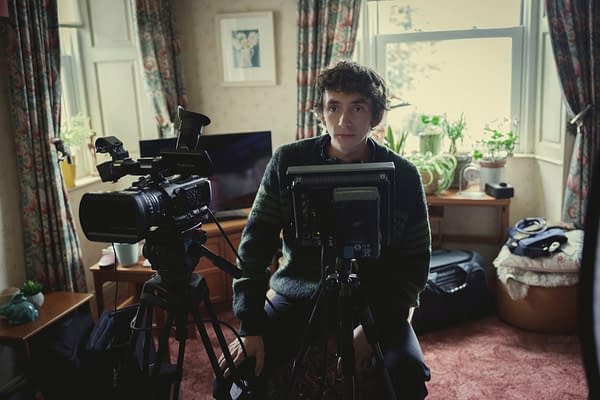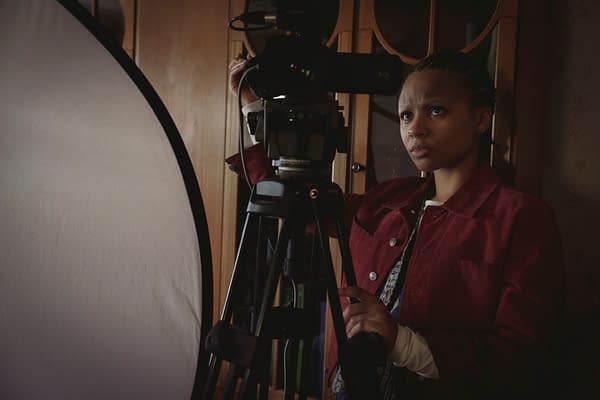 "Beyond the Sea": Directed by John Crowley and starring Aaron Paul, Josh Hartnett, Kate Mara, Auden Thornton, and Rory Culkin. Set in a 1969 that's not quite like ours, two men face the fallout from an "unimaginable tragedy" while on a dangerous high-teach mission.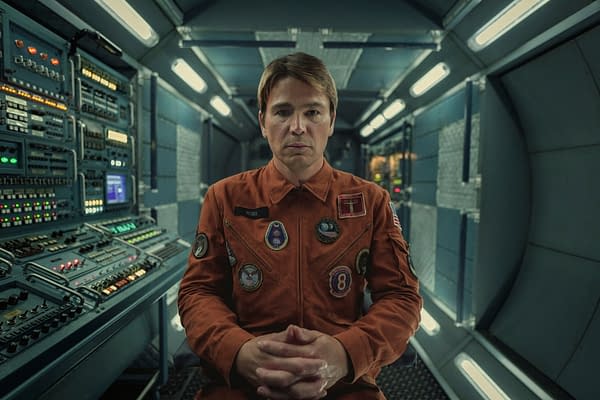 "Mazey Day": Directed by Uta Briesewitz and starring Zazie Beetz, Clara Rugaard, and Danny Ramirez. Dealing with the paparazzi is tough enough as it is. But if you're a celebrity looking to clean up a hit-and-run incident? Ouch…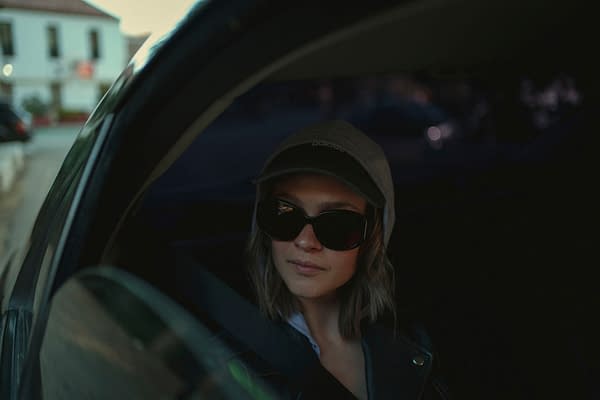 "Demon 79": Directed by Toby Haynes, co-written by Brooker & Bisha K. Ali (Ms. Marvel), and starring Anjana Vasan, Paapa Essiedu, Katherine Rose Morley, and David Shields. Taking place in 1979 Northern England, the episode sees a sales assistant being instructed to take some horrible steps to prevent an impending disaster.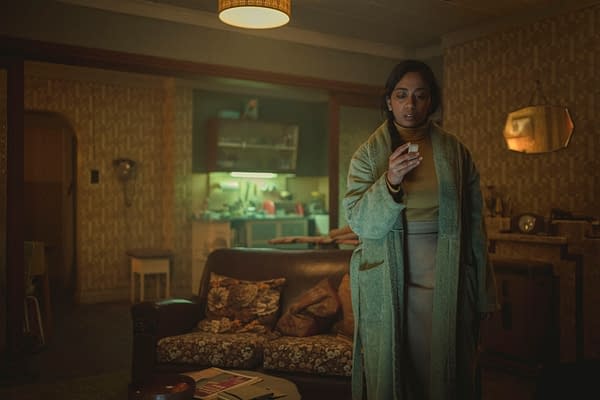 ---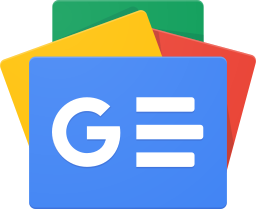 Stay up-to-date and support the site by following Bleeding Cool on Google News today!