With Marvel's Luke Cage season 2 coming out later this month, series showrunner, creator, and executive producer Cheo Hodari Coker has been hitting the publicity circuit to remind folks the show is coming back after two years. He sat down with Chuck Creekmur of AllHipHop and talked both hip-hop and geek culture. He talks about bringing in Bushmaster (Mustafa Shakir) as a villain and how that allows him to bring in Jamaica and Brooklyn and the roots of hip-hop. And while he will have powers similar to Luke (Mike Colter), it will tap into the mysticism and history of Jamaica and not necessarily his origin form the comics.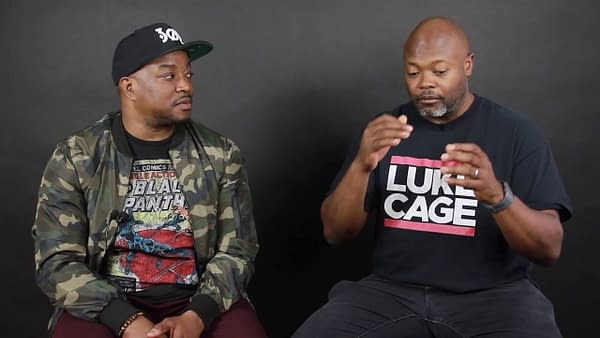 Coker also talks about how season 1 of the series was the character accepting who he is while season 2 is more about him discovering who he is and the Luke we start with is very different than the one we have at the end of the 13 episodes. He also says that they have come up with a story that needs all 13 episodes to tell — this is in response to criticism that the first season was two or three episodes too long.
And then the topic turned to Iron Fist, which Creekmur admits it's the one series he didn't like and says they need to help the character out. We know that Danny Rand (Finn Jones) will be appearing in the second season, so Coker spoke about his take on the character. "When you get to episode 10, I'm hoping you'll feel that your prayers have been answered." What he's referring to is a fight scene in the 10th episode that should give us the Power Man and Iron Fist feel that fans have wanted.
Coker says that he isn't bothered by the criticism of the character in his own series or in Defenders because he is "to think that Iron Fist appearing on our show has a different sensibility." He goes on to called Iron Fist a dope character and that he fits so well into the Luke Cage story that people will appreciate the character differently. He also thinks the swagger the character gets during this series will carry back to his own series and with new showrunner Raven Metzner, who is passionate about the character, that folks will see him differently going forward.
You can see the full 45-minute interview below.
Enjoyed this article? Share it!