Ever wonder how Marvel keeps track of all the stories going on when they have different showrunners on all the series? It's one thing to keep track of the movies, because basically they're much smaller in time and story — but the television series are doing roughly 13 episodes that at any point could conflict with another series' 13 episodes. Turns out it's less of an overseer situation and more of a curb scrapper thing. Marvel's Luke Cage creator and showrunner, Cheo Hodari Coker, put it best in an interview with Variety when he talked about getting involved in the series.
One of the things that Jeph [Loeb] said is that, he described the Marvel television way as kind of an eight- or nine-lane highway. That means you can drive, you can cross lines, and if you hit a guardrail, they'll let you know. And that's really what it is. It's not that we plan so succinctly with all the shows, but any time we kind of are interfering with things that could affect the other shows, we let each other know. And it's been that way since the very beginning.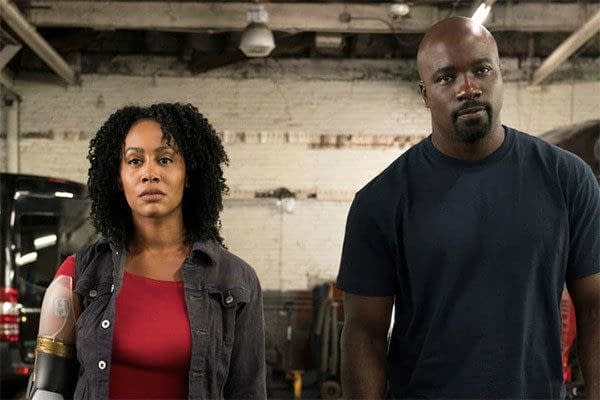 Coker gave an example of how this works when it came to casting Mike Colter as Luke. Since he debuted in Marvel's Jessica Jones, the casting decision belonged to Jessica Jones showrunner Melissa Rosenberg, but they looked for Coker's input before making a decision. Coker agreed that Colter was a perfect choice.
[It's] not my 'Luke Cage.' It's 'Marvel's Luke Cage,' [Marvel] understands the power of their brand. They're very particular about the brand, period. As a result, they're very involved in protecting what the brand is. So the trick is to create a singular experience but at the same time work within that framework. So what I've learned is just be very communicative.
While looking at the idea of building a universe of movies/shows, Coker talked about some of the companies trying to build their own universes.
You can't give people something they don't want. I think that's the problem with people trying to build these universes. You wouldn't want to hear from Method Man or Ghostface if the first Wu Tang album wasn't hot. So build your foundation, then invite people into your house. So I think the problem with some of these other properties that are trying to copy Marvel and failed is they say, 'OK, we're going to come out with these five properties like this.' It's like, the one drops and then the whole thing falls apart, instead of focusing on making one thing the best it can be and then spinning off from that.
Marvel's Luke Cage season 2 premieres on Netflix on June 22nd.
Enjoyed this article? Share it!