Check Out Triumph the Insult Comic Dog's Bipartisan Beto O'Rourke, Ted Cruz Takedown (VIDEO)
To say that 2018's congressional midterm elections has the intensity of a Presidential electon would be as big an understatement as the use of the word "intensity" to describe this year's campaign cycle. With lies and efforts at misdirection flying fast and furious in the faces of voters everywhere – in a nation that feels more "tribal" and divided as ever before – the need for a free and open press is as essential now as it's ever been. We need them to speak truth to power…to shine a light on things kept purposefully in the dark…to tell the The Emperor he has no clothes.
During the McCarthy era, there was Edward R. Murrow's See It Now.
During the Vietnam Era, there was Walter Cronkite telling the nation the war was lost.
Today? Triumph the Insult Comic Dog.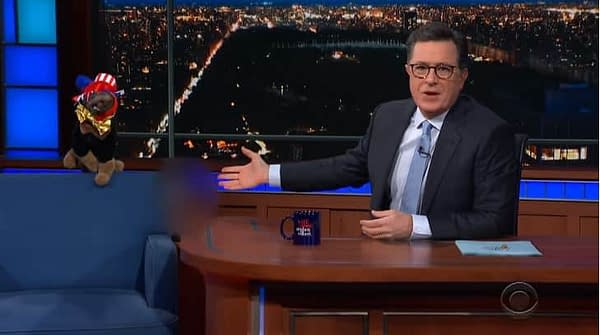 In another fine example of professional respect and cooperation between two bastions of objectivity and journalistic integrity (and because their show is on hiatus), Conan host Conan O'Brien let Triumph and his handler Robert Smigel moonlight at Stephen Colbert's Late Show with Stephen Colbert for some election reporting. Their assignment: cover Texas' still-too-close-to-predict-especially-after-2016's-polling-sucked senate race between incumbent Sen. Ted Cruz and his Democrat opponent Beto O'Rourke.
Here's a look a how that turned out (as Triumph-y as we woud've wanted, expected), as well as what happens when our "canine Cronkite" starts venturing out among the voting faithful (with some of the highlights):
● On early-voting Beto fans: "terrifying swarm of degenerate leftists with one thing in common: they all share the same Netflix account."
● Triumph's practice line to help Beto's voters "behave more white" at their polling location so that their vote will be counted: "Repeat after me: 'Have you seen the new season of The Marvelous Mrs. Maisel? It's even better than Gilmore Girls!'"
● Stickers given out to early voters: "I'm Pretty Sure I Voted" and "Just Light Enough To Vote."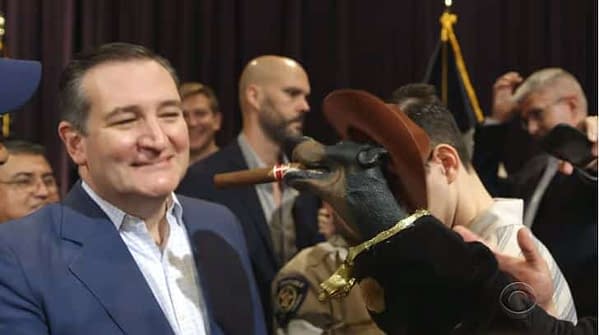 ● Triumph "defended" Cruz against those who've made unfair comparisons between the senator and the Zodiac killer "since his plan to end Obamacare would kill way more people – I mean way, way, way, way more people!"
● Regarding Cruz's continued support of what many consider to be ultra-conservative (at best) policies emanating out of The White House, Triumph replied, "I'm not saying Ted Cruz supports racist policies, but he was just given the 9 a.m. hour of Today show."
● Proving his ability to grasp defeat out of the jaws victory – and proving why you shouldn't go after a comedic genius like Smigel:
Cruz: "Just remember, it was the Dems that took you into the vets to get fixed."
Triumph: "I support spaying and neutering, just like Trump did to you."