Comisery Production Diary Week 3: Hail, Hail, The Gang's All Here!
Comisery Episode 3 ("Party Party Party") might be my favourite episode to date. It's the one where the series finally comes together, and its narrative direction comes into focus. It's the first time the entire cast is in a single episode – all six actors. It also introduces Sheetal Sheth as Anika and Nat Ho as Nate, the other members of this madcap circle of friends dealing with an alien virus invasion during lockdown.
A Crew and Writer's Room of Literally Two
Ours is an 8-episode web series shot using zoom with everyone in lockdown, and literally no budget. All the actors filmed in front of their computers. Quentin is the producer, co-writer, co-director, and editor. I'm a co-writer and co-director. As it goes, Comisery is literally a writer's room of two. We aim for each episode being 9 pages long maximum. That makes it possible to shoot the whole episode in a few hours. We had a draft of Episode 4 ready when protests over the police killing of George Floyd erupted. Quentin asked if we could reference and reflect on what was going on. The trick was not to be exploitative or bandwagon-jumping. We want the series to be inclusive and reflective of the times. I had Jennifer Field's character Camila talk about it to her boss at the TV station. It actually made the scene stronger.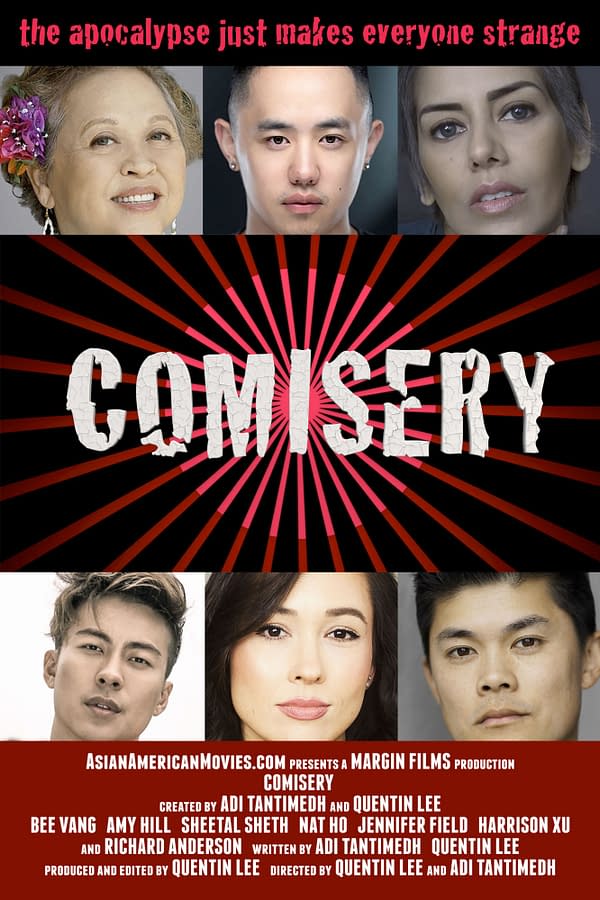 Once again, we took two days out of the week to work on the episode. 3 hours one day – morning in Los Angeles, afternoon in New York – to rehearse, then 3 hours another day to film the episode. The third episode is our most ambitious. Sheetal and I are on the East Coast while Quentin and the rest of the cast are on the West Coast. Amy is in Hawaii. Richard is in Arizona. Instead of one or two scenes, it's several scenes, and the first time the entire cast of Comisery appears in a single episode. Of course, they don't all appear in the same scene together. That wouldn't work visually – it would clutter up the screen and the viewer's eye wouldn't know where to look.
For Comisery, It's All About the Actors Now
The actors all came prepared and there was very little we needed to tell them. They all found their characters quite comfortably, even Sheetal and Nat, whose characters were being introduced here. Bee Vang continues to get more comfortable and charming as Skylar. Harrison Xu nailed alleged time traveler Kel from day one. Amy Hill was effortless as Skylar's therapist Mary Suzuki. Consummate character actor Richard Anderson returns as Dave the racist troll and I also wrote another role for him: Howard Hapman, Camila's boss.
I'd been looking forward to working with Sheetal and Nat. Sheetal is also an accomplished writer, producer and activist, and Nat is a musician and veteran of Singaporean TV. Sheetal's character Anika is introduced solo at the start of the episode while Nat makes his first appearance at the end. Sheetal has the monologue in the cold open and she sums up Anika in just a few gestures. Nat treads a fine line between mystery and cheerful eccentricity as DJ Nate in just a few lines.
What fascinates me is how the actors establish a rapport with their scene partners very quickly. I don't know if this is partly because of the dynamics of teleconferencing apps like zoom. There's not a lot of sitting around and gossiping between set-ups before the next take. Not being stuck for hours waiting on a set also seems to prevent hostile relationships to form over time – everyone is here to work and enjoy themselves. Jennifer has found the balance of oddness and ambiguity in her portrayal of Camila Kang. She plays an evil alien in the style of a 1940s screwball comedy. She and Amy played their scene as a niece and her aunt, and it ended up feeling like a comedy sketch written by David Cronenberg.
The sheer surreal comic disquiet was way beyond Quentin and I imagined. Something similar arises in Jennifer's scene with Richard as they play out a very, well, complicated workplace relationship with murky boundaries. Richard is endlessly creative and brings in more details and improvisations with each take that further defines his character, whether it's Dave the Troll or Howard the Sexist.
Since not all the actors are in every scene, we could schedule their time in the shoot and release some of them early once all their scenes were done. For the first time, we don't shoot the script in order because we don't need to. Quentin is so precise with the shot list that we have a cut six hours later, late that night. With so many scenes and so many actors, it's the longest episode, clocking in at 12 minutes in the final cut, which we lock on Sunday. The video goes live on Facebook early Monday morning. It's probably my favorite episode of Comisery so far because everything fits.