Black Lightning Season 1: Has Jefferson Learned About Anissa's Powers?
Sometimes episode descriptions can be very vague, while other times they can contains spoilers or even bring up questions that could prove very interesting. We get an example of both in the latest title and episode descriptions for the CW's latest hit series Black Lightning. We've seen five episodes so far and will get the sixth on February 27th when the series returns from its Olympic break. Below are the official synopsis for episodes 7 and 8.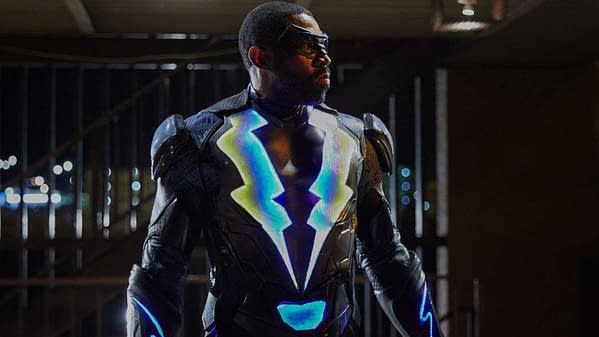 Equinox: the Book of Fate (March 6th)
THE NEW NORMAL – Black Lightning's (Cress Williams) pursuit for Tobias (Marvin Jones III) continues. Anissa (Nafessa Williams) continues to find herself in the new normal. China Anne McClain, Christine Adams, Damon Gupton and James Remar also star. The episode was written by Lamont Magee and directed Billy Woodruff.
Revelations (March 13th)
TRAINING DAY – Black Lightning (Cress Williams) works with Anissa (Nafessa Williams) to help find information to clear Black Lightning's name. Jennifer (China Anne McClain) begins interning for Lynn (Christine Adams). Meanwhile, Gambi (James Remar) finds himself in a precarious situation. Marvin Jones III and Damon Gupton also star. The episode was written by Jan Nash and directed by Tanya Hamilton.
First one tells us almost nothing other than Black Lightning is hunting Tobias and Anissa is trying to adjust to her new powers and situation. That may be the overall theme of season one. But in the second one, Revelations, we get the first line that Black Lightning is working with Anissa to clear his name. The obvious part there is something is going to happen in either 106 or 107 that is going to be pinned on Black Lightning. We know that Tobias is trying to set up Black Lightning using Kahlil and his injury.
The more interesting part is that Black Lightning is working with Anissa. The synopsis uses his superhero name and her real name. Could this mean that he discovers that Anissa has powers, but hasn't revealed who he is under the mask? Will be train his own daughter in secret? And, if so, why? Whatever it is, they don't appear to be on equal ground.
Black Lightning airs Tuesdays at 9 p.m. ET on the CW.