Promoting the book Doctor Who: The Women Who Lived, an illustrated history of the women of Doctor Who, the BBC is releasing narrated featurettes about the lives of the most important women in Doctor Who lore. The first highlighted – appropriately enough – Susan Foreman, the Doctor's first companion and granddaughter. The second edition was released on December 19th and focuses on the first and arguably most famous companion of "New Who": Rose Tyler.
Portrayed by former child star and pop idol Billie Piper, Rose was the local shop girl: she talked to her friends on her mobile, she had a boyfriend named Mickey, and a mother she loved.
"For the first nineteen years of her life, nothing happened. And then she met a man who could change his face and took her away from home in his magical machine."
From the moment she first took the Ninth Doctor's (Christopher Eccleston) hand in the basement of a Henrik's Department Store and ran from attacking mannequins, the wide eyed, smart mouthed, and warm-hearted Rose Tyler became a fan favorite and a Doctor Who legend. Piper's youth, energy, and humanity smoothed out the rough edges of Eccleston's lonely, war-weary Doctor. Rose traveled with the Doctor for two seasons, sacrificing herself to save the lives of the Doctor and Captain Jack Harkness (John Barrowman). It was this sacrifice – and the Doctor's effort to save her – that led to his eventual regeneration into David Tennant's Tenth Doctor. The chemistry between Tennant and Piper was consuming, and the relationship between their on-screen characters transformed into an epic love. Finally, when the Doctor was faced with a human version of himself who was angry and unpredictable, he knew just what to do. Rose had made the Doctor love again, so it was only natural that the Doctor would turn to her when his human doppelganger needed the same humanizing influence. Leaving Rose and "Tentoo" on a beach that was the gateway to another dimension, the Doctor sacrificed his own happiness for Rose's future.
Featuring the art of Mogamoka (0:00), Caz Zhu (0:22), Tammy Taylor (0:46), Katy Shuttleworth (1:19), Natalie Smilie (1:53), Sophie Cowdrey (2:37), Jo Be (3:10), and Kate Holden (3:42), the video is beautiful and made me incredibly nostalgic.
I ended up going down a rabbit hole on Doctor Who's prolific YouTube channel, viewing clip after clip of Rose and the Doctor. Watching Piper and Eccleston (and later Tennant) on screen I realized that Rose saved the Doctor in many ways. On the show she saved his life, his soul, and his faith in humanity. In the world of television, Piper's portrayal of Rose was a boost for the show and drew in additional viewers, making future seasons and companions possible. And for fans like me who joined the Who-niverse in 2005, Rose taught us to love the Doctor as she did. It makes sense that her featurette would be second only to The First Doctor's granddaughter.
Because together, they made all of the future companions possible.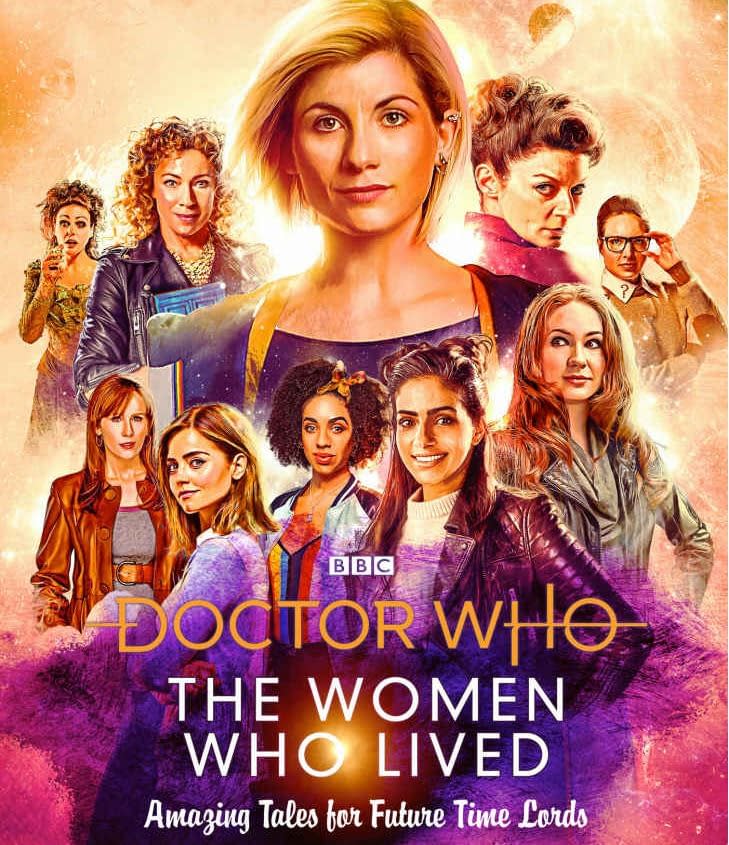 Meet the women who run the Whoniverse.

From Sarah Jane Smith to Bill Potts, from Susan Foreman to the Thirteenth Doctor, women are the beating heart of Doctor Who. Whether they're facing down Daleks or thwarting a Nestene invasion, these women don't hang around waiting to be rescued – they roll their sleeves up and get stuck in. Scientists and soldiers, queens and canteen workers, they don't let anything hold them back.

Featuring historical women such as Agatha Christie and Queen Victoria alongside fan favourites like Rose Tyler and Missy, The Women Who Lived tells the stories of women throughout space and time. Beautifully illustrated by a team of all-female artists, this collection of inspirational tales celebrates the power of women to change the universe.
Christel Dee and Simon Guerrier's Doctor Who: The Women Who Lived is on sale now.
Enjoyed this article? Share it!